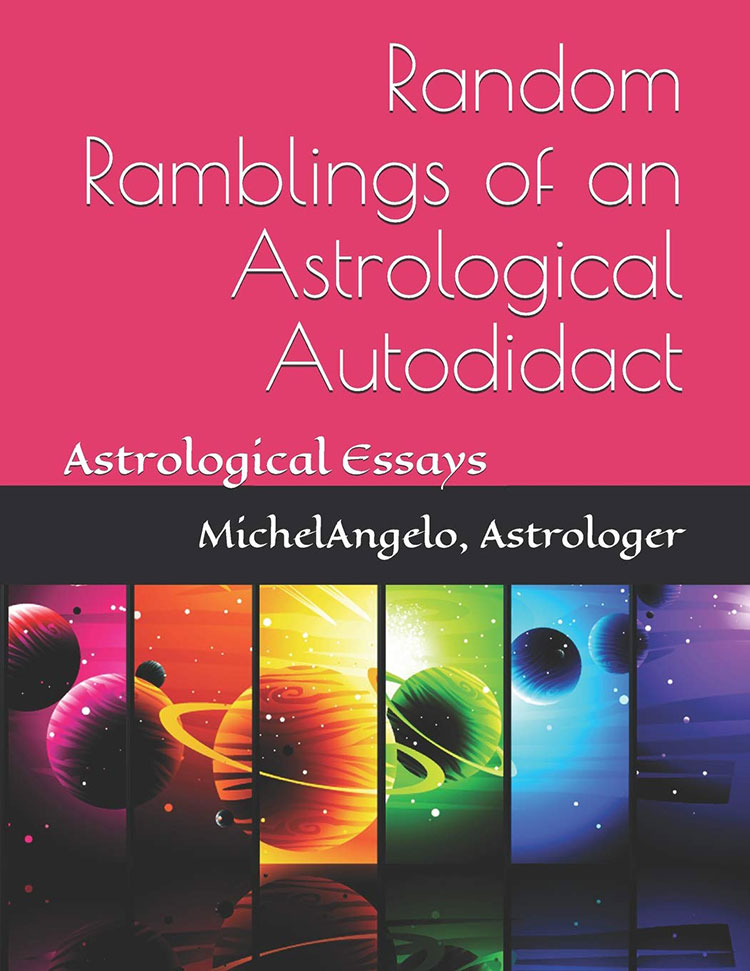 MichelAngelo, long-time member of the extended Acutonics® family, has a new book of astrological essays that is available on Amazon. Random Ramblings of an Astrological Autodidact is self-reflective and insightful. The essays are engaging and thoughtful offering in-depth analysis of multiple horoscopes including those of rock stars such as Elton John and Elvis Presley as well as authors, composers, and other individuals of note. Given his astrological specialty, a number of these essays focus on medical conditions, accidents and premature deaths. There is tremendous depth in these wide ranging case examples of peoples' lives viewed with an astrological lens. Big congratulations to MichelAngelo for the Five Star reviews on Amazon.
"Michelangelo is a seasoned astrologer with grounding in traditional and contemporary styles. His writing possesses a flourish that leads one down a path to insight in this astrological case series… His writing enhances and builds points of interest that enlighten the connection between life events and the astrological consideration…a rich and rewarding read, with many pearls of practice." – William Morris, PhD
It was the winter of 2002, just before the New Year holiday, when we first met MichelAngelo and his partner Mary Elizabeth Wakefield, LAc, MS, MM. They made the journey from Tucson, AZ where they had been visiting, to our headquarters in Northern New Mexico. Donna had spoken to both of them about our work and in this conversation, she mentioned to MichelAngelo that we had Chiron tuning forks and were working with this archetype, as an integrated part of our curriculum. This was one of many reasons that prompted them to make the 9 hour drive from Tucson, and to welcome the New Year 2003, with us.
In this initial visit we learned of his professional career as an opera singer, classical composer and pianist. As a serious astrologer, healer, and diviner, MichelAngelo was very interested in our work with planetary tuning forks, our understanding of ancient medical practices, medical correspondences and archetypes. Mary Elizabeth was drawn to our work and immediately saw the direct applications to her work as an acupuncturist, and as an acknowledged expert in facial acupuncture.
In March of 2003, MichelAngelo and Mary Elizabeth came back to Northern New Mexico to take the Acutonics Level I & II Intensive, at Ghost Ranch. They continued their studies with us throughout 2003 and 2004, traveling back to New Mexico and to Sedona. In 2004, after Marjorie de Muynck left the institute, it was MichelAngelo who stepped in to assist Donna. He contributed information on the musical components of Acutonics as well as information on planetary archetypes and classical music. He served as an advisor on Astrological Medicine/Musical Studies through 2013, and co-taught advanced seminars with Donna. He was a contributor to our 2nd book Acutonics from Galaxies to Cells, Planetary Science, Harmony and Medicine published in 2010. He also collaborated on our initial course offering, Sedna: Super Conductor, as well as the 2006 article that appeared in Oriental Medicine Journal, "Sedna the Mysteries Miracles and Infinite Capacity of Water".
MichelAngelo has had a prolific career and continues to offer his wisdom and teachings around the globe. He will appear as a presenter at the 30th Institute of Vedic Astrology conference in Kolkata, INDIA in December 2020, where his topic will be "A Western Astrological Model of the Eight Extraordinary Meridians of Chinese Medicine for Diagnosis and Treatment".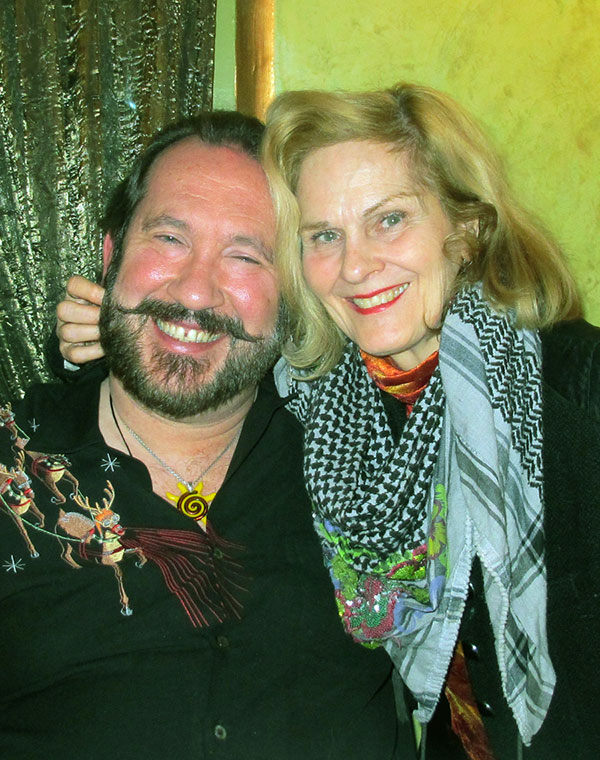 Already at work on a second volume of essays, Miscellaneous Maunderings about the Starry Sky, his long standing partnership with Mary Elizabeth Wakefield and his passion for the intersection of vibrational sound healing, Chinese medicine and astrology, led to their collaboration on the forthcoming book, Vibrational Acupuncture™: Integrating Tuning Forks with Needles, which will be published in March of 2020 by Singing Dragon Press. This book will undoubtedly be of particular interest to the Acutonics® community, as it presents many protocols utilizing Ohm forks.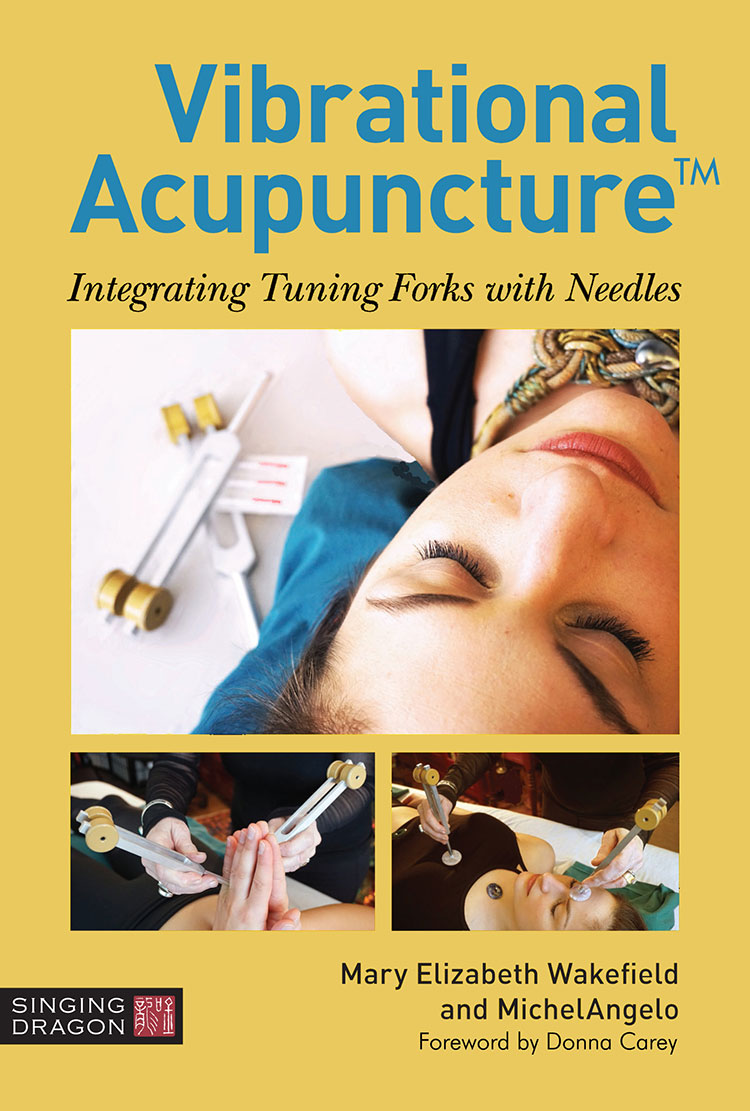 He also had two articles selected for Dell Horoscope, the first a case study of tenor astro-twins, and the second an astrological dream analysis. MichelAngelo has recently had articles published in four consecutive issues of Infinity Astrological Magazine; subjects of these essays include progressive rock icon Ian Anderson, of Jethro Tull, Paul McCartney (and the Paul is Dead conspiracy theory) and Herman Melville.
With a love for teaching, MichelAngelo has created a 3-part certification series in which he synergizes Western medical astrology with Oriental medicine theory and practice, introducing a variety of planetary vibrational methods of remediation including gem elixirs and Acutonics® tuning forks to address constitutional balance and imbalance as it is reflected in the Western natal chart and identified through other astrological diagnostic strategies. He is also the co-creator of a 5 Element-based sound healing certification series, VibRadiance: Sounding the 5 Element Landscape, which has been offered in Bali and New York.
MichelAngelo sees clients for private astrological consultations and healing sessions with planetary vibrational bodywork in New York, and also remotely via Skype. To contact him or learn about upcoming classes he can be reached at 646-821-0874, or emailed at: planetaryvibrationalmedicine@gmail.com, www.michelangelo-medicalastrology.us, Twitter: @planetaryvibmed