Acutonics® Curriculum

Acutonics® Certification Program
The core Acutonics® curriculum is over 400 hours, and includes nine core courses, and two electives. Completion of the full program results in becoming a Certified Acutonics® Practitioner. Each course builds on prior class work, and there is significant hands-on classroom experience. Students, who do not have a background in East Asian Medicine, are required to take 2 additional courses - the Fundamentals of Chinese Medicine and the Energetics of Points and Meridians. They will also need to demonstrate competence in point location." In addition, 100 supervised clinic hours are required, and a student thesis or special project must be completed. Most classes are held over weekends and some instructors will schedule two classes at the same time to reduce travel for students. The Acutonics® Certification Program has been approved by the NCCAOM and the NCBTMB for continuing education.


Acutonics® Training for Individuals
and Organizations
We offer specialized trainings designed for clinical psychologists, spa practitioners, hospice workers, fitness and yoga instructors, and all types of organizations. We provide a special focus on self-care strategies, designed to reduce stress and promote health and well-being in the workplace. Some of our certified teachers also provide specialized one-on-one trainings in the applied use of sound vibration that incorporates the use of tuning forks, gongs, Tibetan bowls, and chimes.

SPA Training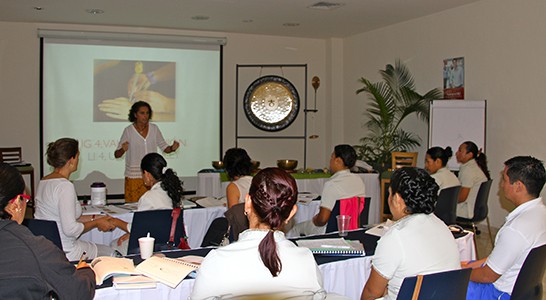 Spa practitioners at leading facilities around the world including Canon Ranch, Exhale Spa, and Spa Brio at the Grand Mayan Riviera Maya, Mexico have been trained in the Acutonics® methodology. Practitioners at BRIO have completed intensive training to earn the designation as Certified Acutonics® Spa Practitioner.