An online search for a program that incorporates sound and music led Sherry Schnell to Acutonics. "I had been dealing with serious health challenges for many years and knew that music made me feel better", stated Sherry. I looked at many programs but Acutonics felt right; once I started working with the tools I knew it was right." Sherry always had a connection to music, which grew when she recognized that listening to music helped relieve her pain. This is one of the reasons she began to explore tuning fork training. However, her life-long interest in studying the planets, astronomy, astrology and ancient cultures is what drew her to more deeply explore Acutonics. "I looked at many different programs, but Acutonics was the most informative, had a scientific basis, and offered a wealth of materials to support its efficacy, which genuinely impressed me. I felt a resonance and attraction to this work that dovetailed with so many of my interests, and I believed it would support my own journey to health."
For almost 18 years, Sherry struggled with debilitating illness. "I had severe adrenal fatigue, did not sleep, and was experiencing intense pain. Somehow I managed to function, but I began to observe that I was also experiencing memory loss, likely from extreme sleep deprivation, and my body began to feel twisted." Sherry began to work with a doctor of homeopathy and felt better after the first visit, especially as she began to discover the potential cause for her illness. "It was likely poison or chemicals of some kind that were affecting me." Sherry reflected, "This was a twenty-year process of trying to regain my health. The tools that helped the most were vibratory; homeopathy and sound helped everything settle and come into balance. There was no medical explanation for my symptoms, although through my own extensive research I suspected toxicity, specifically black mold, but no one believed that that we would find black mold in our home in a very dry part of Canada, but eventually we did."
Tenacious would be an understatement for Sherry's decision to move forward with Acutonics, despite her illness. While doing her research she discovered that Harmonic Geometry: The Fibonacci Process an Acutonics elective created by Ron La Place was being hosted by Erin Taylor in Alberta. "I've been interested in sacred geometry, ancient forms, shapes, ancient history and architecture for as long as I can remember. When I searched on the terms 'sacred geometry and sound therapy' the Fibonacci class came up — it felt synchronistic, especially when I discovered that it was being hosted by Erin Taylor here in Canada. This class is open only to those who have taken Acutonics Level I. I was not deterred and contacted Erin and then at her suggestion reached out to Ron. Ron agreed to accept me into the class as long as I committed to taking Acutonics Level I. I took the Fibonacci class in January of 2015 and in April I took Acutonics Level I from Erin Taylor."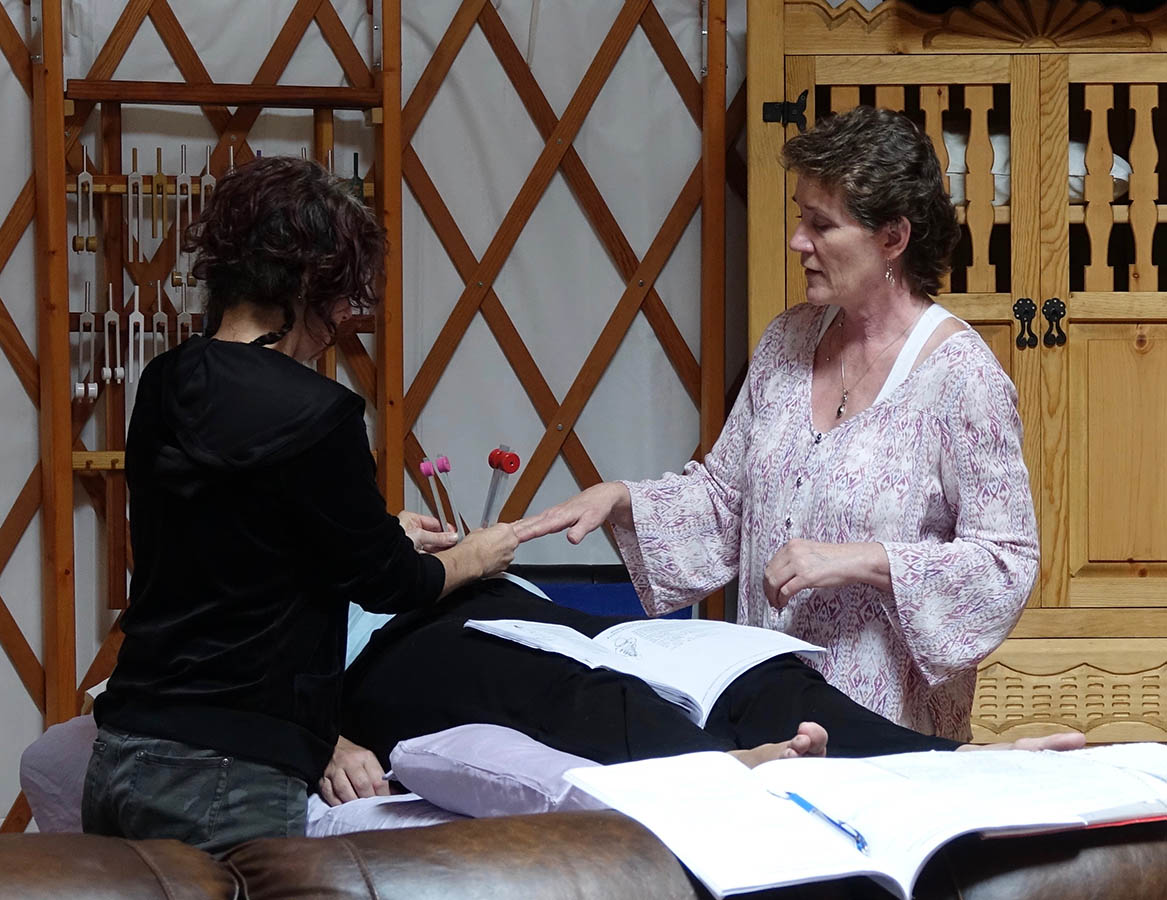 Sherry went on to take Acutonics II and III as well as Points and Meridians from Erin. Not wanting to wait for classes, she continued her studies with Theresa Lee Morris, completing all course work toward certification, and many of her clinic hours. Currently she is exploring several ideas for her thesis. Theresa remarked, "Sherry is inquisitive, knowledgeable, and playful. Her passion is immediately felt. I appreciate how she often opens my mind into thinking in different ways. I am excited that Sherry will be teaching this work and look forward to seeing her shine!"
Sherry who just completed her teacher training for Acutonics Level I and II here at the Mothership, was recommended for training by both Erin and Theresa, her Acutonics teachers. Donna and I were also impressed with her knowledge and excellent hands on clinical skill. In one of many rich conversations while she was here studying she mentioned feeling a deep connection to the vibratory energy of the Acutonics tools. "In my classes I have always felt that I was in the future with my questions, that I knew this work not on an intellectual level but on a deep soul level, the experiences of these tools has always been with me."
Sherry recalls that as a young child she could not wear a watch as it would stop working or run backwards, eventually her parents found her a watch that had a tuning fork inside and she remembers the positive experience of feeling it vibrating against her wrist. Her earliest years were spent on a farm in Northern Alberta, but her father moved a lot for his work, and she lived in many different parts of Canada from large cities to rural communities, and is comfortable in both. "I feel very fortunate to have had all of these experiences, as a very inquisitive child I was always journeying and journaling, painting, drawing and studying the changing world around me. I experienced people from many different cultures and economic backgrounds. It was a pivotal part of my upbringing as I'm really comfortable working with all types of people including the mentally challenged. As an adult I still paint, draw and photograph the world around me."
Her closest friends growing up were the animals on the farm where she lived and she has early memories of working with energy for healing. When she was quite young the family dog was severely injured, her parents believed he would not survive. "I wouldn't leave the dog and looking back on this event I know now that I was directing healing energy and prayer toward it, to everyone's surprise the dog survived. For a long time I thought I would become a vet, but it was difficult to find the funding for school, and since I was also interested in the arts, I chose to study interior and graphic design." But, working with energy is something that has always been an integral part of her life. She began to explore and study a range of energy healing modalities in her early twenties including aromatherapy, Pranic healing, distance healing and Reiki. She worked with energy until she became ill, and discovered that only music would help alleviate her pain.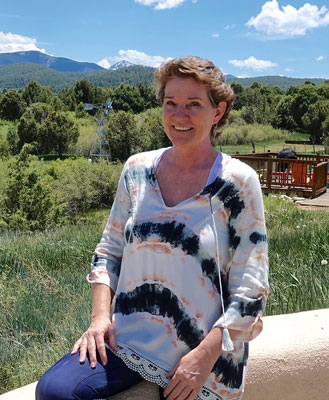 Today, Sherry lives on a 500-acre farm with Jim her husband of 28 years and their twenty-five year old son Coltin. Located 45 minutes from Medicine Hat, with views of the Sweet Grass Hills of Montana, the farm has been in Jim's family for almost one hundred years. Her love of animals has not waned over the years. "We have a herd of pure bred registered black angus, horses, miniature horses, chickens, pheasants, wild turkey, dogs and cats. Animals just keep showing up, I suppose it is an unofficial animal sanctuary. Fortunately, Coltin works on the farm helping with all of the animals, and he also works in the family construction business with his dad and granddad."
As Sherry's health began to improve with Acutonics, she started to work with people again incorporating Acutonics with energy techniques. She is also the proud owner of eight planetary gongs and one symphonic gong as well as many Tibetan and crystal singing bowls. She offers sound baths and classes on the beneficial use of Tibetan and Crystal singing bowls. She also works part time at Nirvana 101 a metaphysical store in Medicine Hat, Canada, where she has workshop and treatment space and offers gong sound baths.
Sherry who plans to begin teaching in Canada this fall concluded our conversation by saying: "I feel very blessed to be part of the team that is in place to expand awareness of this modality. I know first hand the positive affect that Acutonics and the gongs have on our physical, emotional and spiritual self and I must thank Ellen and Donna for creating and integrating this system and these tools into our world". Sherry can be reached at sherryschnell9@gmail.com.