Sheila Fox was introduced to Acutonics in the late 1990's, by two massage therapist colleagues who studied with Marjorie de Muynck and Donna Carey at the Northwest Institute of Acupuncture and East Asian Medicine (NIAOM) where the first Acutonics classes were taught. She could immediately see how the tuning forks would integrate into her background in music and massage; but more than that she experienced a deep wave of emotions and currents that stayed with her. In 2008, she began her studies of Acutonics with Jude and Paul Ponton, and then studied with Lynn Wedekind. After a move back to New Mexico, from the Pacific Northwest, she resumed her studies with Donna Carey and Ellen Franklin at the Mothership in 2015. If you have been in class with Sheila, you have been blessed with her lively musical gifts, her keen intellect, and her natural healing abilities, which she has used to treat trauma, and in her work for peace and justice.
When Sheila discovered the tuning forks, she states: "I felt like I had come home to friends lost in another lifetime. It was like the best reunion ever. Acutonics opened a beautiful journey towards my own wholeness. It helps me on every level. The forks and chimes are a community of my cosmic friends available whenever I wish. Acutonics helped me to expand and extend my healing career. Working with geriatric and hospice clients offering Acutonics was deeply connecting and meaningful. Currently I am developing my practice working with groups by using the chimes and high frequency forks".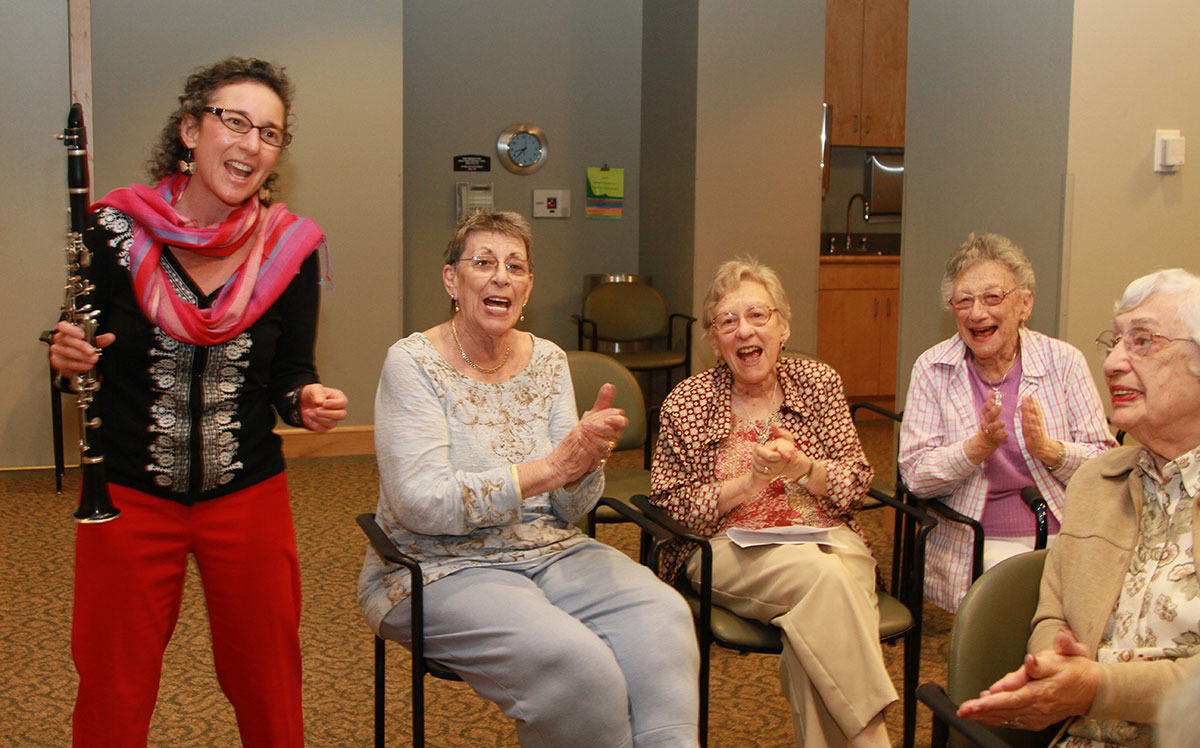 "I integrate Acutonics into music performances, drum circles, peace and justice meetings and workshops, chakra healing and Yoga Nidra meditations. I cofounded a Veterans Trauma and Stress Reduction clinic with Acupuncturists Without Borders and The Source Community Healing Oasis in Albuquerque. We delivered group acupuncture, Acutonics, Meditation and Emotional Freedom Technique twice a month. I have also shared Acutonics with groups at the Jemez Pueblo using both chimes and forks."
Prior to studying Acutonics, Sheila practiced Swedish and geriatric massage, reflexology, myofascial releasing and acupressure. She also combined gentle dancing, therapeutic touch and singing for people with Alzheimer's and dementia. "Singing was very effective especially if the songs were familiar!"
Sheila was born in Harvey, Illinois, a suburb of Chicago in April of 1958 and moved to Santa Fe, NM when she was in 2nd grade. Although she spent thirty-years in the Pacific Northwest, she considers New Mexico her beloved home and returned here, with her wife Rena 6 years ago. They are excited, about the new home they are building together, where Sheila will base her Notable Healing practice/retreat space. "It is on a very sweet, forested acre in the village of Corrales, just outside of Albuquerque."
Music is a big part of Sheila's life. She studied piano and began playing the clarinet in 4th grade. Tap dance and competitive sports occupied her time as well. The abundant natural world of the high desert connected her to the spiritual. Reflecting on her childhood: "As a child, I felt lonely a lot of the time and found comfort in nature. I contacted a spirit guide to be with me when I was about 10. I've always been drawn to rocks. Probably could have gone into the Natural Sciences like geology."
Sheila's musical talent led her to a career as a professional musician/singer with a Klezmer Band called the Kosher Red Hots which she was a part of for 25 years. This also led her to study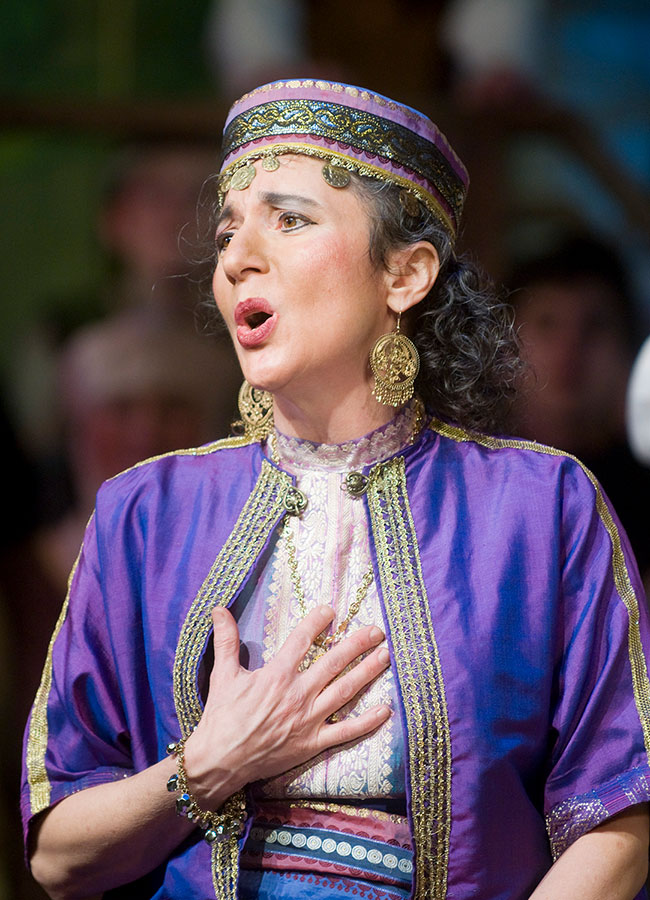 Yiddish, in her late 30's. "I attended a Summer Yiddish Program at Columbia University in NYC and lived with a prominent Yiddish writer/artist Beyle Schaechter – Gottesman in the Bronx for a year."
Sheila's natural gift for music, particularly as a Klezmer performer, might well come from her rich family roots. "My Great Grandparents on both sides were from Odessa and Satinov, a kleyn shtetl, small village by Kiev in Ukraine. My paternal grandfather immigrated as a toddler from Odessa and became an accomplished balalaika player and had perfect pitch. He was also a brilliant engineer. Mayn alter zeyde, great grandfather of my paternal grandmother was from St. Petersburg, (Leningrad) Russia, and was a professional trombone player. His story; he was conscripted into Czar Nicholas's Army Band, sent to the frontlines, and just kept coming all the way to Amerike! He became a fruit peddler in Rockford, Illinois, played music with the circus and soon earned enough money for the non-steerage tickets for his wife, my great grandma ( a hat maker) and their 4 daughters. My maternal great-grandparents came from somewhere around Hamburg, Germany and somewhere in Rumania."
As a very young single mother to two daughters, Sheila was committed to her education. "It took me 12 long years to earn my BA. I started at a little branch of University of New Mexico located in the village of Santa Cruz on the high road to Taos! I also attended the University of Arizona in Tucson, Mendocino Community College in Ukiah, CA and finally graduated from Evergreen State College in Olympia, Washington, a non-traditional liberal arts college. With a self-directed curriculum, my BA in Arts Administration included all aspects of music, theater and film production."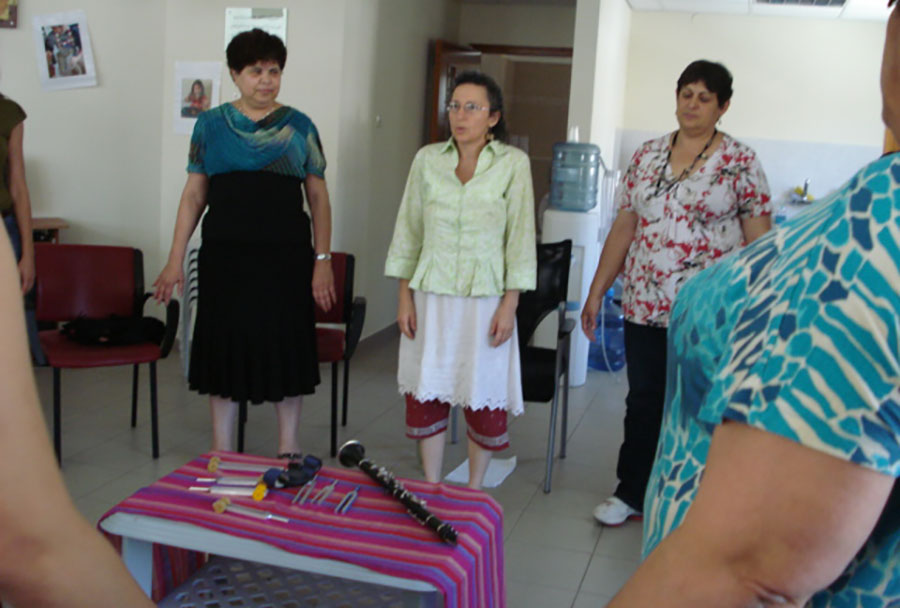 Sheila's career path has always led her to be in service to others. She worked as a counselor and program coordinator in South Seattle Youth and Family Services. As a licensed massage practitioner, she has also provided palliative care through music, massage and Acutonics at a nursing home/hospice care facility in Seattle. Sheila is also certified in iRest Yoga Nidra Meditation and teaches at yoga studios and online.
Sheila includes Acutonics in her regular selfcare practices and finds it to be incredibly helpful on all levels. "Goddess knows where I would be without them! And using the new Hygeia set has noticeably shifted some old beliefs in which I was stuck."
She also enjoys writing and is currently developing an animated show for kids called Adventures at the Mindful Palace. "I'm taking voice acting and improv classes which my 5-year-old granddaughter gets the benefit of! We love to dress up and play different characters. I enjoy writing songs." She also finds talking and singing to trees, plants, rocks and lizards soothing "I love cultivating a small herb garden and meditation of all kinds is my 'go to' for daily recentering and rejuvenation."
An advocate for peace, Sheila has certified with Capacitar International, a global peacebuilding network that incorporates a popular education approach to trauma healing. Families and communities learn and share body/mind based self- healing practices empowering them in their transformative processes. "In my travels, I have been able to share Acutonics and Capacitar Practices with Palestinians, Bedouins and Israelis and in the U.S. with veterans, homeless women, immigrant children and Peace and Justice communities."
Sheila has also recently partnered with a colleague and dear friend who is a yoga teacher and movement artist who travels to Gaza. "We are conducting online workshops in self-care practices for managing trauma to a team of crisis outreach workers for Gaza Community Mental Health in Gaza City. In these workshops, I use Acutonics chimes in the delivery of the body/mind practices, meditations, and visualizations that I share."
Reflecting on how her healing work has evolved over the years, Sheila states: "Healing work like music evolves over time based on both internal and external experiences and environs. I continue to integrate a diverse array of healing practices both personally and professionally that nurture connection to creativity, inner wisdom, and wholeness. Hence my new project, Notable Healing podcasts!"
"The podcast is an experiment! My intention is to broadcast the frequencies out into the masses and make the content accessible to a broad range of folks both young and old, experienced and unexperienced with body/mind practices. It's a little tricky weaving word and sound, music and meditation together but so far, I have had very positive feedback. People will be able to find it and subscribe on Spotify, iHeart Radio, TuneIn, Amazon, Google and iTunes. I will send out a big announcement when it's ready!"
Sheila can be reached at notablehealing@gmail.com and through her website www.notablehealing.com, or by text/call at 206-898-5090.