A curious explorer, when she went off to college Marcy tried several schools and many different areas of study. Eventually, she completed an Associate of Science Degree to be a veterinarian technician and went to California for her internship.
"I worked for a holistic veterinarian, who specialized in acupuncture, homeopathy, herbal medicine and laser therapy. This was my introduction into alternative medicine and was a turning point in my life, recounts Marcy. After working as a veterinary technician, I decided to attend massage school and graduated in 1993 specializing in neuromuscular therapy. In 2002, I was introduced to Acutonics. I had dabbled in astrology and shamanism and had an interest in studying acupuncture, Acutonics provided all of this, truly bringing art and beauty back to medicine. It was so easy to incorporate into my massage practice and people loved it and the results."
Marcy began her Acutonics studies in Florida in 2002 with Elizabeth Stewart, and she reached her goal of becoming a Certified Acutonics® Practitioner in 2012, she also certified to teach Acutonics Level I & II. In 2012 she also decided that she really did want to go to acupuncture school to learn points on a deeper level, and to improve her diagnostic skills using the tongue and pulse to identify patterns of disharmony. She graduated in 2014 from The Academy of Five Element Acupuncture. Although, she admits that even with her additional training when using the forks, she sometimes works more intuitively and does not always use her knowledge of acupuncture.
"Currently, I have a small practice, which is much smaller due to COVID. I incorporate all the many tools I have into my practice: Acutonics, Acupuncture, Shamanism, Crystals, massage and a few other tools. My treatments are not for everyone, but the people who do find me, love the treatments. I am not the type of person to do research and case studies and I genuinely like to work with the forks intuitively. A lot of the time, I just grab a couple of forks and listen to them and use them. It seems like the ones I am supposed to use, just jump at me. When I use the forks, I feel that I can see and hear other beings from other realms in a different more open way. I feel that Acutonics has added so much to my practice, along with deepening my own spirituality."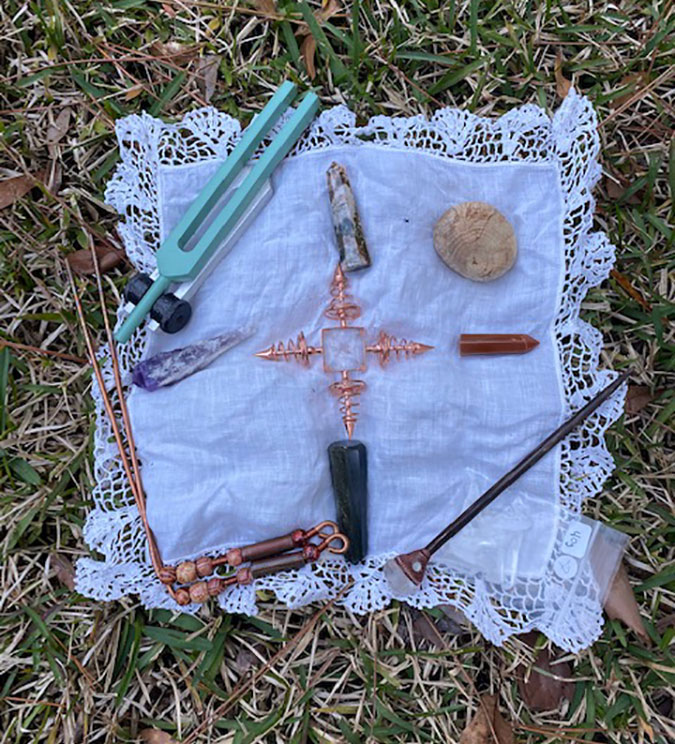 Bringing together her deep knowledge, love of the outdoors and spiritual practice, Marcy began to expand the way that she works about a year ago.
"I started thinking about using the forks to really work with Mother Earth. First, I looked at ley lines and vortexes, but that did not feel quite right. I purchased some beautiful dousing rods but was a little frustrated about where to start using the forks to help the Earth. Last fall, a friend told me about a book called Earth Acupuncture, which I purchased. After reading the first chapter I started to come up with my own protocols. I began to do Shamanic journeys for my teachers and helpers to show me what I needed and what to do. I have a little bag that I can carry anywhere that has my tools, but it did not feel complete until I opened my present on Christmas morning and there was the Hygiea set. When I listened to her with Sedna, I knew my tools were complete. I feel like I am on a new journey and cannot wait to see where it takes me. My clinical practice is very small right now, so I feel that I am in the position to take long weekends here and there and continue my Earth healing work."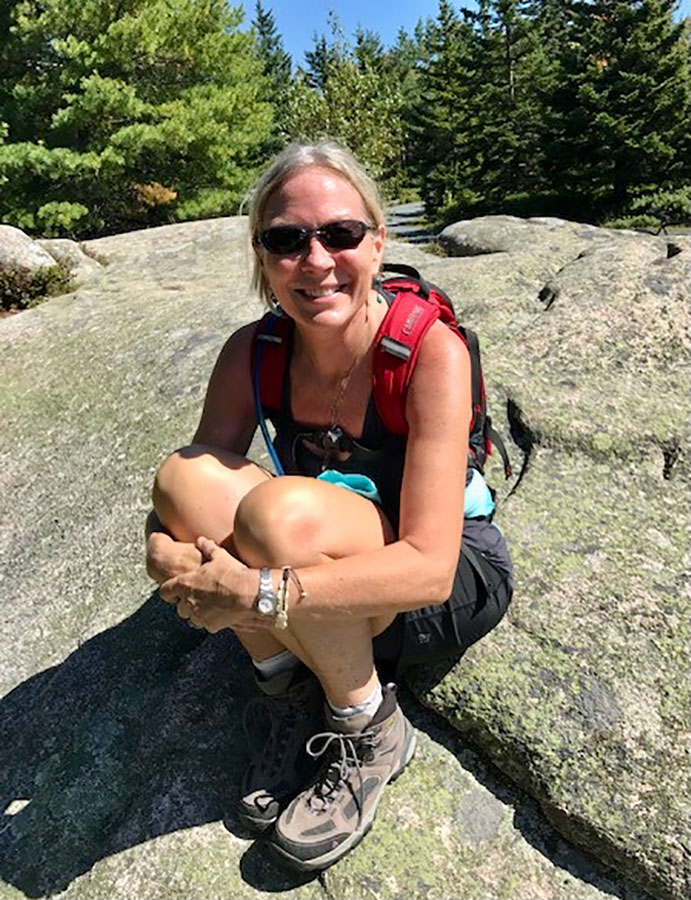 Marcy currently, lives in Savannah, GA with her husband of almost 13 years. She has 3 children of her own, and together their blended family has 6 children, and 11 grandchildren, along with two very naughty cats. Marcy still lives among the trees and her love for the outdoors has never diminished.
"I love to walk and hike. I take a walk almost every morning and touch trees along the way. Their roots are deep, so I send them light and let it spread out, which is another way of healing Mother Earth. I find that each tree has an access point that allows me to channel the energy. Older trees have several access points and sometimes the access points change. It takes me forever to walk three miles, but I love my trees. I live in a very beautiful place and am so grateful for the abundance of beauty here. But, if I am honest, my spirit is happiest in the mountains. All of my body starts vibrating when I am finally home. Life is truly a journey and I am open to seeing where this journey takes me."