A life-long athlete, Holly has suffered many physical injuries, and lived with chronic pain in her joints for many years. In 2014, she was referred by her naturopath to Katie Mink, she had truly profound results from her Acutonics treatments. She was so impressed, she started to take classes with Katie and Laurie in January 2015. She also began attending Acutonics Camp that year and always looking for ways to contribute she has created camp tee shirts, and she and her husband Kevin have devised a way to tarp the teaching space at camp, to offer students protection from the elements.
Always on the fast track to learn, Holly recently became a Certified Acutonics® Practitioner. It was our pleasure to award her this well-deserved recognition on her recent visit to the Mothership with Katie and Laurie. Although, she is quick to state she doesn't practice, her knowledge of the depth and efficacy of this modality, and her advocacy and promotion of Acutonics is beyond measure.
Since our initial meeting at camp Holly and I have been in touch over email and phone exploring opportunities to introduce Acutonics to Athletic Training. Holly has been engaged in the Athletic Training Profession since 1967. She was among the first five women to be certified by the National Athletic Trainers Association, which will have its Fiftieth Year Celebration of Certification of Athletic Trainers in 2020. In a recent conversation with Holly she states, "I wish I had stumbled across Acutonics when I had control of the intended audience, I wanted to share it with – whether I was working on the field as an Athletic Trainer, in the clinic as a Physical Therapist, or in the Navy. As a Senior Chief, I would have had the opportunity to introduce it to both officers and enlisted, but I have no "in" now with any of these groups." Despite this, she persists in identifying ways to access these groups and share Acutonics with them.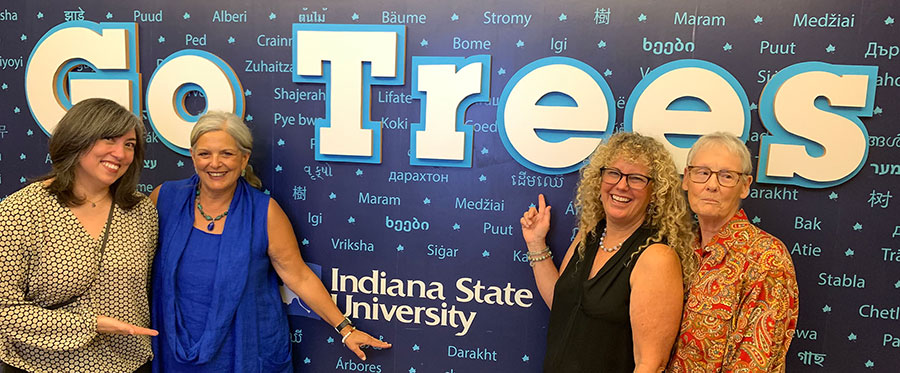 Most recently Holly was instrumental in having us invited to Indiana State University to present Acutonics as part of the College of Health and Human Services, Department of Applied Medicine and Rehabilitation Sesquicentennial Celebration. Katie Mink and I were the lead off presentation for an all-day program on Thursday, September 5. I provided an overview of the history and development of Acutonics and Katie shared excellent examples from her clinical practice and provided a fantastic demo. In the afternoon, we held open sessions and many students and professionals from the surrounding community dropped in to learn more about the work and Katie gave many highly effective mini treatments. We were assisted by Indiana native Carol Cobine, an Acutonics faculty member, who is already exploring ways to provide further training to students and faculty at ISU.
The Department of Applied Medicine and Rehabilitation includes the Programs of Physical Therapy, Occupational Therapy, Physician Assistant, Athletic Training, and a minor in Advanced Myoskeletal Massage Therapy, a truly integrative and innovative perspective on education of the future health care providers. The Chair of the Department of Applied Medicine and Rehabilitation and several students and faculty also attended a meeting with us on Friday, to explore the possibility of research with Acutonics, which we are extremely excited about. This is something Holly and I have shared many conversations about as we recognize the critical importance of developing publishable evidence based research on the efficacy of Acutonics.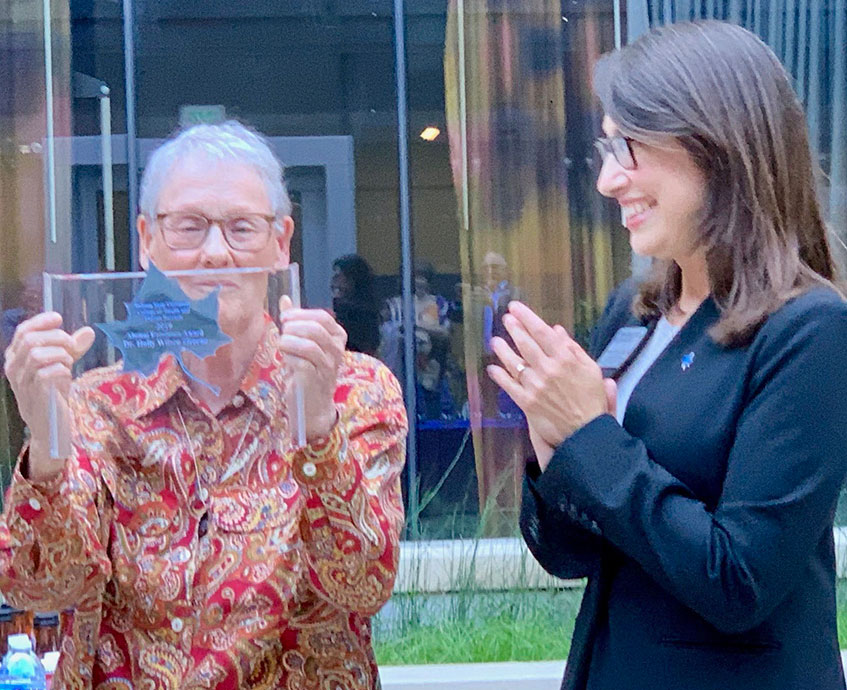 At a reception held at the end of our program on Thursday, Holly was honored as the recipient of the 2019 Alumni Excellence Award. This award was established to provide recognition for the outstanding achievements of graduates of the College of Health and Human Services. Holly earned her BS in Physical Education and Health with a Specialization in Athletic Training from Indiana State University in August of 1969.
At the time ISU had the only recognized program in Athletic Training in the country and Holly was the first woman graduate of the program. She established an Athletic Training Scholarship in her name at ISU several years ago.
"I stayed on at ISU as a Graduate Assistant and earned my MS in Physical Education (with emphasis in Athletic Training) in AUG 1970, Holly stated. Then I was awarded a Fellowship in The Project for the Handicapped (a Federal Grant) at ISU since there were still no positions for women as Athletic Trainers. I was one of 3 graduate students working on the grant which was to develop an undergraduate curriculum in adapted physical education. The Special Olympics was in its infancy at the time, having started in the summer of 1968. Indiana State was a leader in the movement and was the site for the State Games. We worked with the Special Education students at the Lab School teaching an ARC Beginning Swim program we had modified, coached local Special Olympic Teams and were very involved with the State Games. We also traveled around Indiana to gather information about local adapted physical education programs and to the University of Illinois which was known for the accommodations it made for its handicapped students."
When ISU ran out of funding for Holly, she went to University of Iowa to begin work on her doctorate. She had a Graduate Assistantship in the Women Physical Education Department where she taught physical education classes and fit in athletic training for women's athletics whenever possible. Then in 1972 she returned to ISU as Acting Instructor and Athletic Trainer, teaching an overload of classes and providing coverage for 10 teams with the help of a Graduate Assistant. In 1974, she returned to University of Iowa as Assistant Athletic Trainer and continued work on her PhD, which she was awarded in August of 1980. Her dissertation was a book, Basic Care and Prevention of Athletic Injuries for Volunteer Coaches in Non-School Sports Programs: An Instructional Manual.
Originally, from Berkley, CA, Holly returned to CA in 1980, and in 1983 began Physical Therapy School at Children's Hospital of Los Angeles. After receiving her PT Certificate, she joined the Naval Reserve in October of 1984. Holly was not physically eligible to join as an officer, but this didn't deter her, she served for 20 years, working as both a Physical Therapist and Health Promotion Coordinator. She retired as a Senior Chief Hospital Corpsman.
While serving in the Navy, Holly developed an injury prevention program called FIT Tips - Targeting Injury Prevention Sensibly. Using a Health Fair model, the program was taken to various Bases around the Pacific Northwest and on board ships home-ported there. "It was important that we focused on educating our warriors on simple things they could do to prevent injuries to their feet, ankles, knees, shoulders and back because sports injuries were negatively affecting mission readiness", stated Holly.

In addition, she developed several classes for the Health Promotion Department at Naval Hospital Bremerton - programs for Retiree Health on safe exercise and exercise to try to control diabetes and cholesterol and for Dependents dealing with fibromyalgia. She was a certified Navy Instructor and a Master Exercise Leader teaching classes in the weight control program that focused on proper exercise execution, safety in exercising in the heat and injury prevention, among others.
After retiring from the Navy Holly's desire to remain of service led her to become a Red Cross Volunteer at Naval Hospital Bremerton, which she did from 2005 to 2014. She would fly to WA State to help fulfill the Department's schedule. Holly reflects, "During those years from the start of the Gulf War, the hospital was short-handed, so I did additional non pay drills and served as a volunteer. In this same time period, I also became interested in Canine Rehabilitation and completed some of the coursework but not only did my knees complain but the Veterinary Medicine climate here in CA was not welcoming to PTs. Veterinarians did not want PTs venturing into the field of canine rehab without a Vet being on the premises. I decided it was too much of a headache (and body ache). I also did not want to put my PT license in jeopardy or be fined by the Veterinary Board, so I looked for other options." Among those options has been her continued advocacy for animals. She has fostered and adopted dogs and handi-capable cats and worked with a Veteran interested in developing a program to train emotional support dogs for returning service members struggling with PTSD.

Being among the first women athletic trainers in the US, Holly has written 44 chapters of a book about her career with the working title The Road Less Traveled, although I did suggest an alternative title of "Paving Untraveled Roads". She has written several children's stories including a couple mysteries, one fairy tale, plus several stories as personal gifts. For the past five years she has facilitated the Words in Bloom, creative writing group at the San Leandro Senior Center.
Please join me in congratulating Dr. Holly Wilson Greene on her recent award from ISU, as well as receipt of her Certification as an Acutonics Practitioner. We have so much gratitude for all of her hard work and advocacy throughout her life.
Holly can be reached at holly.w.greene@gmail.com.
You can read more about Holly in this profile published last year - https://acutonics.com/news/profile-holly-wilson-greene