By Ellen F. Franklin with QZ Heidl
In addition to her Acutonics studies, QZ loves to read, cook, travel and be out in nature, taking walks when she can. She also enjoys shamanic drumming. "Drumming in nature brings me great peace, and all of nature loves it."
QZ was born in Burnaby, BC and spent her formative years in various areas on Vancouver, her parents eventually purchased a place in Richmond where she remained until moving to the Kootenays in 2011. She describes her younger years as free spirited.
"I was an outspoken rebel and a daydreamer, which frequently got me into trouble. I would always envision humanity living in a utopian world and talk about it to my friends. This would cause most people to tell me I was delusional and unrealistic. I questioned absolutely everything, as I had a tendency to see the reality in which we lived as suppressed and dominating. I was also very protective of my friends and had a gift of being able to engage with all types of people to create harmony within certain situations and environments, just by being in them."
Throughout her adult life, ZQ has explored diverse careers. At 18 she went to work at a fish cannery for several years, and then she worked for a cabinet manufacturer for twelve years. She held several different positions from assembly line worker to sanding cabinet doors, to becoming a custom spray painter. As a single mom, when her daughter was born, she chose to become a live out nanny and housekeeper so that she could spend those early years with her daughter, who today is at University. Although QZ explored clerical work both secretarial and administrative her heart wasn't in it, and she made the decision to follow her passion and in 2005 she went to school to study Culinary and Pastry Arts, she worked professionally in this field until 2017 when the long days of standing began to take a toll on her. It was right around this time that she also met Theresa Lee at a Breath workshop and first learned about Acutonics.
She went to see Theresa in her clinic, and after experiencing a Fibonacci Treatment, QZ says she was hooked. "I knew that I had to learn this amazing modality as I had been working with sound and energy in other forms for years, but this was something I could see as being highly transformative. I love absolutely everything about this modality. I find the whole system to be genius and have seen how transformative it is."
Theresa Lee Morris wrote, "It has been an honor to introduce Susan Heidl, "QZ" into the world of Acutonics. From our first introduction in 2013, it became clear she would work with this powerful medicine. She immediately signed up to be part of my first level I class. I am grateful to have had her support, and even more grateful to be part of her Acutonics story.
She has a strong connection with these cosmic tones and combines her wisdom, intuition, and guidance to create exceptional treatments. Her healing sessions are often described as "out of this world", as her clients report moving through portals into other realms. She is the unconditionally loving mother who provides us with a safe container for growth, healing and transformation on all levels."
QZ has completed all of her course work and clinic hours and is about to embark on her thesis project. "I will be doing a documentary of my journey into sound healing with Acutonics and how it transforms peoples' lives."
Although she plans to interview many people for her project, without question, she will be speaking from personal experience. "I have been dealing with Osteoarthritis for many years, with pain so bad that I would leave my job each night in tears from all the standing during the day. I walked with a cane and had to get a brace for my leg which helped with the pain. Once I started using the forks I noticed that the pain started to subside. Over the years I can say most of my days are pain free unless I eat something that triggers the pain. I also no longer need a cane or wear a brace."
Acutonics is the only modality that QZ practices. She also like to incorporate planetary information from a client's astrological chart. She states, "I have taken some beginning studies in astrology but definitely plan to pursue this in more depth in the coming years."
QZ, self-describes as a cosmic being of light, and she has learned to use her intuitive gifts to see the body as a unique holographic system. She brings this awareness into the treatments she offers with Acutonics. "In my clinical approach, I work with the sacred geometry within the bodies matrix for each individual. I work with higher beings and speak the language of light to activate each individual's sacred codes of light, which are integrated into the system, along with the frequencies of the tuning forks to help the individual create a new matrix."
Will Morris identifies QZ as someone with an exceptional view into the spiritual world. "QZ uses sound healing to express that insight through individual and group work. It has been an honor to participate in a small way, the unfolding and empowerment of this exceptional human being and sound healer."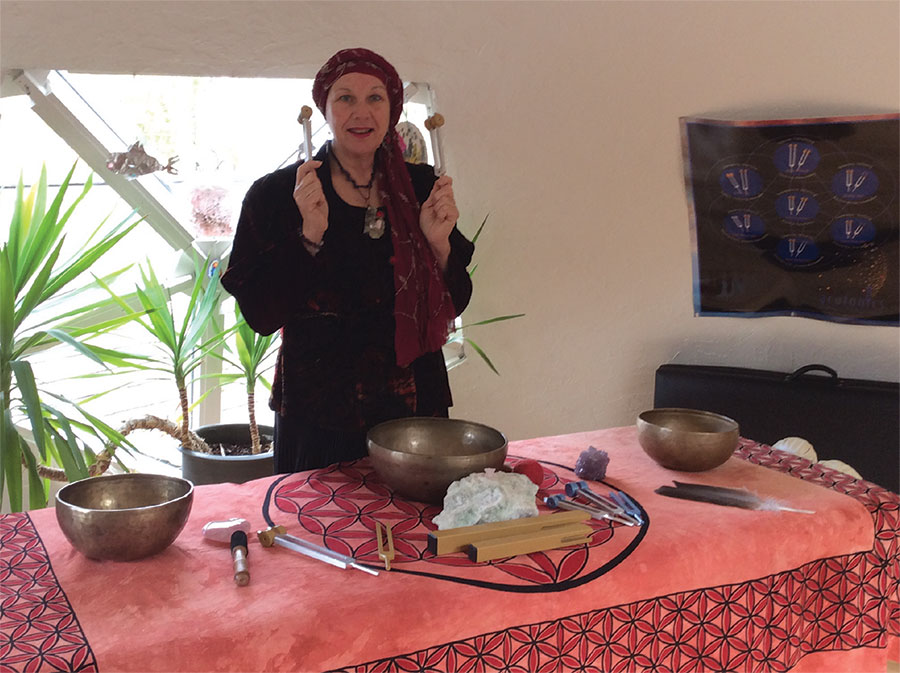 In addition to the tuning forks, QZ incorporates the Hand Chimes, Tibetan bowls, Harmonic Essentials® Oils, and her two gongs, Nibiru and Venus into her treatments. She also likes to work with crystals that she will place on the body and will then run the tuning forks through the stones. She finds that people are really receptive to her work.
"I have regular clients who come once a month for their tune up. The results for each client vary, but I have had clients' life paths change almost immediately after a treatment or gong session. They report tremendous pain relief, and a shift in anxiety level. They become more open to deeper levels of self-love. Clients feeling paralyzed in a suffocating unhealthy relationship have found the courage to break free and move forward."
QZ describes her work as a sound therapist as just beginning.
"All these years of training and learning this amazing modality has brought me to this perfect point in time. As we move into a new reality of awakening I see how my journey has led me to Acutonics and how powerful sound is in transforming the trauma, anxiety and pain into a new coding for the higher frequency Earth. I am here in this reality to work with activating these new codes for the new human blueprint."