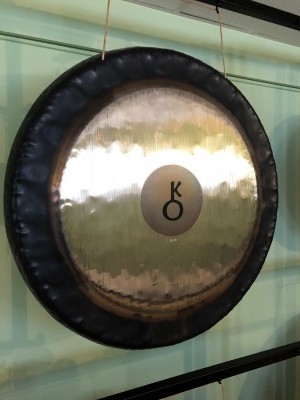 Currently At: Divine Resonance Healing Center
Where: Asheville, North Carolina. What I call the Emerald Forest with the Divine Mother mountains.
Discovered Acutonics: In 2002.
Started Teaching Acutonics: In 2012.
Forks or Gongs: Everything—from forks and gongs (on clients and animals) to Tibetan singing bowls and chimes, drums, didgeridoos and rattles. DahVid also likes deep breathing, acupuncture, a BioMat and Elohim toning.
But the gongs! They teleport me to another space-time—like Pleiades. I love gongs! I think Earth was my first gong. And I continue to be in a state of awe at what humans say about the gongs.
Known As: An Old Soul.
Known for: Helping people on their journeys by way of the expanded heart chakra. DahVid is also a multi-modality healer, teacher and mentor and about the most genuinely—and refreshingly—positive person you can come across.
Roots: I was born in 1961 in Hempstead, New York. I grew up in Long Island and Manhattan. My mom was very good at taking care of our family [DahVid and his older sister and brother], and my dad worked in real estate.
DahVid as a Kid: The first word that comes to mind is rambunctious! When I was eight, I had all these made-up names and words that were not what I was taught in the English language. This languaging came in handy in 2011 when he had to learn the language of Light.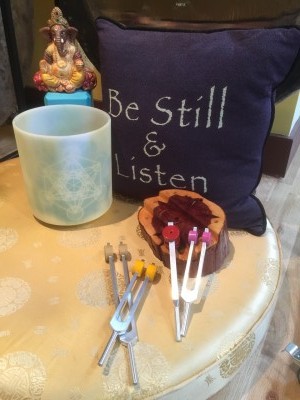 Education: I graduated from the New York Institute of Technology in 1985 with a BPS in business and hotel management.
Two years later he founded a nonprofit, The Premier Club, and then went to work for Optimal Health SOUlutions in San Francisco and Boca Raton. During those years with Optimal he continued to learn, eventually earning a PhD in the esoteric arts, and a master's in Asian medicine, as well as gaining certification as an acupuncture physician, an herbalist, a nutritionist and a Lightwave Energy Practitioner.
Public Outreach: In 2000, I started the first Acupuncture program with The Palm Beach County Drug Court System.
His Intro to Acutonics: I first heard about Acutonics when I was with a colleague at a health expo in Fort Lauderdale.
How that First Hit of Acutonics Affected Him: It was amazing. I stayed at the booth the rest of the day and helped them pack up! When I first experienced Acutonics, it opened me up to the Music of the Spheres," he says. "It was such a further expansion of sound.
How Acutonics Has Affected Others: Some say, Wow! Some cry, as if they've had a remembrance of being in the womb of life. And some feel sooo relaxed.
On Acutonics in General: It not only complements everything else—from massage to acupuncture—it's the perfect companion for healing people. And animals.
Other Modalities He Uses With Acutonics: I also do Elan Energetics Light Therapy, which uses LED [Light-emitting diodes] and opens up the pineal glands, stimulates the release of ATP (Adenosine Triphosphate, considered by biologists to be the energetic currency of life) and promotes cell regeneration. But, really, anything I combine with Acutonics, people get better more quickly.
How long in Asheville: I've been here for nine years. I moved here from Arizona. I'd been in Tucson, and I'd taught a class in Sedona.
Acutonics and Integrative Medicine: As I have seen Acutonics grow, way back when, people were coming for acupuncture and I'd take out my tuning forks and they'd say, You want to do what with who? Now, it's become widely accepted as we empower ourselves to take responsibility of our own health. And people are more and more open to vibrational medicine. And to self-care. Self-care is very empowering.
Volunteer Work: I've volunteered for an animal rescue organization here in Asheville—Brother Wolf Animal Rescue. I use the forks on the dogs. Mostly the Mars and Venus forks. And I've trained two veterinarians as well.
Dogs v. Humans—Who Needs Acutonics More: Dogs love it. They calm down faster. But I also treat humans—because, really, they're the root cause of the problem.
His Other Passions: Hiking and traveling, meditating and reading. And making food.
Truffles especially: I'm expanding my truffles in the Asheville area. I make raw vegan truffles (out of cardamom cacao and pumpkin spice) and I offer them to the public.
His Other Projects: There might be a new CD and toning book coming out sometime this year. I have a recipe manual on the market, and I've done four CDs with crystal bowls and toning.
How Acutonics Has Helped Him: I've gotten rid of my stomach pain. I've used it for post-surgery and it really helps with my tension and my neck and back pain. It's made me stay more balanced and brought me more peace.
DahVid has also been working on a two-day Acutonics nutrition class and he'll be offering a six-day course teaching Levels I and II which begins on March 23rd. DahVid can be reached at the Divine Resonance Healing Center in Asheville, NC, 828-333-011, dahvid@me.com, http://www.dahvid.com