Theresa Lee lives in Riondel, Canada, a very rural, rather remote area of British Columbia. There are three other towns nearby, and the total population of the four doesn't even top 1,000. Nevertheless, as isolated as it is, it seems most everyone there has heard of Acutonics or experienced it; even more impressive, Theresa estimates there are probably at least a dozen people there using tuning forks (on themselves and others). So although she hadn't settled there with the intention of founding an Acutonics community, one seems to be sprouting up around her anyway.

Born and raised in Toronto (she confesses to having been a city girl prior to heading West), Theresa left the University of Toronto, where she'd been studying psychology and sociology, and moved to Whistler when she was 21. "I wanted to try something different," she says. "I moved to BC to be a skier. And the minute I got here I didn't want to be anywhere else."

Despite her urban upbringing, she took to the outdoors immediately. "I started having children—two sons," she says, "and I've spent most of my time living a back-to-the-land lifestyle."

And about six years ago, she got into Acutonics. "I discovered Acutonics through a friend," recalls Theresa, whose father used to point out the positions of the planets in the night sky to her when she was a girl. "It was a treatment with Eva Chobanuk, and she was working with the Acutonics tuning forks. To be honest, I wasn't that excited about the tuning forks—until she put the forks on me. The second she did it was the most incredibly and deeply relaxing experience I'd ever had. I am often tensed or stressed. But the forks totally relaxed me. And energized me. And put me into a more open state."
Theresa had done some sound healing workshops before, and had Tibetan singing bowls as well. But the Acutonics forks transported her. Three months later, she was down in in Spokane for a Level I class with Rebekah Giangreco. "When I first got the forks, it was just so I could have them—to put them on me anytime. I didn't have it in mind to make a profession of it."

But when she returned to Riondel from that initial Acutonics Level I workshop, she was so excited to share she'd put friends on the table whenever she got the chance. "It feels wonderful when someone's not feeling well and you can help," says Theresa. "You can shift them. The forks, and Acutonics, fit my nurturing personality."
In 2012, Theresa was invited to attend an Acutonics Level I & II Teacher Training at the Mothership in New Mexico, although she was initially reluctant to train as a teacher she credits this experience with helping her realize that she could teach. Not just a student or an enthusiast. "This work has helped me step into a bigger and bigger part of myself," explains Theresa. "My mother had just passed away. And I inherited some money. So, luckily, I didn't have to work if I didn't want to. I was quite surprised at how hard that is, though. There's not a lot of fulfillment in not having to work and I didn't have value for myself.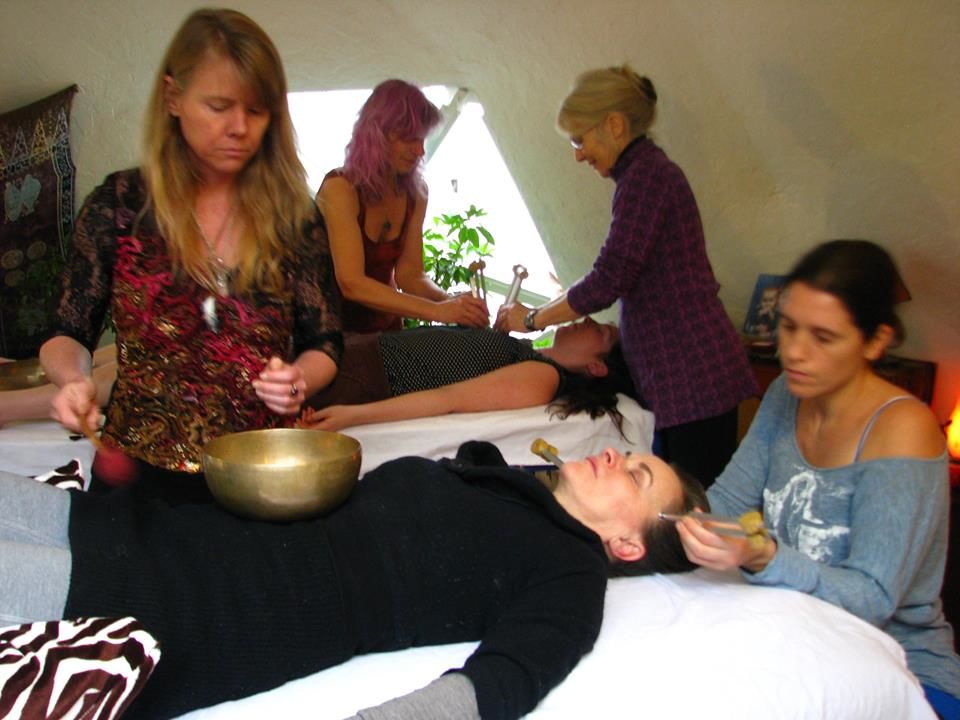 Acutonics, though, has given me that—that purpose and value," adds, Theresa. "I wasn't even looking for anything in my life at that point."

Admittedly shy, Theresa describes herself as that person in class who rarely if ever speaks up and who'd rather not be seen. Now she has her own practice the Kootenay Sound Healing Centre (which she founded in 2013), and she's frequently onstage performing in front of people with her Paiste planetary gongs. "Acutonics has been completely transformative," she says. "It allows you to step into your purpose. There's still fear, but it gives you confidence."

"Ellen and Donna are always telling me, Yes, you can," says Lee, who continues to renovate her five-acre property and add onto it (building a bridge over the creek that will lead to her gong temple is her latest project). "I'm always bringing people to my community."
And the Acutonics community beyond there in Riondel, which extends throughout the world, is equally supportive. "Because the area I live in is so remote," says Lee, "when people come to me I work slowly. I use gongs and singing bowls, in addition to the tuning forks. And with Acutonics, it can be added onto anything. It complements other modalities. It is integrative."

"It's the kind of therapy," she continues, "where you don't even have to put a fork on a person—if they're touch sensitive, it complements whatever else they're getting."

Almost to a person, people who try Acutonics take to it in seconds. "The first thing everybody says is that it's the most deeply relaxing they've ever felt," says Theresa, who has set up her practice as more of a retreat than merely a place for integrative medical treatment. "People also sleep better, it gives them energy. They have more focus. There's a reduction in pain. And it's so supportive for any kind of recovery. From surgery or trauma. For depression and anxiety. It's powerful. It's life-changing."

In addition to offering the full Acutonics Certification Program at her Kootenay Sound Healing Centre, Theresa also invites other teachers to offer courses to her students. In the past, those guest teacher have included Will Vukmanic, who taught Points and Meridians, and Korean Hand Therapy and this past August, Dr. Will Morris, an acupuncturist and world expert in pulse diagnosis, who offered a three-day course, Astro-Acutonics: Toning the Deep Transformation. Theresa's next faculty guest is Dr. Alicia Villamarin, who will be teaching Entering the Extraordinary Vessels: NSEV Healing & Acutonics September 30 to October 2. Theresa can be contacted at:​ ohmlilly@gmail.com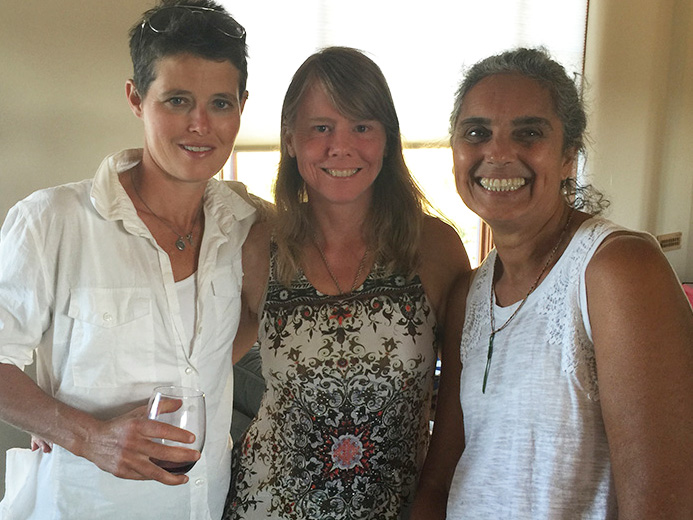 Photo: Erin Taylor, Theresa Lee and Alicia Villamarin celebrating after a recent class in New Mexico.