Katie is an Aries—so she's spontaneous, fiery, daring.
Laurie is a Taurus—reliable, practical, stable.
So, obviously, they complement each other. But they are also, Zodiac traits be damned, extremely loyal—to each other, to their teaching and their students, to Acutonics.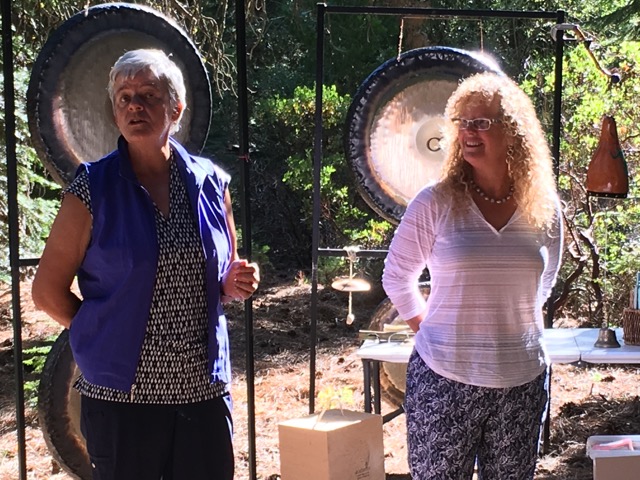 Known among their charges, and among other teachers, as the "dynamic duo," Katie and Laurie, who share space at the Bancroft Center of Chinese Medicine, in Berkeley, California (Katie is the owner and director, Laurie has her private practice there), have been teaching, together and never once solo, since they first came across Acutonics, and Donna and Ellen, at the Westin San Francisco Airport hotel on July 31, 2003. (More on that later.)
"What Laurie and I have together . . . Laurie has a spiritual depth," says Katie. "She's a space holder. I'm a natural teacher but I've never had any training—and that's what Laurie's been for over 25 years: a trained teacher. I couldn't do it by myself—it's too big a basket to carry." "Doing it together," says Laurie, "makes it beautiful and complete."
As seems to be the case with almost everyone who's drawn to Acutonics, and especially among its teachers and practitioners, the seeds for Acutonics were planted, in a way, long ago.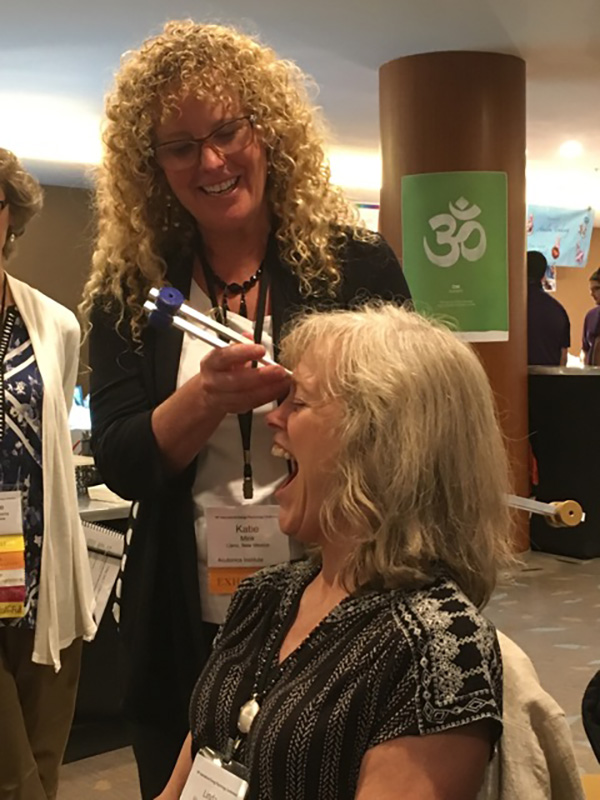 Born in Santa Monica, Katie, the oldest of four ("I definitely carry the older role too far sometimes," she says), grew up more in Northern California (with a three-year stint, from age seven to ten, in Connecticut), in Palo Alto (long before it became Silicon Valley). People were open minded where she and her father, an executive in economics and planning, and her mom, an introverted Pisces, and brother and sisters were. She learned peer counseling at 13, went to an open, alternative high school, where she studied English literature and philosophy, and after graduating, backpacked through Europe with a boyfriend, and traveled all over. (She's been to India 19 times.) "I had a real opportunity to be in the world as a young person," she says.
Laurie, who has a brother and a sister and who were all raised as Mormons (her parents have been devout Latter-Day Saints and have gone on many missions), was born in Provo, Utah but raised, for essentially the first half of her young life, on her father's family farm and ranch along the Montana-Canada border (13 miles to the nearest neighbor, 40 miles to the nearest town). Her grandparents were early homesteaders who grew dry wheat and raised cattle.
In second grade, Laurie and her family relocated to Kalispell, Montana. Her mom's family was involved as National Park rangers and woodsman in and around Glacier National Park. Laurie's other formative years were spent in nature and out in the wild. "Nature was very much a part of our life," she recalls. "And our community was the Church [of Jesus Christ of Latter-Day Saints]. When you live that far out, you use the church as your community."
Like her dad, she attended Brigham Young University, where she received a degree in education. One of her first jobs was teaching at a one-room schoolhouse in Utah's Escalante Wilderness. She then taught art up in Montana for 10 years before moving to California in 1997 and getting hired on as an elementary-school teacher in the Bay Area, where she's been since.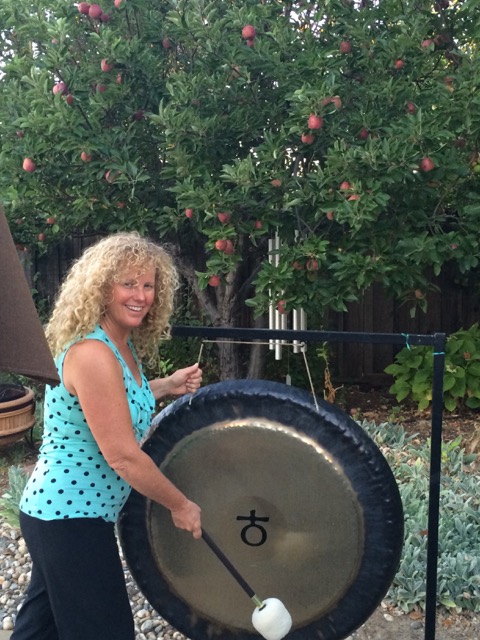 Katie, around that time, had returned to the States and spent time at San Francisco's New College, which led her to Chinese medicine. Which led her to the San Francisco College of Acupuncture & East Asian Medicine from which she graduated in 1987, the same year she earned her license (making her, at the time, the youngest licensed acupuncturist in California).
"When I started my clinic in 1990," says Katie, "I thought the market in Berkeley would be saturated! But that actually turned out well, because Berkeley is where I am meant to be. My clientele has supported my focus on the psyche in Chinese medicine, and later, my interest in Sound Healing.
Ah, yes. Acutonics. Which Katie heard about only because she needed some continuing education units for her acupuncture license. So she went to the acupuncture conference at San Francisco's Westin, where she could take a class on sound healing or a class on shoulder pain. "I was ready for something new," says Katie, who also chose it partly because she'd always sung—in choir, in groups, in India, even, just recently, and at Laurie's suggestion, to one of her clients. "Laurie said, Let's try this," recalls Katie. "Let's tone to specific regions with specific sounds." It worked!
And when Katie walked into the room and Donna and Ellen and Sue Wadden were talking about Acutonics, Katie thought, Wow! Who are these women? And as soon as Sue played the Ohm forks—she was about 25 feet across the room—Katie thought, Oh, dear. "And I burst into tears," she says. "I had the thought -how could I have forgotten? I was amazed at how much I could feel. I called Laurie and said, Get over here." Laurie went on the last day of the conference. "It was great to have her validate my experience," says Katie. "I trusted her energy assessment." "It was like a strong current came and swept us up," she adds. And that date? July 31, 2003? "I remember the date because it started a whole new life on that day."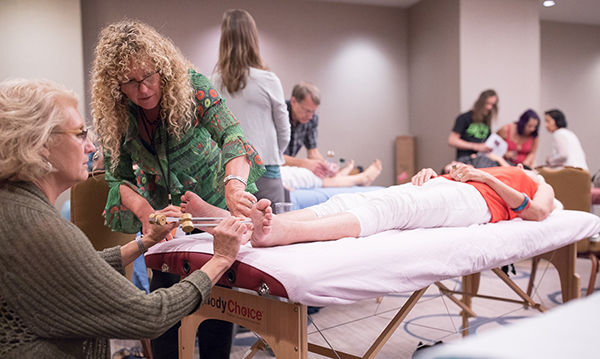 "Katie took me to the Acutonics booth and I looked at the forks and thought, This is real," recalls Laurie. "Then I looked at Donna and I knew—I felt totally awed. I was standing next to someone who is a forerunner, someone who incarnates a body of work or information to establish on earth. That being is profoundly revered inside of me. So I felt honored to stand next to her." When Ellen then picked up the Chiron and Nibiru forks and put them on Laurie's body, "it felt real and profound," says Laurie. "I was speechless." The two decided right there to submit themselves to everything Acutonics. "This," says Laurie, "was going to change Katie's life and I needed to be on that boat. So we ended up doing all the trainings together and became teachers in 2004."
Katie actually tried to put the forks down after completing Level 2, because the pace of life became so intense with them! But then the phone stopped ringing for Katie. So she picked them up again and as soon as she did business picked up too. "The wind was back in the sail—it felt like destiny," says Katie. "I learned there are only two speeds with this: go and stop. "It's really life-altering," she continues. "In terms of how you look at the world. And the work Donna has brought, it's like a repatterning. It helps us to remember. That's something that separates Acutonics from everything else—the curriculum she has created."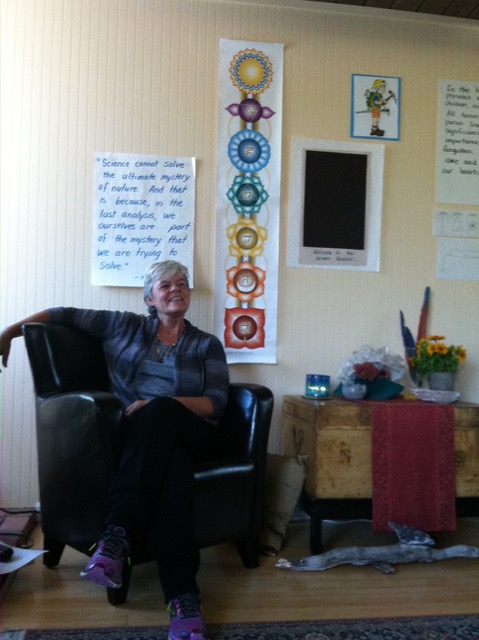 Until Acutonics, Laurie hardly knew anything about Chinese medicine. And at first she felt lost. Then she brought her forks home one day and just sat with them. And decided to figure them out on her own terms. "And I found," she says, "that they were actually able to take a big load off of me. I was burnt out at the time. Teaching full-time, doing energy work full-time. The tuning forks took some of the burden off of me that I was feeling in my nervous system and energy."
She used the forks in a way she hadn't been taught; she learned to incorporate the forks into her shamanistic type work. "It deepened what I was already doing, allowing me to go to different levels of work. And Donna and Ellen have been very supportive of me doing that," says Laurie,
Katie and Laurie had actually met several years before finding Acutonics, when Katie started referring clients to Laurie, who at the time was still teaching full-time. "We both had a big toolbox already before Acutonics," says Katie. "But Laurie helps people make the shift they need to make. And she sees and knows things I don't know." And vice-versa. "Katie could carry the acupuncture part and hadn't been trained in the esoteric aspects of Chinese Medicine," says Laurie. "So we dovetail really nicely with each other. And how I use the forks dovetails well with my shamanistic work."
Katie uses the forks on everybody. And more like acupuncture. Laurie often uses them in her mind. Laurie's not really a gong person, either. "They're nice," she says, "but that's a lot of metal for me. I'm strictly a forks person."
Katie, being an all-in Aries, is the "full shebang," she says. "I use forks and Tibetan bowls in every treatment. I pretty much use everything Acutonics has. And I sometimes sing to my clients." Not to just sing, though, but because there's information in what she's singing or singing about. Information about what's happening with whomever she's treating.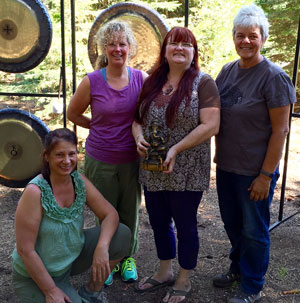 Even when they don't set out to teach, they end up teaching. Together, they own five acres in Mount Shasta , CA. Land they bought to get away from things. Land that eventually evolved into a camp. An Acutonics camp, of course. Open to anybody (anybody who's taken at least the Level 1 class), their July camp combines paddleboarding, swimming, hiking and other outdoor activities with guest teachers, bodywork, anatomy and helping students figure out how to go into a stone store and know which stone is theirs—as well as giving campers an inexpensive way to fulfill an Acutonics elective and get clinical hours.
"We love to mentor our students and grow their intuition," says Katie, who also studied in China at the Nanjing College of Traditional Chinese Medicine in 1988 and has practiced acupuncture and taught Acutonics in India at the Meher Free Dispensary. "It's invigorating and wonderful and exhausting."
"I feel like this work has totally deepened our relationship to each other, to our clientele, to the world," says Laurie. "It's our passion. And the curriculum Donna and Ellen created, it awakens people on a very deep spiritual level. And it's extremely adaptable. You can pick it up and add it to your current practice or modality and take it to a greater depth. And your clients too."
"It's as if- even if we were to quit now," says Katie, "it'd be like we'd taken a PhD program— it was worth it. And we'd always sign up again. What Laurie and I do together, this work is our dharma. There's a destiny feeling to sharing this medicine. If we can get these tools into people's hands, they can be empowered."
Katie Mink and Laurie Herron will be teaching Acutonics I, March 3-5, Acutonics II, March 17-19 and Energetics of Points and Meridian, May 19-21, 2017.