Last January, during one of Lynn's Level I and II Intensive retreats in Baja, Lynn took her students out for a whale watch between trainings. Near the shore they discovered a baby sea lion—it had gotten thrown up against the rocks, disoriented and exhausted. Their biologist asked if they'd take the sea lion home with them for a couple of hours until the government could come and take the animal to the proper animal treatment hospital. They did, and even better, found the baby a hot tub with no chemicals. The students played the animal soft music and Lynn's husband chanted sacred prayers while the exhausted baby slept wrapped in a blanket of care. It was an amazing teaching for the students to witness the strength of a wild animal's will to survive. One student thought the animal was going to die and intervention was futile. Two hours later, the government agency came and retrieved the sea lion and treated the animal for several days followed by a successful re-release, back into the ocean.
"Animals have free will," says Lynn of that encounter. "If they want help, they'll ask for it". The Acutonics students got to experience this that day. "The baby sea lion experience was a most profound Sedna teaching."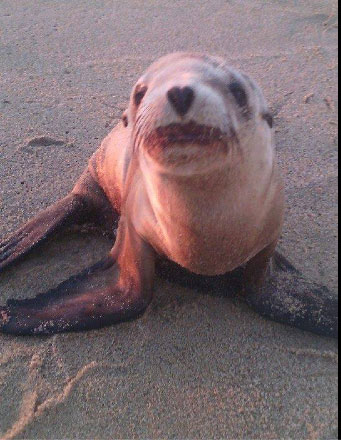 "For each of us," adds Lynn, "the animal taught us about free will, trust, unity and love. Even though it was uncomfortable being removed from the ocean, its home, and far from its mother, it chose to trust us to take it. She felt our loving intentions. This baby sea lion was an expression of pure love. Even its nose was heart-shaped. The students worked together to choose how to care for this being in distress."
Because of these profound connections with nature and the link to indigenous culture, Lynn spends time each year in Todos Santos, Baja California Sur, Mexico with her husband and teaches from there as well. "You can connect with animals and nature here in Baja," says Lynn. "And indigenous values of maintaining balance with the earth are things we need to reconnect with, always giving back to Mother Earth. I love teaching here because of this, and I'm especially thrilled to share Sedna teachings here because of the connection with the ocean, the whales, the water and sea life."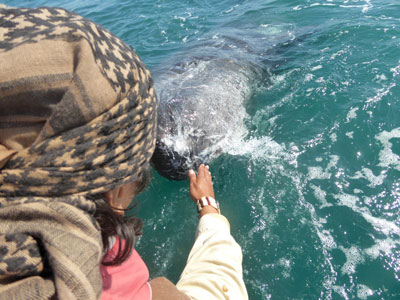 It seems like it'd be a far cry from where she came from—Youngstown, Ohio, a blue-collar town right in the heart of America's Rust Belt.. And yet the Youngstown Lynn came of age in, (she was actually born in Pennsylvania in the late 50s), was practically idyllic. As it turned out, her father happened to be the superintendent of Mill Creek Park, a 4,400-acre Eden of glaciated forests, lakes, streams, waterfalls and gardens, located within the city limits of Youngstown. (Her mother was a professor at Youngstown State, where she taught health and physical education and human development.)
"The Park was absolutely, stunningly beautiful," recalls Lynn, who was not only a bit of a tomboy back then, but a very gifted pianist and ice skater. "Growing up with nature was an amazing experience. I grew up to appreciate the importance of respecting nature and preserving it."
Having been raised in such an environment, Lynn remains committed to the importance of respecting nature, living in balance with Mother Earth, her creatures and ecosystems, and following the native path of indigenous wisdom and traditional spiritual values holding the Earth in harmony.
After graduating from Miami University of Ohio, Lynn then went on to graduate school at Western Washington University in the northwestern corner of Washington state. There she studied cardiac and pulmonary rehabilitation, wellness and preventative medicine. That track then became her profession for the next 20 years.
But Lynn hardly gave up music. Simultaneous to her science career she was also a pianist, vocalist and composer. "All that time," she says, "I was also a professional musician.
There were times when she did medical work full-time and then only part-time. "But my medical work," says Lynn of her schedule back then, "allowed me to fund my music career."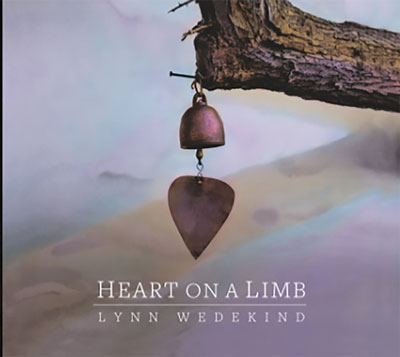 In the mid 80's Lynn went on tour as pianist, with Grammy Award-winning guitarist and composer Eric Tingstad and woodwinds artist and composer Nancy Rumbel, (the duo behind Tingstad + Rumbel), performing with the pair on their first album, The Gift. After their tour, Lynn went on to record her first album, with Tingstadt and Rumbel accompanying her on several tracks.
2017 marks the 30th anniversary of her first recording, Heart on a Limb. Lynn plans to celebrate the era by re-releasing this beautiful recording in eco-friendly packaging, along with a brand-new recording. "When I first recorded Heart on a Limb," she explains, "CDs were just beginning to hit the market. Now they are almost obsolete." You can hear some of her music at www.tuneintuitmusic.com.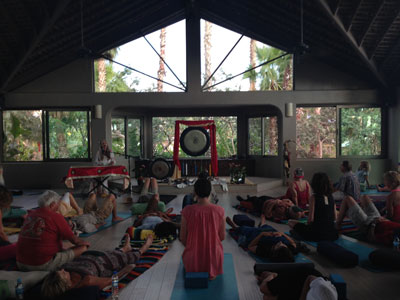 Her music, though, took her much deeper than her medical work. More significantly, it took her listeners much deeper as well. "When I was performing, I knew there was something I was doing that elicited an emotional healing response in people." says Lynn of that period during the mid 80s – 90's. "As a composer, I knew I was a channel for the music and I wanted to consciously understand what it was that I was doing."
So she sought out different teachers to study the consciousness of music and sound, looking answers.
But then, she had a series of car accidents, the last one leaving her with a severe neck injury, which prevented her from singing and performing. "My whole world stopped with that," she recalls.
She stopped touring. So began her healing journey. "I did everything Western medicine said to do," says Lynn. "I didn't get any better."
And for three years the pain was severe and chronic.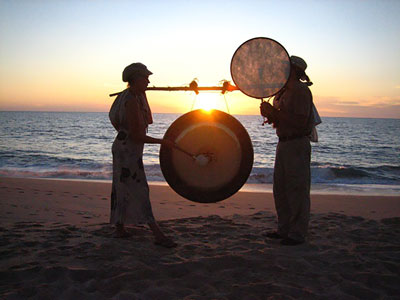 Then an internal medicine doctor, who specialized in alternative medicine, suggested a treatment with Donna Carey and Marjorie de Muynck over at the Northwest Institute of Acupuncture and East Asian Medicine in Seattle.
She went, intending to go there for a treatment but instead her inner voice told her to take the training. So with the New Millennium in 2000, she took Level I and II before there was even a There's No Place Like Ohm book.
Having taken Level I and II for her own healing, Lynn continued the complete curriculum and became a certified practitioner and teacher with her first teacher training in 2004. She is certified to teach Levels 1 – IV, IX (Sedna), and Points and Meridians. She taught her first Level I in 2005.
Acutonics put into practice her interests and training in cardiology, surgery, medicines and changing technologies—in the emerging world of traditional Chinese medicine and sound. "I knew if I stayed at my clinical work, my soul was going to die a slow death," she says. "I took a leap of faith and dove into Acutonics.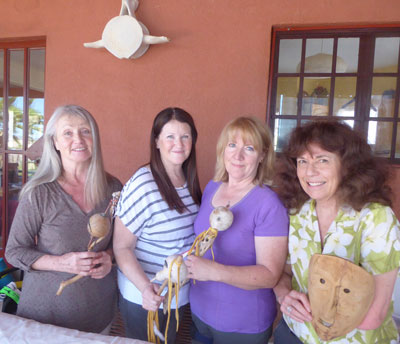 Acutonics combines her love of science and medicine with her passion for music and sound. "It was," says Lynn, "my dharma."
Although music took a backseat during those years, she's now in the process of stepping back into her music and reclaiming it. She continues to offer an annual concert of her original music—followed by a transformational sound immersion, with the music of the spheres—to her Todos Santos community every Valentine's Day, as a way of giving back to the community and honoring World Sound Healing Day.
"It's sound emersion with healing from the heart," says Lynn. "Every time I combine music with sound healing, the response is phenomenal and the Universe keeps knocking on my door saying, you gotta do this."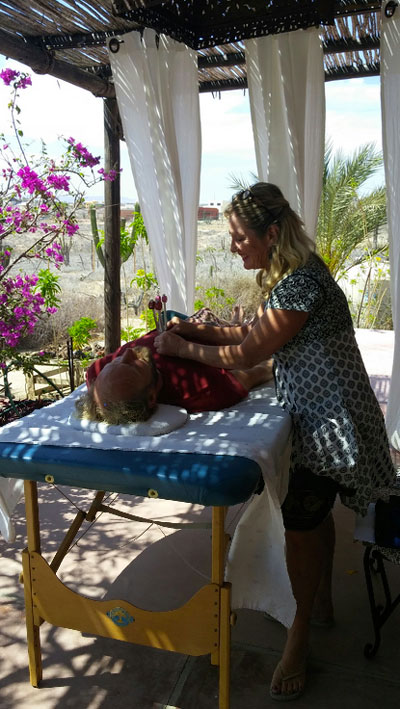 In her Acutonics practice, she incorporates astrological chart readings that allow her another tool with which to go even deeper into assisting her clients. She loves to make her sessions musical, by combining chimes, bells, bowls and gongs with indigenous healing tools along with the forks. She uses her voice by sounding or singing an individualized song, chant or prayer for each of her clients. "I find this combination the most effective," states Lynn, who favors an Ohm gong, and who follows a sound practice of toning, chanting and prayer work every day with her partner. "The gongs are big movers. And I'm all about harmonics and treating the field."
She's also all about where she is. Whether it's the beauty of the Pacific Northwest with it's Olympic and Cascade mountain ranges viewed from the coastal waters of the Strait of Juan de Fuca or the wild beauty of Baja. "When people come here for trainings it's life changing," says Lynn of her new retreat center, Tierra Canta in Todos Santos. From their 360-degree rooftop view you can see the Sierra Laguna Mountains in one direction, the view of the entire beach coastline in another, and the desert behind them. "People reconnect to the rhythms of how life's meant to be. It's a beautiful offering."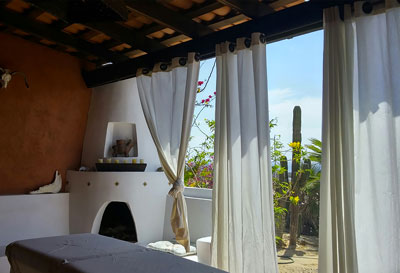 And her Ohm gong just seems to bring out the whales and other creatures regardless of where she is. During one of her equinox ceremonies in Port Townend, Washington (where she regularly holds ocean and water healing ceremonies),12 turkey vultures appeared at the exact time of the equinox—and to top it off, an eagle flew right through them. "Those moments teach us to be humble," says Lynn.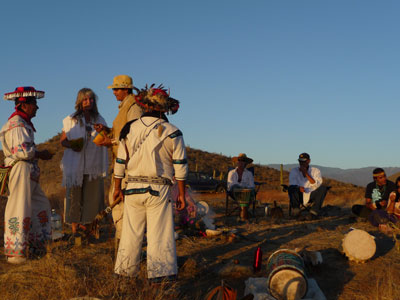 "What Acutonics does is, it gives people a reconnection to their own truth," she continues. "Most people feel separate or cut off from something. Acutonics allows people to realign to their own personal truth and to align with the divine. Sound activates people to their fullest potential. And the Earth needs that now. It needs for all of us to be living in our hearts, living full lives with joy."
And together with sound and ceremony, Lynn passionately assists humankind to reach its highest potential for the new dawning of Mother Earth.
In 2017 Lynn will be offering the following courses in Todos Santos, Baja California Sur, Mexico: Acutonics Level I & II, January 21-29, Sedna March 3-7, Acutonics Level III & IV Intensive April 28-May 7. To learn more contact Lynn at tuneintuit@gmail.com or call 360-808-7170.