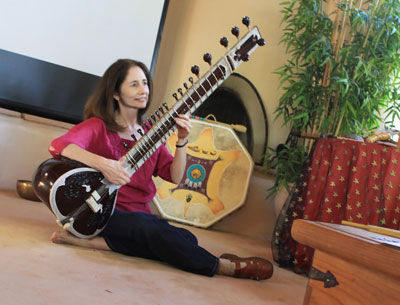 Every first and third Thursday of the month, Certified Acutonics® Practitioner Laurie McDonald and her acupuncturist colleague Terrie Harris hold a free Women Veterans Clinic at the headquarters of Acupuncturists Without Borders in Albuquerque, New Mexico. Terrie started the clinic three years ago and asked Laurie to join during the fall of 2015. Participants sit in chairs arranged in a circle, and Terrie inserts five needles into each person's ears, a protocol for stress and PTSD known as NADA*. While the women sit quietly and listen to relaxing music, Laurie moves from person to person installing sound, complementing the NADA protocol and treating other issues. The women veterans realize significant benefits from combining the two modalities and have reported powerful healing responses. As a result, many have integrated the clinics into their primary health care routine, often relying on the acupuncture/Acutonics model for stress and pain relief when traditional Western medicine approaches have either failed or are not available on a regular, reliable basis.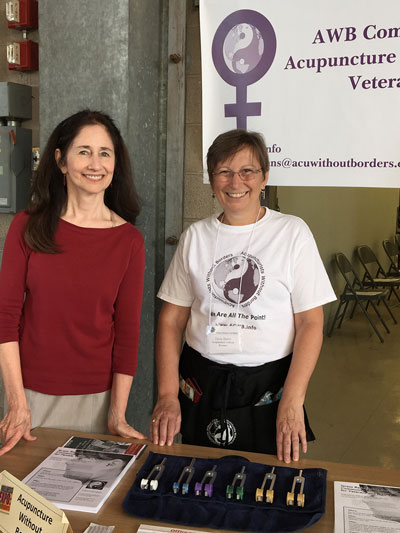 The Clinic has grown over the past year as more and more women learn about and experience the acupuncture/Acutonics model. One of the veterans stated, "I was unfamiliar with healing through sound. I was particularly impressed when Laurie was able to completely relieve me of daily wrist pain I was experiencing due to a fracture… (Laurie and Terrie) have helped me to face my future with great hope for myself." Another participant said, "the benefits have been phenomenal. I have had constant pain in my back and knees for years with minimal relief since I don't tolerate many pharmaceuticals. I was in a lot of pain today; after my treatment, I feel great and know I can make it to next week with minimal discomfort." The combination of the NADA protocol and Acutonics produces profound results.
Laurie's biological mother was a professional organist, and as an infant Laurie was adopted into a family of physicians. Her great-uncle Dr. Sam McDonald wandered the western Tennessee countryside in his horse and buggy attending to the sick and injured. He had two brothers, Malcolm and Clarence, who were also country doctors. Laurie's father Dr. R.P. McDonald was one of a handful of gynecologists in Fort Worth, Texas, who still made house calls in the 1960s. Her two uncles were physicians, and all three men married sisters from Rochester, Minnesota, whom they met through a colleague at the Mayo Clinic. As a teenager, Laurie considered becoming a physician herself and her father asked if she'd like to watch him perform a hysterectomy. Equipped with a Rolleiflex camera to photograph the surgery, Laurie barely survived the initial incision and made a career out of filmmaking and writing instead.

In the early 70s Laurie attended the Rhode Island School of Design and Brown University and later earned a Masters Degree in Literature from the University of Houston. She was part of the first wave of video artists to emerge in the United States, and her work has been shown both nationally and internationally in museums, galleries, and universities. She was a member of an East Coast video art collective who experimented widely with video and sound technologies of the times, often building their own electronics. Laurie saw her first Chladni plate demonstration, c. 1972, and began experimenting with creating video images generated directly from sound via inputting signals from voltage controlled oscillators into the antenna terminals of cathode-ray televisions.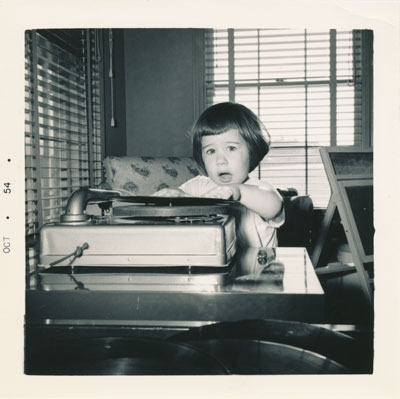 A lifelong interest in music and sound informs Laurie's Acutonics practice. As a two year old she owned an RCA Victor 45 rpm record player (price tag: $12.95) and listened to music relentlessly. At age nine she began studying piano; next came the violin and the cello, singing alto in the high school chorus, and in college, her instrument was the Moog synthesizer. She was swept up in the 60s wave of Indian music, saw Ravi Shankar in concert as a teenager, and later in life played sitar. She was invited to the National Center for Experiments in Television at KQED, San Francisco, to compose on their Buchla electronic music synthesizer. While riding the ancient freight elevator up to her fifth floor Providence, Rhode Island loft, she hummed harmonics to the sound of the noisy motor.

Fascinated by the mystery of music's ability to stimulate a wide range of feelings, Laurie noticed her own emotional and physiological responses to music and sound early on. Thanks in part to Leonard Bernstein's "Young People's Concerts", broadcast on TV starting in 1958, she developed a life-long appreciation of music's deep structure expressed in intervals, rhythms, musical syntax, semantics, and phonology. Through Indian music, she first became aware of the potential of sound as a healing modality. The ancient Indian philosophy known as Nāda yoga informs Indian music and is based on the premise that everything that exists in the multiverse consists of sound vibrations called nāda. Sound and music play the critically important role of achieving connection and harmony in the unified field of consciousness. Nāda yoga expounds the healing effects of sound vibrations, and Indian ragas are intended to impart important healings to listeners.

In 2010, Laurie received a certificate in the Therapeutic Application of Sound and Music from the NADA Centre for Music Therapy in Chennai, India, and became an honorary faculty member of that institution. Wanting to pursue the therapeutic uses of sound in a more expanded context led her, via Google, to The Acutonics Institute of Integrative Medicine and the Acutonics certification process. She took her first class with Donna and Ellen and will never forget her initiation into the world of tuning fork therapy. A class participant placed the forks on her dantian and, as if experiencing a psychic incision, she felt her pelvic area open to an infinite cosmos in which she was peacefully floating. In the years since, many of her clients have reported similar experiences including visits from deceased relatives and spontaneous healings during treatment. Laurie loves the challenge of discovering a person's inner harmonies and helping the Acutonics recipient access the deepest spiritual and emotional meanings. She finds the analgesic properties of musical intervals astonishing and was once told by an end-stage liver cancer sufferer that the Zodiac third was more effective than morphine.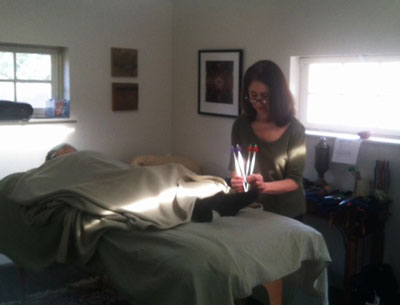 From the beginning Laurie loved the elegance of applying sound to acupuncture points and meridians and felt a deep connection to the Chinese aspects of the practice and the poetics of the points. While living in Houston, Texas, from 1980 through 2004, she was a Chen Taiqi practitioner, Chair of the USA Chen Taiqi Federation from 2003-2005, and studied Mandarin for three years, and these experiences also inform her work with Acutonics. Laurie received her Acutonics certification in 2013 and established offices in Santa Fe and Albuquerque, New Mexico. On Saturday afternoons she offers Acutonics at We The People Community Acupuncture in Santa Fe. She is also an official Cymascope Voice Mandala agent. Please visit her Web site Sound Therapy Santa Fe at www.soundtherapysantafe.com for more information, or contact Laurie at tuningforktherapy@gmail.com.

Laurie would like to extend her thanks and gratitude to Donna and Ellen, Carmen Cicotti, Maren Good, Oksana Merimskaya, Paul and Jude Ponton, Alicia Villamarin, and Mary Elizabeth Wakefield and MichelAngelo for all the knowledge these wonderful teachers have imparted.

Laurie will be in Mérida, Mexico, from January 11th through the 25th, 2017, and would like to connect with sound therapy practitioners and other interested people, so please let her know if you'd like to get together.
*National Acupuncture Detoxification Association
Photos:
Header Photo: Laurie at the clinic for vets
Laurie playing sitar for an Acutonics class
Laurie with her record player
Laurie and Terrie at the clinic for vets
Laurie treating a client at Studio 11 in Santa Fe