Acutonics® Passionate Advocate and Student (Katie Mink & Laurie Herron)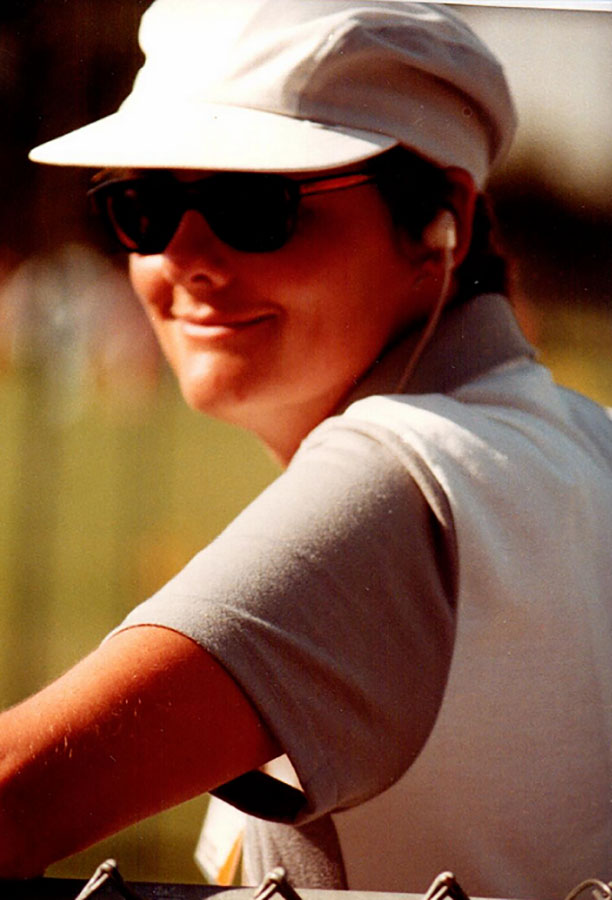 While not a teacher or even yet a full-time practitioner of Acutonics® (she's done all the coursework for certification as a practitioner—save the clinical hours and the project), there are few people, even among the most fervent in the Acutonics® community, who've proselytized on its behalf as passionately, and in as short a time since being introduced to it, as Holly Greene. "I have not been practicing Acutonics®," Holly says from her home in the San Francisco-Bay Area, (where she was born over 70 years ago), "but I am sold on its effectiveness as a treatment modality."
So, sold on it that she's been trying to sell others on it as well. She convinced a member of the clinical and teaching faculty of the Graduate Curriculum in Athletic Training at Indiana State University (where Holly got her BS and MS) to use the forks there—specifically on athletes' injuries. Holly has also been negotiating a lecture/demonstration of the forks (possibly by Katie Mink, who first worked on Holly back in 2014) for students enrolled in ISU's health sciences programs. "This," Holly says, "might be the route to get Acutonics® into the athletic training room and out into the field. The presentation will have the added benefit of introducing the modality to aspiring students in a wide variety of direct patient care-giving professions ranging from physical and occupational therapy to nursing gerontology and physician's assistant, besides athletic training. Who knows where the information will go from there."
Currently a volunteer facilitator of a creative writing group, Words in Bloom, at her local senior center, she worked for many years as a physical therapist and certified athletic trainer. She was one of the first females in the field of athletic training wherever she went. Always desiring to give back to her Country, she joined the Navy at 37, just at the age limit, and retired some years back as a senior chief with 20 years of service in the U.S. Navy.
Berkeley: I was born in Oakland, California and grew up in the city that is often referred to as "Berzerkeley."
My mom was a nurse, but while we kids were in elementary school, she sewed professionally. My father was in the family business—he was a silkscreen printer who did ads for large businesses like Safeway. My brother is a carpenter and an artist and sculptor. My sister, who was a year younger than me, I was in the middle, died in the 90s. I grew up as a tomboy. My parents were active in golf and tennis, and my brother and I played pickup and organized sports—all the time. And I participated in organized school sports in junior high through college. In college at Indiana State I picked up field hockey because the team was short on players and the coach said all I was doing out on the sidelines was watching for injuries, might as well be playing.
In Training: I first went to Chico State. I got my start in athletic training when the class was finally open to women–in 1967, the second semester of my junior year. Remember, this was before Title IX and although Chico was a leader in fielding intercollegiate athletic teams for women, no one ever thought that maybe women coaches needed to be versed in side-line injury care. No one thought of taking the athletic training class out of the men's locker room. I transferred to Indiana State University in 1968 as a second semester senior to enroll in the Athletic Training Specialization, the only recognized program in the country and it was in its infancy. I stayed on at ISU as a graduate assistant to continue running the program that I developed for the 10 women's athletic teams the previous year as an undergrad. There were no jobs for women athletic trainers a year later when I completed my masters, so I was given a fellowship in adapted PE. I did athletic training as I could fit it in, but the work in adapted PE was very rewarding. We developed activity programs for individuals with special needs and worked closely with Special Olympics, which was started in 1968.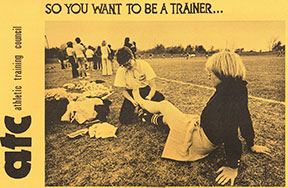 Opening Doors: There were five women athletic trainers in the country at the time. Five. We came into the field through different routes, having different backgrounds. I decided to make it my mission to work on getting athletic training better known as a career option for women. I wrote articles, taught workshops, spoke at conventions and schools, and provided athletic training coverage at various national level competitions for women athletes. Now there are more women who are members of the National Association of Athletic Trainers Association (NATA) than there are men and certified women athletic trainers are employed at all levels of sports, including a few professional teams.
Always After The Ball: As Katie Mink can tell you I was like a black lab when I played sports: I had to get the ball. I was not kind to my body. And I was brought up at a time when if you could still walk you played on. There were no athletic trainers on the sideline for girls' or women's sports. In high school I remember playing on a freshly sprained ankle because if I was taken out, we would have to forfeit the game.
All Chiron: Most of my recurrent injuries involved my ankles and knees although, as I have told Katie, I probably have left no body part unscathed. I had tried acupuncture with several different acupuncturists but was not sold on the technique–but it could have been that I did not undergo enough treatments at one given time.
My naturopath had previously recommended a chiropractor but after a few treatments we were both concerned that the modality may not be appropriate for my issues. Then months later, he remembered a treatment technique he had undergone in Arizona. It was Acutonics®. He suggested I give it a try. I told him to find me a practitioner in the East Bay, Berkeley if he could, so he found Katie Mink's practice in September of 2014. After hearing what I had put my body through in my 65-plus years, my first treatment with her was all Chiron. And I probably drove her crazy. All the questions I asked during that treatment about Acutonics® and the forks. She was probably exhausted.
Freer: I was a little skeptical about the basis for Acutonics® at first–it was new information to me. I had a lot of science credits in college but most of them were in biology, not the physical sciences. I saw Katie for three intensive appointments, right in a row, because I was leaving on a train excursion. I was interested in learning more about Acutonics® because after the first or second treatment I was feeling amazingly better–my body felt freer and lighter in its movement with less discomfort. I took a copy of the book There Is No Place like Ohm with me on the trip and finished reading it before we got to our destination.
The Power Of The Forks: I was sold on Actutonics and wanted to learn more about the modality but missed the Level I class because I was on my trip. I had to wait until January 2015 to take that beginning step and then took the classes whenever they were offered. I went up to Washington State to take the Small Animal Class from Paul and Jude Ponton just a few months after Level I. I was the only one in class and I was amazed at what could be done with the forks on animals. Not that I absorbed all that was passed during the class. I took it again this year and obviously got a lot more out of it since I had a better understanding of the power of the forks and their utilization. What appeals to me is that the treatments to humans (and animals) are effective–you can see and feel the results, many times almost immediately.
Putting Forks In The Field: I have a background in science and sports medicine. I was a hospital corpsman and physical therapist in the Naval Reserve. I am a certified athletic trainer. My responsibility on the field or court of play was to evaluate an injury, make a decision as to its severity, decide on the safest method to remove the athlete from the field of play, and once on the sidelines treat the injury. The forks are durable, easily transported, and effective. In comparison to many of the other modalities used in athletic training, the forks are relatively inexpensive. And, they do not require electricity. They can be used right on the field. While the technique is based on traditional Chinese medicine and acupuncture points, the practitioner does not need to know the exact location of the point. You can treat on or off the body, at the site of the injury or away from it. Sound will always find its way.
The Protocol: With a combination of a few forks the athletic trainer could probably have a major influence on recovery time of an injury. Swelling is the enemy. With swelling you get pressure on the nerve fibers causing pain. With pain the individual restricts movement. With restricted movement you have muscle atrophy. Muscles support joints and when they are not strong enough to support the joints, especially following a sprain when the ligaments are stretched, partially torn, or ruptured, the muscles have a bigger job to do in supporting that joint.
Katie has a wonderful inflammation protocol that I feel could be used immediately following an injury to help control swelling and minimize pain. She has organized the protocol to treat acute, subacute, and chronic injuries. A sprain is not a sprain is not a sprain. Different structures in the area may be injured and the degree of trauma to any of the involved tissues may be different - so no cookbook approach. A basic approach in treating an acute sports injury involves the layering of the following forks - Ohm/Zodiac, Ohm/Chiron, Chiron/Zodiac and Venus/Zodiac. When applied to appropriate acupuncture points and/or the area of injury, this layering has been shown to visibly decrease swelling and patients have reported decreases in pain. The forks could help with the standard treatment of RICE in the progression of the inflammatory phase.
The forks are more useful than many athletic training modalities in that they can be given to the athlete to take to the dorm or home for self-treatment. Application techniques are easy to learn and programs need not be complicated, just a few forks.
Putting forks into the curriculum: Besides currently trying to set up a three-hour presentation at ISU next April to the students and faculty enrolled in the College of Health and Human Services, I gave some forks to a faculty member in 2016 and offered to pay a stipend to a student in the athletic training curriculum if he/she would carry out a research project using the forks. We are still working on that and hope if the April presentation does happen, it will create a lot of interest in the forks.
I also submitted proposals for presentations on Acutonics® to the State, District, and National Symposium Planning Committees of the National Athletic Trainers Association. Rejections have not deterred me but I also realize that it is difficult to make changes within the profession without evidence-based research. With that in mind, I have approached the NATA Foundation to talk about research using the Acutonics® forks.
Forks For Veterans: I also see the use of the forks in helping our veterans returning from war–not just in the healing of their physical injuries but their invisible injuries as well. Katie also has a PTSD protocol. I would love to have it demonstrated to all the practitioners working at the VA treatment facilities for mental health, to learn about the forks.
I also think a fork library where veterans could check out a set of Ohm Unison forks for a trial run would be amazing. The tuning forks would help make the veteran more comfortable going into a darkened room: let the forks clear the room. Also think of the self-care possibilities.
Getting athletes back into play: People are more receptive to alternative medicine. Maybe because Western medicine is being questioned for its effectiveness in treating many conditions and because it focuses on treating symptoms versus the cause and also relies on pharmaceuticals. But then that may be the patients doing—taking the easy way out. And even though athletes might question the use of the forks and the science behind it–they may be more open-minded to them, especially if the forks can get them back to play sooner. But, not before they are ready to take on the rigor of the sport with less likelihood of reinjuring the involved part.
Photos:
First Photo: This shot was taken at the 1984 Olympic Games at the Long Beach Venue where I was one of three Certified Athletic Trainers providing sports medicine coverage for the archers of the world.
Second Photo: Pamphlet I created for the Athletic Training Council of the National Association for Girls and Women in Sports (NAGWS) to answer all the questions about becoming an athletic trainer that I fielded every week. I was, at the time an Assistant Athletic Trainer at the University of Iowa. I was tasked with the coverage of all the women's intercollegiate athletic teams. The photo was taken sometime in the mid-70's during a field hockey game. And, at the time I was on the NAGWS Board of Directors as Chairperson of the Athletic Training Council (ATC).