Associate Professor, Departments of Music and Internal Medicine
The University of New Mexico
Certified Acutonics® Practitioner · Albuquerque, New Mexico
Patrice teaches music composition and the healing arts at UNM. In 2002 she founded the university's "Arts-in-Medicine: Healing and the Humanities" program (AIM) which she continues to direct. The program was designed to enhance healing and health care through arts-based clinical service, education, research, community outreach, and international exchange. The program brings in musicians, dancers, writers, visual artists, and body workers who engage patients, their families, and healthcare workers in creative encounters and the healing arts. The program serves approximately 30,000 people annually.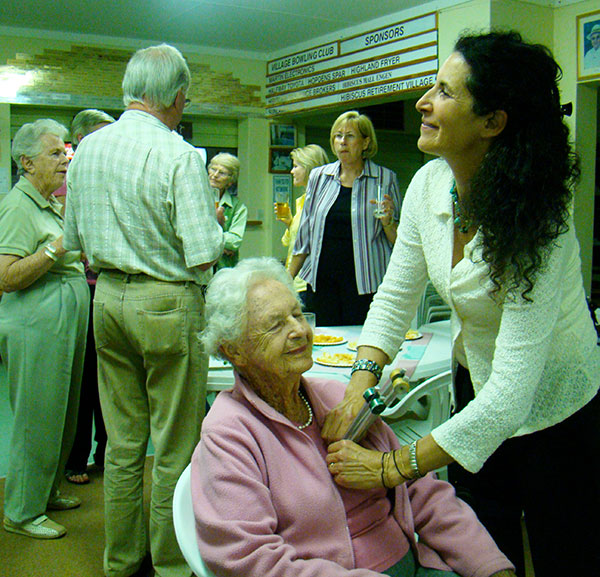 For the past 12 years Patrice has also been facilitating wellness workshops for healthcare workers in Africa. In 2007, she conducted a study entitled "Creatively Caring: Effects of Arts-Based Encounters on Hospice Caregivers in South Africa" at South Coast Hospice in KwaZulu Natal, a province of South Africa. This past spring she initiated a new study at hospices in South Africa, Zimbabwe, Zambia, and Botswana entitled "Deepening Connections for Healthcare Workers: Creative Workshops in Movement and Touch."
Her work as a composer includes contemporary, experimental chamber music, intermedia works, electronic soundscapes, and short documentary films.
Roots: Born in the Niagara Region of southern Ontario, Canada.
Studies: I went to York University in Toronto, Brown, and the University of Illinois at Champaign-Urbana. All of my formal degrees are in music with specialties in composition and ethnomusicology. For the past 20 years I have been studying palliative care, integrative medicine, and the healing arts.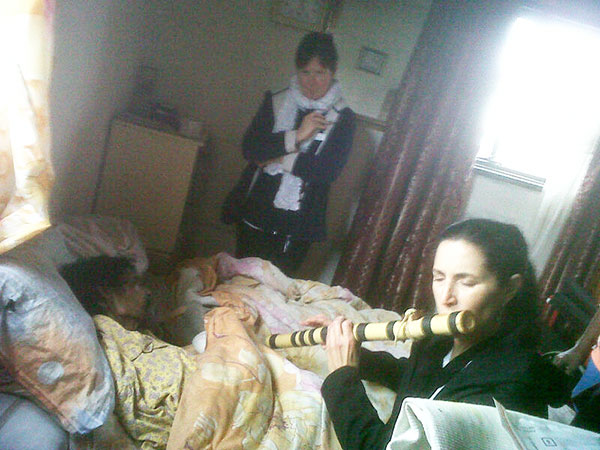 Death, Patricia; Patricia, Death: Immediately upon finishing my doctorate I felt a need to leave the Midwest and immerse myself in another culture. I was fortunate to find a job in Quito, Ecuador where I was immediately 'contaminated' by the food and water. The symptoms worsened over time and I remember feeling like I had been tapped on the shoulder by death. The thing that saved me during that time (as I was being diagnosed with everything under the sun from cancer to food allergies) was my commitment to creativity—a daily practice resulting in a book, various collaborations with Ecuadorian artists, and an intermedia performance. Two years later I returned to Canada and while in the process of healing, started studying hospice and palliative care.
Her World United: One year later I took a job as head of the music department at the United World College in Montezuma, New Mexico and started volunteering at Sandia Hospice in Albuquerque. Eventually they hired me as Director of Volunteers, Arts and Humanities. I simultaneously started teaching one music composition course per semester at the University of New Mexico (UNM) as a lecturer. Over the years the temporary, part-time lecturer position developed into a tenure-track joint position in the music department and the department of internal medicine.
Finding the Music in Acutonics: I was introduced to Acutonics through Louisa Putnam, a healer and therapist in Santa Fe. I had been teaching her son Lucas at the United World College for two years and she must have seen that I was supposed to move toward the realm of healing. She led me to Birch Storey and then to Kayta Tracey in Taos and eventually to Donna and Ellen. I was thrilled to start thinking of composing music not solely as an external experience but as a deeply private and internal experience. What would it mean to 're-compose' physiology—my own or someone else's?
Self-Tuning for Self-Care: I started the Arts-in-Medicine Program at [UNM's] University Hospitals in 2002. In 2009, Louisa Putnam, Dawn Ehrhard-Wingard and myself started to develop the 'self-tuning' experience for healthcare workers. We describe it as an individualized 'tuning-in' session that includes pre-and-post self-reflection, music and sound, craniosacral touch-holds, Acutonics, essential oils (aroma acupoint therapy) and light touch. The session is designed to support an individual's innate healing potential and process, balance the flow of energy in the body's pathways or meridians, regulate the nervous system, and restore a sense of connectedness and well-being. We created this service in response to the overwhelming stress experienced by health care workers and as a proactive measure in preventing compassion fatigue and chronic grief. An additional benefit of the sessions was the introduction of various healing arts to hospital staff and providers.
Change in Perception: Between 2002 and 2018 there has been significant change in the attitudes of UNM Hospital's healthcare workers toward Acutonics and all of the healing arts. In 2002 we started providing short chair massages for healthcare workers right on the wards—accompanied by live music, poetry, or art-making. Initially they looked at us like we were from Mars. In 2018 we see nurses plan their entire 12-hour shift around a 15-minute massage provided by AIM.
Change the Person, Change the System: Our program is based on the transformative and healing power of creativity and human connection. We create these healing connections one at a time—over time—knowing they add up and ultimately provoke an entire system to change.
If everything we do, regardless of what it is, where we're doing it or with whom, is seen as an opportunity to create—a sense of empowerment and increasing possibility is inevitable. This kind of approach is rare in any kind of large institution. But I believe it is at the heart of healthcare for the future—where we each take increasing responsibility for our own health and well-being. And we do it with the joy and creativity built in to our very beings.
Patrice can be reached at repar@unm.edu.