Nevertheless, she grew up in what is now Russia (in what was back then, the old Union of Soviet Socialist Republics), in Moscow, where her family moved when she was 12, having come from Yekaterinburg, in the Ural Mountains between Europe and Asia.
Often sick as a child, Oxana went on to get her medical degree from the Sechenov First Moscow State Medical University and then went on to do research work in stem cell research at Gamaleya Central Scientific Research Institute of Epidemiology and Microbiology, from which she received her PhD as well. She also did research work at Helsinki, Finland's National Institute for Health and Welfare.
In the early 90s, though, she discovered the teachings of South Korean doctor Park Jae Woo. Dr. Park visited Russia in 1992, and brought with him his Su Jok therapy, a hand-and-foot-based form of acupuncture (Su Jok, in Korean, means "hand and foot"). Russians flocked to his seminars; and in 1993 Oxana attended one as well. She soon became a licensed acupuncturist and joined the Su Jok Academy since the founding of it in 1993.
Fluent in English, personable and curious, Oxana laughs when she talks about how she came to Acutonics.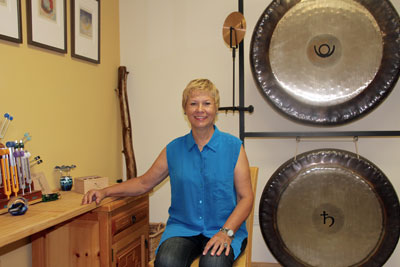 She had a doctor friend from Russia who'd moved to Brooklyn. She'd gotten to know her doctor friend, Dr. Dora Khaykin, through Su Jok. Dr. Dora called Oxana and told her about this new treatment she'd discovered in the States. "She said it's very interesting and I should study and it'd be good for my practice," recalls Oxana while on a visit to the Mothership earlier this summer. "I was skeptical about it at first. I thought it was so far to go. And did not think that I would ever go to New Mexico. But this new direction sounded interesting to me."
So, she figured on her next visit to New York, she'd keep an open mind. And when Dr. Dora said there was a seminar coming up that coincided with her trip to the U.S., and that she should go, and that Donna herself had promised to call Oxana to talk about it, "I decided," says Oksana, "if Donna calls me, I would think about it. If not, I do not go there."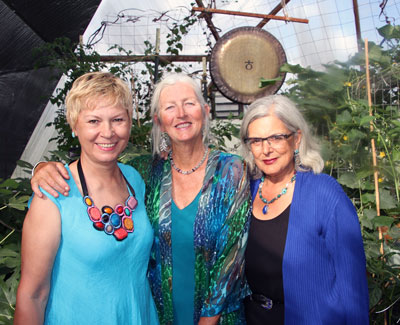 Of course, two days before leaving for New York, when Oksana had all but given up on hearing from Donna, Donna called. Hi, I'm Donna from Acutonics. Are you coming to our seminar? Yes.
"And immediately," says Oksana of their phone conversation, "there's a connection. I can't explain it."
And at the seminar in Taos, New Mexico that summer, where it was Oxana and Dora and one Canadian and a big group of Americans for the first two levels of training, "I felt that this sound-directed field connected with Chinese medicine had very big potential," says Oxana. "And so, I decided I begin to do it. And possibly will provide seminars in this field."
Donna and Ellen trained Oxana to teach Acutonics Levels I and II ("A very big job to translate," remembers Oxana). By December 2008, she was holding her first seminar in Odessa. With students who knew her primarily as a Su Jok teacher. "It was very good," says Oxana of that first class. "Very exciting." There were only six people in that first class. She now has over 300 Acutonics students (she's been teaching Levels I through IV for several years). All over Russia, and those original six students are all now practicing Acutonics as well, and still studying with Oxana to advance their knowledge.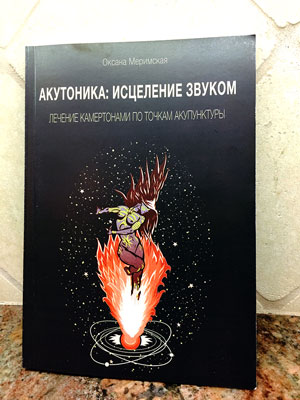 "If you look at map from East to West, I have students from the most Eastern point to the most Western point in Russia," says Oxana, who most often holds her Acutonics seminars in Moscow but has also held many classes in other cities —from Novosobirsk in Siberia to Surgut in the North of Russia to Zaporizhia in the Ukraine. And in 2014, Oxana published, in Russian, Acutonics: Sound Healing—Treatment with Tuning Forks through Acupuncture Points.
Half her students, she estimates, are, like herself, medical doctors. The other half tend to be nurses and massage therapists. All, though, have some interest in spirituality (having studied yoga and/or Eastern philosophy) and come to her classes fascinated by sound and with a desire to bring new, proven, effective methods to their practices.
Oxana, for one, likes to combine Su Jok with Acutonics. "The result is faster and the patient likes the session with the tuning forks because of the relaxation and it helps with pain," she says. "I see very good results in people in an emotional state. Especially if they have emotional and psychological problems."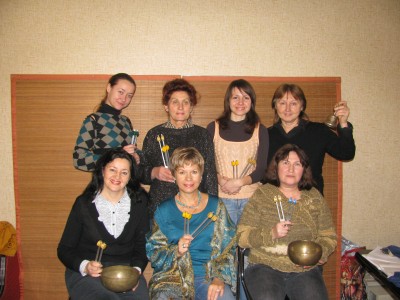 Personally, her experience with music and with sounds in general has been altered. And not just with the sounds as sounds but with what they're carrying or conveying. "Now I don't like noises—from the TV especially," says Oxana. "The negative information and sounds are not good for us. It influences food and plants. Now I pay attention to what sounds are around during meals. If it's negative information during this meal, we eat negative information."
Reminiscent of the studies done by Masaru Emoto, whose photographs showed the effects of human consciousness (and in particular, various sorts of music and noises) on the molecular structure of water, Oxana's attitude toward food and eating and sounds makes absolute sense intuitively if not in fact.
"I've changed my lifestyle at home," she says. "TV, and negative information, these are very bad for our meal. For me, as I open for myself the ancient truth of our ancestors when they sit for a meal together, they feel proud and have praise for the meal. So, I understand it from another level. These sacred sounds influence us."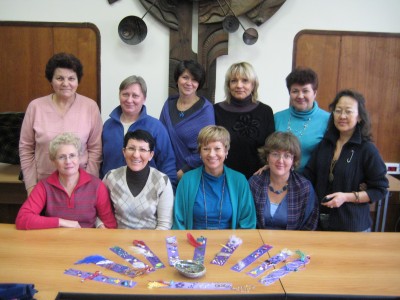 Unlike medicine here in the States or elsewhere—where Western doctors still tend to look askance at integrative medicine—many people in Russia, says Oxana, are more interested in if not open to "spiritual ways." Some Russian doctors can be as conservative as doctors in the U.S., and most societies, Russia being no exception, are also very materialistic. "But we have people interested in another way of life. We have many centuries of spirituality in Russian culture. This tradition is very strong in Russia."
Su Jok and Acutonics, she says, are part of that tradition—and they go very well together. "Su Jok was created by man," she explains. "Acutonics was created by women. In Chinese medicine, one is yang, which is man. Two is yin. Women. So together they are yang and yin.
"I feel both directions—have a lot of potentiality," continues Oxana. "It is not a narrow method, Acutonics. It's not just, this is it and that is it. It is a big weaving for health, spiritual development, life and relations between people."