Molly K Smith, BS, LMT Acutonics Student Feature
Comprehensive, Integrative, Therapeutic Massage
Molly has completed the first four levels of Acutonics with Donna Carey and Ellen Franklin at the Mothership here in New Mexico. Molly loves the outdoors, the mountains, rivers and hot springs, which drew her to Big Sky Montana in 2009, to practice massage and take advantage of the natural world, exploring the Rocky Mountains and learning to ski. In 2012, Molly moved to Bozeman and started her own massage practice.
Like many people drawn to Acutonics Molly has a diverse background receiving her BS in Nutritional Sciences and Biochemistry in 2005 from the University of Connecticut, she also completed graduate work in Community Nutrition and Public Health and worked for WIC (The Supplemental Nutrition Program for Women, Infants, and Children) as a nutrition and lactation specialist and then as supervisor for one of their busiest offices in Connecticut. Always drawn to the healing arts Molly left a PhD program in Public Health to complete her massage training at the Connecticut Center for Massage Therapy.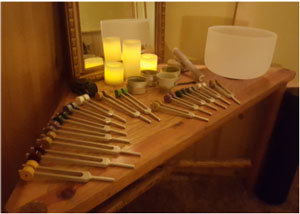 Molly first heard about Acutonics from an acquaintance, but at the time didn't pursue it. Then one-day while working with a client during a massage session she felt the urge to tone and sound. Molly stated: "that peeked my curiosity about sound and vibration and my search brought me to Acutonics and the pieces started to come together for me". As often happens with Acutonics there were many synchronicities for Molly, whose close friend is just an hour and a half from our headquarters, she also has spent time in the mountains near us, and as a result felt compelled to discover more about our work with sound.
Molly now incorporates Acutonics into just about every massage as a fully integrated aspect of her practice. "The tuning forks helped me gain congruence in my practice, and people who need what I do are finding me, thus there is a deepening of my work and development of myself as a practitioner on all levels." Stated Molly.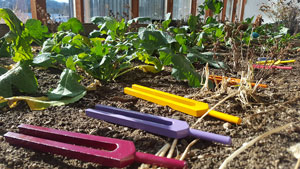 Like many practitioners, Molly is finding that she is truly grateful that Acutonics came into her life at just the right time as she is continually trying to learn more and work at a deeper level to support her clients. She said: "There is so much going on globally, everyone's energy is turned upside down, everyone is exploding and stirred. Acutonics supports my work to help people stay balanced, congruent and open to the shifts that are happening. I feel that this medicine is cutting edge, we don't know everything yet and we learn all the time how to carry it and it's so suited to these times. The idea of being people living in the parentheses, is something Donna spoke of in our first training, this idea helped to provide context for my life. I have always been a spiritual seeker wanting to find meaning and understand our purpose we are in extreme transition as a people and a species and we need to be here at this time to help humanity make a shift, times are changing and we are here for that specifically".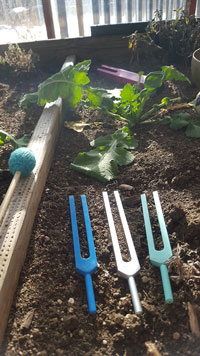 Molly's passion for working with plants parallels her passion for working with people, and she was quite intrigued to learn about the work we were doing to incorporate sound vibration into our work with soil, seeds, and plants. Molly stated; "The plants inspire me and open me to an esthetic experience that feeds me and makes me want to co-create with them. The plants love to have sound played for them. I bring my tuning forks, hand chimes and singing bowls into the green house and gardens and play these tools, holding space for the plants in the same way I work with humans. Paying attention to specific things treating the compost with Pluto and Chiron, and using Chiron when I get ready to harvest. I am applying the correspondences that I learned in my Acutonics training to the plant world".
Molly also incorporated knowledge gained in her Acutonics studies to help her create a line of non-toxic salves to nourish the skin, and be used as a daily moisturizer, for massage, for dry skin, cracked heels, and cuts. Working with her friends at Sage Mountain Center in Whitehall, MT, she has had access to many different medicinal plants and herbs that she incorporates into her salves. "The salves are an outcome of my work as a massage therapist experiencing many different oils and salves and my work with plants. It's a dance learning to listen to the plants at a different level and trusting that I can respond appropriately."
In addition to studying Acutonics, for the past three years Molly has been traveling to Ireland studying with a cohort of ten women, The Way of the Seabhean, the female shaman in pre-Celtic Ireland. "In my women's circle at home in Bozeman, I have begun to share some of these teachings and personally its helped to shift so much for me, I know when I heal you heal, that our clients often mirror us, so we can't separate the work that we do from who we are. I have also brought the teachings of the Seabhean into my work with plants and the creation of salves." I journey to get centered and clear about the intention being brought forward through each batch of salve. I write down all of the gifts from my journey and hold the space for these intentions to come through with the assistance of the tuning forks and singing bowls".
Molly can be contacted at mollyksmithmassage@gmail.com, her website is http://www.mollyksmithmassage.com