Alanda Greene, a student of Theresa Lee Morris, was born in southern Alberta, on the edge of the city of Calgary, where she was close to both the mountains to the west and the prairie to the east. After completing her degrees in English and History and taking time to travel and reflect on the life she wished to have she moved with her partner to the mountains to live close to the land. "I had a sense of deep clarity that I wanted to live my life with meaning, creativity and purpose. We cleared a space in the forest, hauled rock, built a house and garden", stated Alanda. She taught school for 24 years and then managed the bookstore at nearby Yasodhara Ashram where she also studied and taught yoga.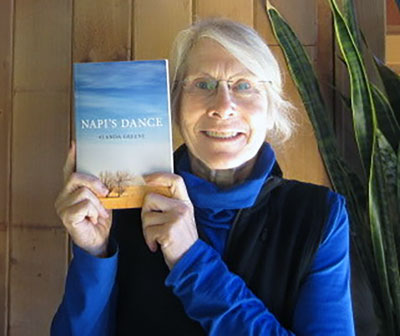 Writing also plays an important role in Alanda's life. She describes her journal as a best friend, a wise and trusted guide from deep within that helps her make sense of her life and ascribe meaning to the actions, events and feelings that unfold through time. In addition to reflective journal writing she is a published author of a work of historical fiction, Napi's Dance, published by Second Story Press. The book written from the perspective of two women during the period of upheaval on the land of southern Alberta, with the "invasion" of settlers.
"The land itself holds an influence as a character as I wanted to express its presence as a living, sacred being. I'm working on a sequel to this novel and also writing a series of articles called "Lessons from the Garden" that are published in an online and print magazine called Heartfulness. These pieces evolve from working in the garden with the land, the plants, the elements and the animals and gives deep connection with that living energy (and good vegetables and fruit as well!) I also write songs that generally emerge from deeply meaningful experiences that inspire another step of expression than my journal, often a process of expanding on phrases or melodies that emerge of themselves".
Amidst this very full and rich life as a land steward and writer enters Acutonics. It was nearly five years ago that a friend gave her a gift certificate for an Acutonics session with Theresa Lee Morris. "This unanticipated gift provided a new dimension to my life that blends so well with writing, gardens, song, hiking, yoga, and community. At this time Theresa was just beginning her journey to become an Acutonics teacher. As she placed the tuning forks on my body, I had no idea that this was a beginning of my own journey into the transformative potential of these tools".
In 2014, Alanda made the decision to begin her studies with Theresa and in the past three years she has completed almost all of the core curriculum, electives and some clinic hours toward her practitioner certification.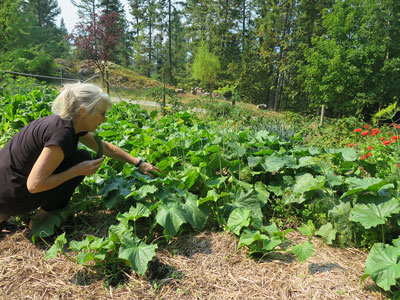 "The idea that sound has the capacity to transform mind and body was not a new concept for me. I had played, listened and been entranced with instruments, crystal and Tibetan bowls, tingshas and bells. I read and studied the books I could find on sound as the creative force of the universe, the fundamental source of being. I knew the power of the human voice to bring profound change through singing, mantra, chant and words spoken silently or aloud. I understood at some deep level that everything is vibration and that using vibrations with intention is potent and meaningful. However, the placement of tuning forks on specific points of the body took my understanding to a new level of experience and insight. Recently I gave a session to a long time friend who has lived, cumulatively, many years in India. She told me, 'I've had just about every form of healing practice from so many skilled people over all these years in India, but I've never experienced anything that relaxed me so deeply as this'. She articulated my own experience: that these tools, placed with intention on the energy meridians, bring a depth and breadth of relaxation that is transformative".
Theresa Lee Morris, a relatively new Acutonics teacher, when Alanda began her studies, recently remarked: "It has been my honor and privilege to bring Acutonics into Alanda's life. From the very beginning she has been there supporting me on my path of becoming an Acutonics teacher with words of encouragement, gentle reminders and so much gratitude. She inspires me with her incredible energy, passion and love of learning".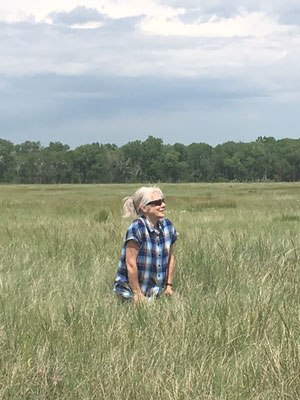 Through years spent in both the study and practice of yoga Alanda understands the power of deep relaxation in healing. "I have learned that deep relaxation is difficult to achieve; even when conscious of where tension is held. Even with skills of knowing how to release tightness in mind and body, it can be difficult to relax to a deep level. But tuning forks bring deep relaxation and this allows the body/mind's own healing intelligence to engage. Acutonics also provides a very accessible way to bring comfort, hope and healing to a world that desperately needs it" reflects Alanda.
From her very first sessions, Alanda has recommended Acutonics to many people and has also "played forward" the initial gift she received, sharing gift certificates with others. "I also realized that I wanted to become an Acutonics practitioner — another amazing step, because now I had something specific, clear, trusted and reliable that I could share with others. I began sessions with friends who had various illnesses and difficult conditions and witnessed the transforming power of these vibrations. It fills me with gratitude," she stated.
For over two decades Alanda has taught a dream exploration class. One of her observations is the direct correspondence between the symbols found in dreams and the Acutonics tuning forks. Although still unfolding, as her knowledge deepens, she finds that the planetary mythology and collective symbolisms associated with each planet have been quite relevant to her work with dreams.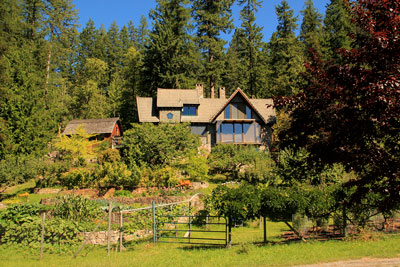 "Dreams are like a personal myth whose significance can be explored through finding a vibratory match, a resonance of the words with events, feelings, actions of the personal life. In the same way, when someone comes for an Acutonics session, I am learning how the words used to describe what is happening in their body, mind, life give the clues, through symbolic correspondence, as to which forks might be most applicable. This in turn helps me hold a particular intention with the choice of a particular fork – guided by the words and their symbolic resonance, that the person presented. Both explorations – dreams and Acutonics – reveal how finding and infusing a particular vibration influences the vibration of the context. The planetary myths and their descriptions give the clues, just as the dream symbols give clues, to the vibration of the situation."
As Alanda reflected on the impact of Acutonics in her life, something that is echoed by many of our students, it felt as though she had found something ancient that she had been waiting to rediscover.
"I have the feeling of finally knowing what I want to be when I grow up. Just in time, really, since I recently celebrated my 70th birthday. It's a sense of finding an ancient part that I knew, but didn't know where to find it again or how to use it. This may sound nebulous and vague, but it's also palpable and accurate. Acutonics, has opened, reinforced, activated and enlivened so many learning dimensions that I regularly experience amazement, appreciation and wonder. I also feel challenged with learning, study, review, questions, doubts and resistances: all the good things that accompany an authentic learning and discipline".
Alanda concluded by stating: "My learning continues, my intention is to complete the training and become a certified teacher. Each step of the way, from just two mid-Ohm forks at the beginning, has felt complete and "enough", even if I didn't go any further. But I have, I do, I continue. So much potential is beckoning. So much gratitude, curiosity, possibility".
Alanda Greene
alanda.greene@gmail.com
Kootenay Bay, BC