When Ellen asked me to write about myself and my journey towards Acutonics, I thought "Sure, no big deal." Writing this piece has been an interesting challenge! I just want to begin by saying how deeply grateful I am for my life situation and all the amazing teachers and opportunities that I have been given. May our work be for the benefit of all beings.
I live and work in the great city Durham, NC. My husband and I are raising our beautiful and amazing 13-year-old son, Eli Ashagre, whom we adopted from Ethiopia when he was 9 months old. When not parenting, I am working as a somatic teacher and facilitator of embodiment. I have a deep faith in the intelligence of our nervous systems and cellular matrix. I see our evolution as being tied to the process of integrating mind and body. My journey towards Acutonics started at my first Saturn return. I had finished a master's degree in English literature in Chapel Hill, NC and was contemplating a PhD program. My ambivalence was palpable. Being in the "real world" was a struggle for me; losing myself in reading was the path of least resistance. Somehow I knew I had to find a way to address my aversion to being in my body and in this world. As a child I was very sensitive to the etheric world, unlike my Swedish parents who were both atheists and had little time for the spiritual dimension of life. My dad was born and raised on a dairy farm a stone's throw from the arctic circle. My mom was raised by her stern father, the son of sharecroppers.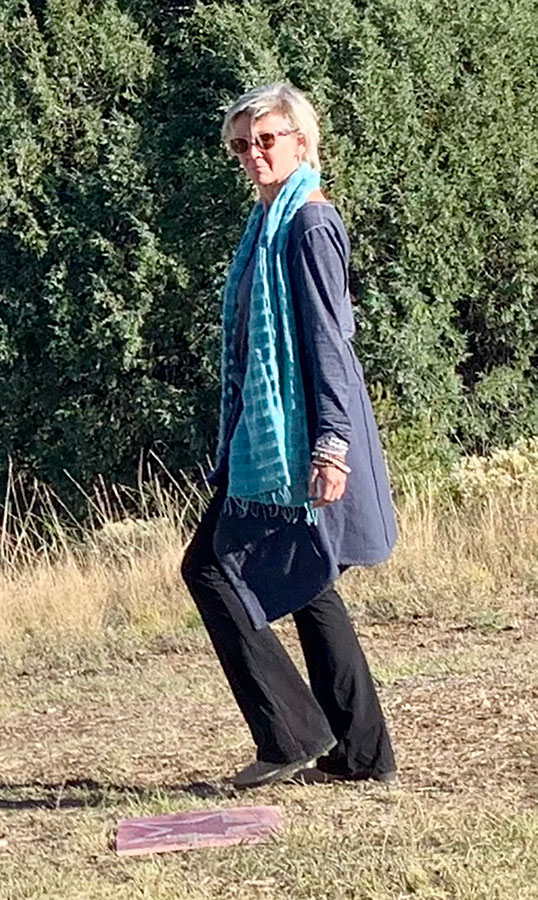 Knowing the hardship of farming in a northern climate, my parents never questioned the wisdom of making my father's Uranian career path the focus of their life. Headed for America, they crossed the Atlantic Ocean on a boat in 1958 and over the next 7 years they had 4 children. I was the third out of four born in 1964 at the Mount Sinai Hospital in NYC. Due to an RH negative factor I had a blood transfusion at birth. By the time we moved back to Sweden 7 years later, I had lived in three countries and moved 5 times. I think the many abrupt physical and cultural changes in my early life led me to find solace in the etheric world. Having four planets in Pisces also opened that door. I was deeply tuned into nature and my own inner life. Growing up in depressed rural steel mill towns, I still somehow found the books and people to nourish my connection to a meaningful universe. One such moment was when at 14 years old I was given a book on Astrology by a family friend.
Back to my first Saturn return. Meditation had been an important part of my everyday life since my early 20s. Through wide and divergent reading, I began to understand that I needed to ground my meditation practice in body awareness. The first step was to abandon the PhD program and enroll in massage therapy school. Over the next 20 years, while initially working for holistic PTs and MDs, I was able to study massage therapy, CranioSacral therapy, Visceral Manipulation, The Feldenkrais Method, Eutony, Body-Mind Centering, Continuum, Focusing. Eventually I went into private practice and have been fortunate to stay steadily busy ever since.
Through the Feldenkrais training, my personal and professional practice became deeply focused on how to find the bone structure (in meditation and everyday life). I began to experience how surrendering to the support of the bones gave my viscera/nervous system a chance to decrease the sympathetic charge. CranioSacral therapy and Visceral Manipulation training added the ability to sense unwinding and motility in the organs and nervous system.
One of my dearest mentors often joked that we do "CranioKrais"; we listen to our clients through the cranial system and give feedback through the bones. One sleepless night many years later, while visualizing energy travelling through my bones, I "fell" into my bone marrow. I experienced an amazing reorganization of my entire structure while focusing my witnessing mind on the marrow. Since then my personal and professional practice involves listening to the marrow. Not long after I discovered the significance of the marrow, one of my clients brought Acutonics tuning forks to our session. She said she had a feeling I should be using them. I held the forks, listened to the vibration and felt an excitement slowly rising in my being. I had been studying Evolutionary Astrology with Stephen Forrest for the past 5 years and the idea of introducing planetary resonances into the body via the meridians felt brilliant to me. That was only two years ago! Today when I go into a session I still see myself mostly as facilitating somatic awareness. I believe the blueprint for healing is in our cellular matrix and supporting the client to witness themselves deeply is essential. The tuning forks are such potent messengers vibrating their celestial truths into the marrow and along the meridians. I manually track how the organs and the central nervous system reorganize as the session unfolds. I guide the client to receive the vibration through the marrow.
My clients have been very receptive to Acutonics and some clients end up buying forks to use at home. As a practitioner I feel lighter and more buoyant at the end of a workday, which I believe is due to bathing in the vibrational field all day. The hand chimes feel particularly essential in clearing the field at the end of sessions. I haven't made the investment in gongs or Tibetan bowls yet, but I look forward to that layering as well.
Lisa can be reached at lwerness@gmail.com.