Lilian Eugenie Woodburn – Acutonics® Level VI Student Practitioner — Student Profile
Lillian Eugenie Woodburn (Lee) took her first Acutonics classes in June of 2017 at the Mothership here in New Mexico. She has continued to pursue her studies with a passion for this medicine. As of November, Lee has completed Acutonics Levels I to VI and she has also participated in a clinic day. She's already registered for Harmonic Pathology, Sedna and NSEV, all of which will be offered next Spring.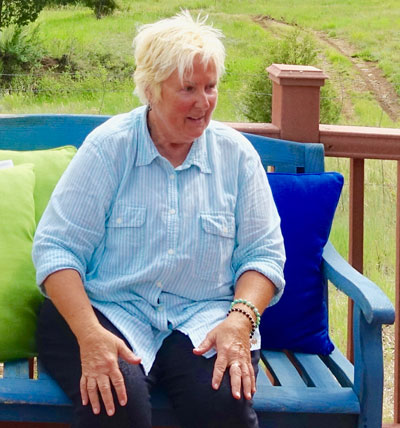 Lee grew up in Middleboro, Massachusetts not too far inland from coastal Plymouth, where she lived for many years with her partner Nora. "Middleboro was a good place to grow up, my father was a brilliant engineer and my mother taught biology at the local high school. This was the high school that I attended and many of the students in this school also had parents who taught there."
Growing up she was surrounded by science and convinced that this is what she would pursue in college. Her godmother, Dr. Eugenie Clark, was a world-renowned ichthyologist, a pioneer in the use of scuba gear to conduct groundbreaking underwater research, which she did for more than 60 years.
"Eugenie blazed trails for women in science and inspired scientists and children alike. She never let anything stop her from doing things that she wanted to do, especially if it concerned the underwater world. She was a powerful influence in my young life and it's likely what led me to initially study marine biology at Southampton College in Southampton, New York. I switched to marine geology and then went on to pursue physical therapy for a short time and eventually received an Associate of Applied Sciences double major and worked as a medical and veterinary lab tech."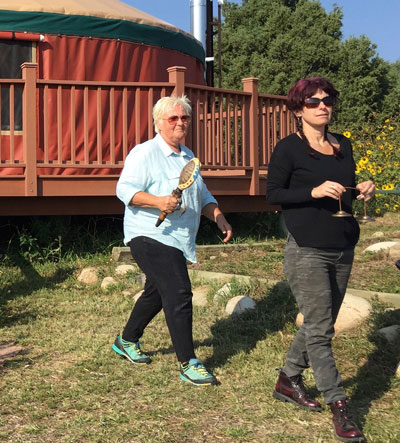 Lee has so many interests she finds it challenging to focus on one to the exclusion of all others. "So many things interest me. I would jump from one to another. I didn't understand— how could I possibly do everything I want to do."
However, art and the creative process has always been a first love, she reflects. "I loved to paint and draw, I was always drawn to the arts and engaged in some type of crafts throughout my young life. I left my work as a veterinary lab tech to study fine art black and white photography at the New England School of Photography." Lee graduated in 1981, with honors in photo-silkscreen and non-silver processes. With this new knowledge, she began a new career as a product photographer, a hand colorist at the Natural Color Labs and she was the recipient of many awards in multiple juried shows and one-person shows. She specialized in black and white, infra-red and hand-colored photographs and continued to work in the field until around 2000. During this time, she also learned hand papermaking for silk screening, calligraphy and illumination, and began to study stained glass.
"While working as a photographer I also became obsessed with physical fitness," Lee stated. "Not that one would know it by looking at me now, but in the early 80's I was passionate about bicycling and fitness. I did crazy mileage, rode centuries, spent hours in the gym, eventually became a personal trainer and spin instructor. When I experienced a serious back injury, it led me to a chiropractor and I eventually became a chiropractic assistant and then later worked as a physical therapy rehabilitation assistant."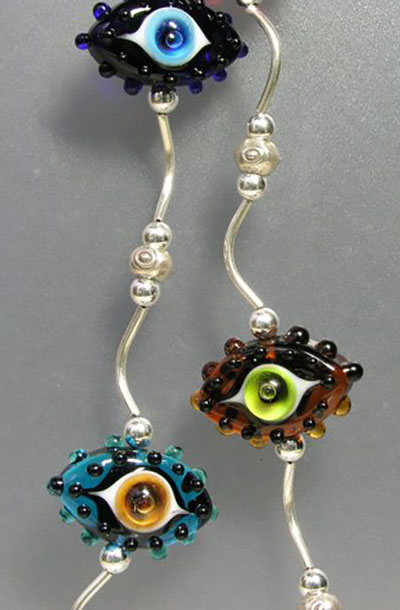 Throughout this time Lee never lost her love for creative exploration. She studied stained glass production and reflects that sometime during the late 90's when she placed an order for stained glass supplies she also decided to order a lampwork glass bead-making kit. "I started to play with creating glass beads. This expanded into jewelry making," she laughs. "I had to do something with all those beads." Her work with glass beads continues to today. She has taken workshops with top glass artists whose work she admired.
"My beads and jewelry have been in many juried shows and publications, traveling to museums around the country, even to Japan. Some of my bead designs even appeared in Japanese magazines. One bead even went into outer space on the last voyage of the Endeavor, as part of the Beads of Courage program."
Always striving to learn new techniques that expand her knowledge of the creative process, Lee recently signed up for silversmith classes in Albuquerque, which begin in November. "I feel driven to keep my work fresh, to learn new techniques that add to my repertoire."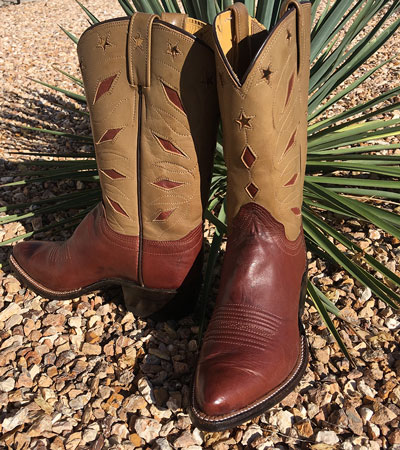 Lee's spirit of adventure has taken her to Mexico, England, Belgium, the Netherlands, France, Italy, Germany, Austria, Australia and Papua New Guinea. It is this love for travel that led Lee and her partner Nora to sell their home in Massachusetts and to set out on an exploration of the U.S. and Canada with no specific destination in mind. They were looking for a possible place to spend the winters and the summers. They spent a month in Albuquerque last October and loved it and then moved on to British Columbia for the winter. "We were on the sunshine coast and there was no sunshine, no warmth. We were freezing, and Nora and I made the decision to come back to Albuquerque." Drawn to the area, they decided to buy a home here in New Mexico and to settle in for a while.
Being settled in Albuquerque also allowed Lee to pursue a new passion for making her own custom boots. "I was able to attend a boot making class with Deana McGuffin, and made my own custom cowboy boots. This is something I wanted to do for years. When we decided to settle here last winter it became possible." Another benefit of settling in Albuquerque was the proximity to the Mothership and Acutonics.
Lee's research on the internet led her to Acutonics, although it had been on her radar for years. "I think I first learned about Acutonics around 2009. I was very interested in the program and checked out some classes in Massachusetts, but the scheduling just never seemed to line up. It was great to finally land in New Mexico and to realize that I was just a few hours away and that you were starting a new series of classes."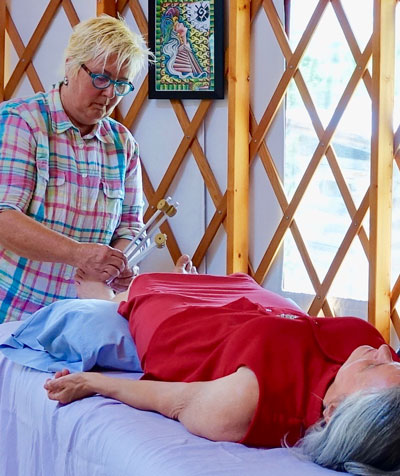 Lee signed up for the Acutonics Level I and II Intensive and at the conclusion of the class, was one of the first to sign up for the next intensive, Level III and IV. "I really like the classes. I feel so different when I'm at the Mothership, it is as though the classes themselves promote change within me. I don't tend to talk in groups, I'm very introverted, but I find that this work, Acutonics, has helped me to be more present with others and to participate fully in classes. This is so very different than sitting by myself in a studio working on my art, not talking, then putting things online."
Lee and her partner Nora have been together for 26 years and are exploring ways to integrate Acutonics into their lives and work. "Nora is a hypnotherapist, and she does hands-on energy work, reconnective work, she is a gifted intuitive healer. Acutonics dovetails really well with this work. I've been treating myself and Nora, practicing what I'm learning in class to gain clinical experience. Acutonics is a great medicine. Sound vibration works wonderfully, it is not the medicine of the future as some like to say, it's the medicine of Now. These tools work for me so well, just from being in class and participating in the clinic day, the work we do on each other. I know I feel different, better. And if I can feel different so can other people. This is very powerful."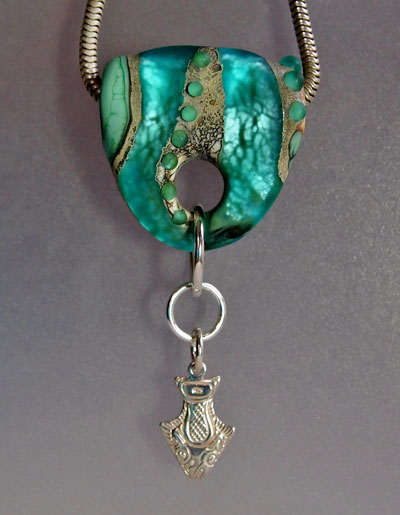 Lee has the soul of an artist and the vision to see the relationship between the arts and well-being. She is very interested in the use of sound vibration to inform her art. Several years ago, she created glass beads for malas that were infused with the energy of chants. "I focused on putting the vibration of these sacred chants into each bead. As I made the beads, chants played in my studio, each bead created for the mala was infused with these sacred sounds."
This experience has led Lee to begin work on her Acutonics thesis. The vision she holds is to use the frequencies of the planets from the tuning forks and chimes to create glass pendants infused with these vibratory energies.
Lee and Nora also recently began to look for a space in Albuquerque to create a wellness center. Their vision is to promote health and wellness through integrative care modalities such as Acutonics and art. A vision totally in alignment with the Acutonics mission to return art and spirit to Medicine.