19th Annual International Energy Psychology Conference
Hyatt Regency, Riverwalk, San Antonio, Texas
I have been invited back to offer a new pre-conference program at the 2017 International Energy Psychology Conference, which will be held in San Antonio, Texas. I will be teaching a new one-day, pre-conference seminar, on Thursday, May 18th, The Eight Extraordinary Vessels a Gateway to Emotional Health and Consciousness. This is a great opportunity to deepen your understanding of the psycho-spiritual use of the vessels. The full conference dates are May 18th-22nd. Early registration at a significant discount is offered through February 6th. Here is the link to get more conference information: http://www.energypsychologyconference.com
This is an exceptional conference and I hope you will consider joining me in San Antonio, Texas. Acutonics will also have a booth at this conference, if you'd like to earn clinic hours for helping in the booth, or receive continuing education credits applicable to Acutonics, please contact me directly, ellen@acutonics.com. Registration information for the conference and my one-day workshop are provided below.
The ACEP annual conference is an event that Acutonics is proud to participate in. This the second year in a row that I will present a one-day preconference workshop. What you will find both in my workshop, and at the conference is an opportunity to join with like-minded colleagues from diverse fields, who are engaged in the practice of Energy Psychology and Energy Medicine and use many techniques that are rooted in the practice of Chinese Medicine. Every time I attend this event I find myself nourished on all levels. The people in attendance are our peeps, people who believe in the power of intention, vibratory energy, and being fully present and open to possibilities.
The theme for this year's conference is particularly relevant: Experience the Evolution of Healing and Consciousness. This is a call to be fully awake and aware to our abilities to effect positive transformation on a global scale. When people come together with open hearts and minds, we can recharge and renew to be fully present to address the challenges of our times.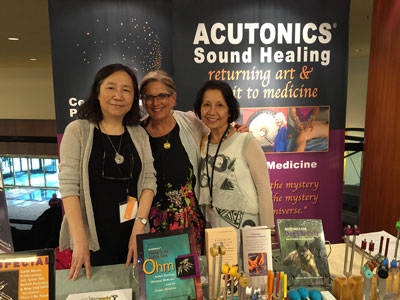 There will be opportunities to renew our energy, vision and purpose, while learning new skills and healing techniques. The practice of energy psychology dovetails so beautifully with Acutonics as we share a common vision for expanding and deepening scientific study and practice for holistically working with the mind, body, energy, and spirit system to accelerate healing and transformation for individuals, groups, communities and the world. Additionally, the conference has a long-standing tradition of collaboration, compassion and fun. This year's conference location is the Hyatt Regency San Antonio Riverwalk also provides great opportunities for a historic stroll along the river. I hope you will consider joining me there.
If you are seeking CE's the full conference will provide 42.5 CE/CME/CNE hrs!
If you have any questions or need assistance registering, please contact Leslie Primavera at the Association for Comprehensive Energy Psychology, admin@energypsych.org 619-861-2237.
Dr. Ellen F. Franklin is presenting a one-day pre-conference workshop, May 18th, 2017, The Eight Extraordinary Vessels a Gateway to Emotional Health and Consciousness
Photos:
ACEP 2016, Class Photo from Acutonics pre-conference workshop.
ACEP 2016, Acutonics Booth, left to right, Ling Chen, Ellen Franklin, Alice Adeboi