November Themes: Element of Metal (LI/LU)
Righteousness and Grief
Planet Rulership of Metal is Venus
Scorpio Rulership by Pluto
Significant White Tiger Dates:
October 28th: Full Moon/Lunar Eclipse (Taurus/Scorpio) PST
October 29th: Mercury conjunct Mars (Scorpio)
November 2nd: Sun opposes Jupiter (Scorpio/Taurus)
November 4th: Saturn stations D+ Direct (Pisces)
November 11th: Mars opposes Uranus (Scorpio/Taurus)
November 13th: New Moon in Scorpio 1:27 am PST - Sun opposes Uranus (Scorpio/Taurus)
November 17th: Sun conjunct Mars (Scorpio) - Sun trine Neptune (Scorpio/Pisces)
November 27th: Full Moon (Gemini/Sagittarius)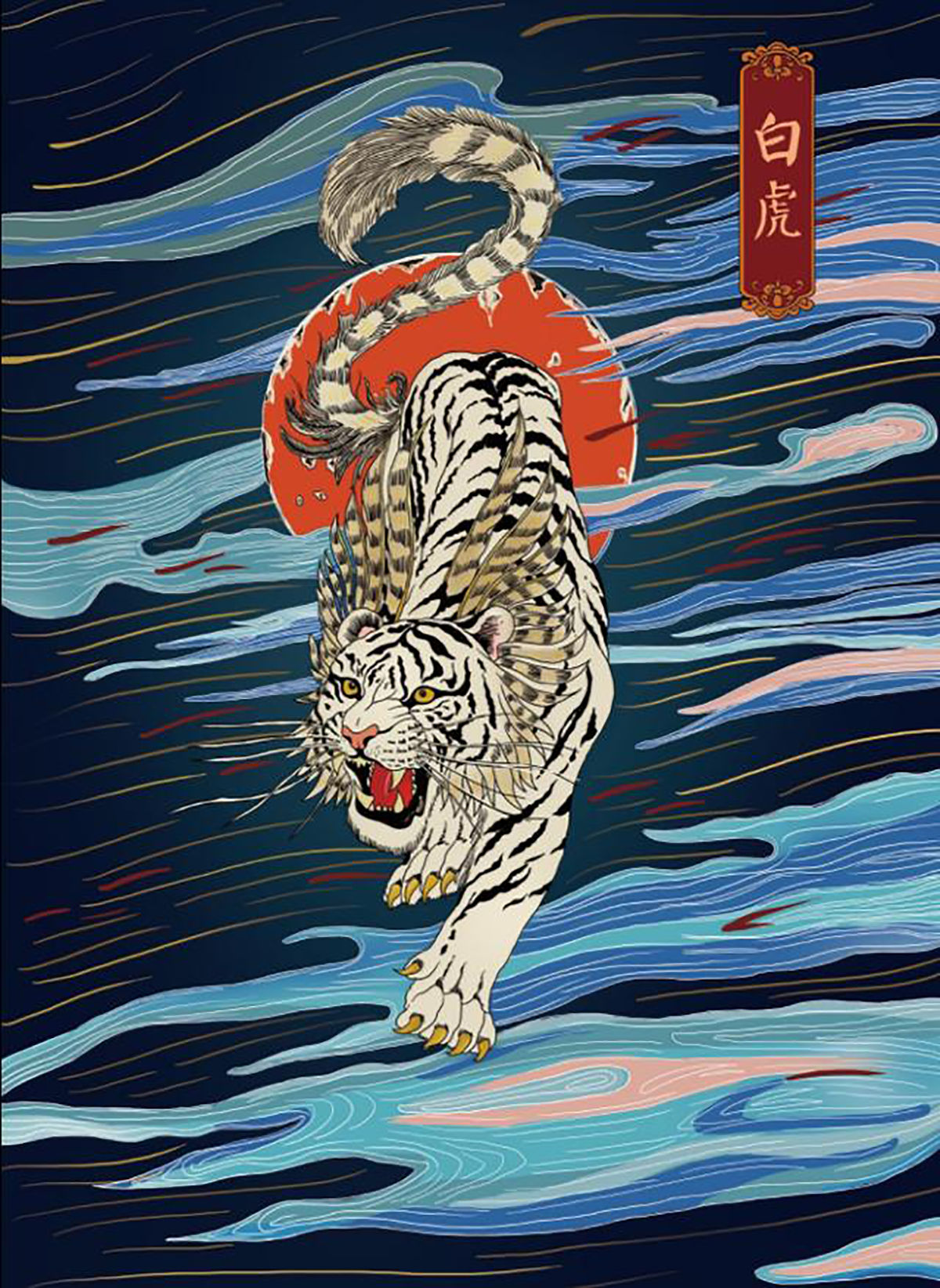 As we enter the astrological time of November and reflect upon the traditional time of Scorpio (October 22nd – November 21st), ruled by the planet Pluto, (ancient time Mars), we are influenced by the Element of Metal, the season of Fall, and the time of Harvest with the organs of the LI and LU, and the planet Venus in 5 Element Theory. Metal themes includes letting go through the LI and allowing ourselves to be inspired through the LU. What ways can we allow ourselves to cultivate inspiration despite what is happening on a collective level?
October and November important dates involve a Full Moon Lunar Eclipse on October 28th, Saturn stationing Direct in Pisces on November 4th; leaving us with four planets retrograde; Neptune, Chiron, and Jupiter stationing direct in December and Uranus later in January of 2024. From November 11th – 17th, Mars and Sun conjunct, opposing Uranus. We culminate the energies of the month after Thanksgiving on November 27th, with a Full Moon in Gemini/Sagittarius.
With October 28th's Full Moon Lunar Eclipse with the Sun in Scorpio opposing the Moon in Taurus, we can set intentions to release what no longer serves us, and focus on an intention of peace, hope, love, joy and connectedness.
Consider a treatment strategy with letting go through the Yang Wei Mai opening with Pluto/NM P5th to Pluto/Venus m6th, dealing with the shadow side of Venus. Move with Pluto/Sedna M2nd, release Pluto/Zodiac M3rd, and consider opening to the highest calling of Venus with Venus/Hygiea P5th.
Follow with the Ren Mai, Yin Wei Mai or Yin Qiao Mai for inspiration and open with Chiron/Full Moon P5th, followed by Full Moon/Sun M2nd to move and Venus/Hygeia P5th followed by Venus/Jupiter 6th for expanded inspiration of love and hope.
With Mercury conjunct Mars on October 29th, consider using the energy of movement through a conjunction and a 2nd to move any limiting mental constructs through DU 23, Upper Star and the DU Mai. Consider Pluto/Mercury m2nd, followed by Mercury/Mars microtone to move the mental energy and open to a more balanced energy with Mars/Venus 5th followed by accessing our intuition through Hygeia/Mars 7th.
Saturn in Pisces has been retrograde since June 17th, 2023. This asks us to review, redo, reform and redefine our spirituality, our victimhood, our beliefs in guilt or sacrifice, thereby focusing on reclaiming our intuition and divinity. Saturn remains in Pisces until it enters Aries on February 13th, 2026. Saturn in Aquarius was with us during our recent experience of social distancing, making Saturn in Pisces more hopeful and allowing us to develop and/or focus on our spiritual beliefs. This also allows our own intuition to govern us rather than relying on outside beliefs to be our authority.
Consider using The Windows of The Sky Point; SJ 16, Celestial Teacher, with the Yin Qiao Mai. This allows visual clarity and access to our inner voice and authority. Open with the traditional New Moon P5th and follow with a Neptune/Saturn Tritone.
The November 13th New Moon in Scorpio gives us another opportunity to work with the theme of Metal to release what longer serves us and focus on new beginnings with what inspires us.
Consider Cycle Gate with Pluto/New Moon P5th, the New Moon fork on LU 1 and Pluto on LIV 14 (opening the lung to a new beginning) as treatment strategies for the transitioning season of Fall and for the New Moon. Follow with Sedna/New Moon M6th interval for new inspiration and to take the new beginning to a new paradigm. Consider strengthening ST 25 and SP 6 during this season as well. Utilize Mars/Sun m7th on both to generate, build and bridge, and help strengthen the immune system.
From November 11th – 17th, we transcend the challenges of the Sun conjunct Mars in Scorpio, while opposing unpredictable Uranus in Taurus. All oppositions may ask for a new opportunity to shift positions. With the Sun ruling the heart, and Mars the head, will we reason from our hearts rather than reacting from our egos and heads? This applies to revolution and reform concerns (with Uranus in Taurus), values, currency, economics, resources, real estate, agriculture, and environmental issues. Remember that the highest calling of Mars is the compassion and benevolence of Buddha, while Uranus gives us opportunities for innovative ideas, and the opportunity to use genius to assist us with fast changing realities.
Consider working with the Three Treasures and Huato JiaJi points to calm the nervous system overload during transformative times. Start with Mars on Du 20, Hundred Convergences (Bai Hui), Sun on Ren 17, Chest Center (Dan Zhong) and Uranus on Ren 4, Origin Pass (Guan Yaun), to meet the chaos and entrain to balance with Mars/Venus P5th on Du 20, Hygiea/Sun P5th on Ren 17 and Uranus/Chiron P5th on Ren 4.
For balancing and calming the Huatos, use Ohm Unison to balance or Sedna/Earthday 5th, or Ohm/NM or Ohm/Neptune 5th to gently ground, water, open and release.
On November 27th, the Gemini/Sagittarius Full Moon brings the end of the month to fullness. Ancient cultures considered full moons to be harbingers of change. This is an important time for grounding and getting enough sleep.
The recommended treatment strategy for this is using New Moon P5th, Full Moon M6th, and Sedna/Full Moon m7th forks with the Yin Wei Mai for nourishing the heart and bloodroot. Consider the earth forks with Ohm Unison, Ohm Octave or Sedna Unison or Sedna Octave with the Du Mai, for continued grounding of nervous system through the Huato JiaJi and Baliao.
Also consider the Yang Wei Mai for letting go and releasing what is no longer necessary for moving forward, or Jupiter/Gemini P5th for opening the Yang Wei Mai and Baliao and releasing with Jupiter/Full Moon M3rd.
In closing, the White Tiger has long been a mythical creature throughout Taoist, Chinese and Taiwanese Cultures, signifying bravery, justice, ferocity, and majesty. In ancient dynasties, it was said that the white tiger would only appear when the emperor ruled with absolute virtue or if there was peace throughout the world. Other references state that when 500 years of peaceful rulership reigned, the tiger's tail turned white, as a prophecy of peace. During these times of potential world conflict and separation, may we be inspired by the White Tiger, and focus on our own inner peace, bravery, justice, ferocity, and majesty no matter what our challenges may be – helping to create a vibration of peace, love, and harmony from the microcosm to the macrocosm.
Lynn Wedekind, MEd, Senior Acutonics Licensed Faculty offers classes in person and live on Zoom at her beautiful retreat center in Baja, Mexico upcoming classes include Acutonics Level I & II live on Zoom offered over four weeks, Level I: November 11th – 12th & November 18th – 19th, Level II: December 2nd – 3rd & 16th – 17th. In person intensives in Mexico include: Acutonics Level I Intensive: December 5th – 13th, 2023, Interplanetary Intervals: January 11th – 14th, 2024, Level I & II Intensive: January 26th – February 3rd, 2024, Sedna with an optional Sedna Integration whale journey: February 16th – 19th, 2024. For more information contact Lynn at tuneintuit@gmail.com, or 360-353-4488