By Lynn Wedekind, Med, Senior Acutonics Faculty
"What you think you become, what you feel you attract and what you imagine you create". – Buddha
This New Year of 2020 marks a pivotal change for our home planet Earth, as well as our Cosmic reality, marking the end of an era and the initiation of a new era filled with golden opportunities. What will that new era be? What will we manifest through our consciousness for ourselves, our communities and our humanity for 2020? In Numerology, 2019 was represented by a 3-year, bringing us challenges, growth and change. For 2020, the base number is 4, offering us the same work as 2019, yet bringing what we focus on as manifest.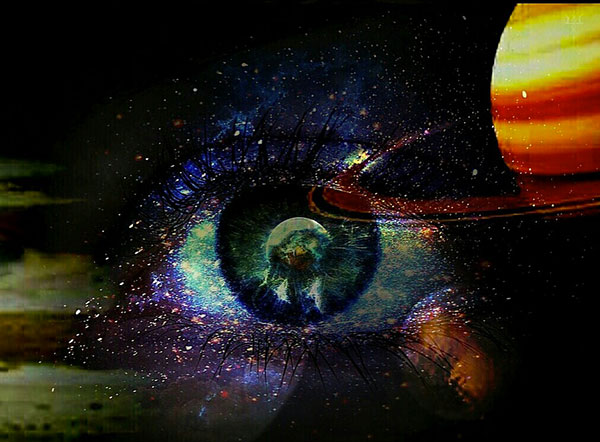 Much like the Harmonic Convergence of 1987, being a harbinger of a new time of universal peace and cooperation, as well December 21, 2012, assisting us with a higher vibrational consciousness for our planet, the year 2020 marks the beginning of a grand new cycle and a new timeline, out of time of our current linear time-scape. It is interesting to note that 2020 is not only 33 years from the Harmonic Convergence, it is also a 7-year cycle from our December 21, 2012, end of the Mayan Calendar.
To the advanced civilization of the Maya, the number 20 was basic and sacred. The Maya were aware of the microcosmic relationship of the human body, with regards to 10 fingers and 10 toes (20), in relationship to the 13 articulations (ankles, knees, hips, shoulders and elbows (12) and the neck (13), to the macrocosm of galactic intelligence connection, created through the pulsations and harmonic tones of the body in tune with the harmonic Universe.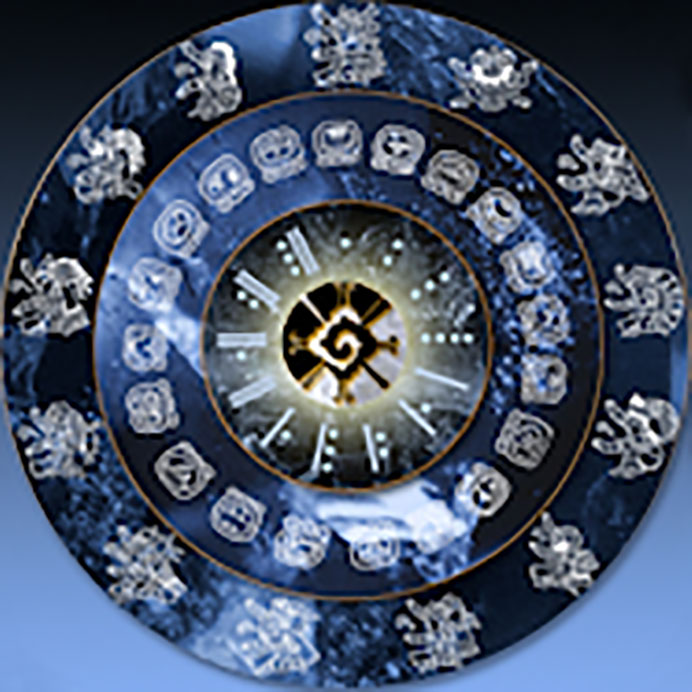 The Mayan Tzolkin calendar, (the count of the day), consists of 13 months of 20 days each, totaling 260 days or Tzolkin, as opposed to a 360 day or 365 day calendar. In addition, this galactic long count calendar is based upon seals of colors and tones revolving in 20 and 13-day cycles. From the Maya, the 13 derives from the 13 creator deities from the man of corn. The Mayan revere the 13 creator gods of corn that represent 13 levels of consciousness of the supra world.
White Bear, a Hope Elder Wisdom Keeper, states that the original blue corn came from South America, gifted by the Kachinas and migrated to Yucatan and to North America to the 4 Corners area of the US, where the Hopi were told by the Kachinas of the Bear Clan to remain, to hold the sacred teachings of the Hopi on Earth, until the transition into the 5th World.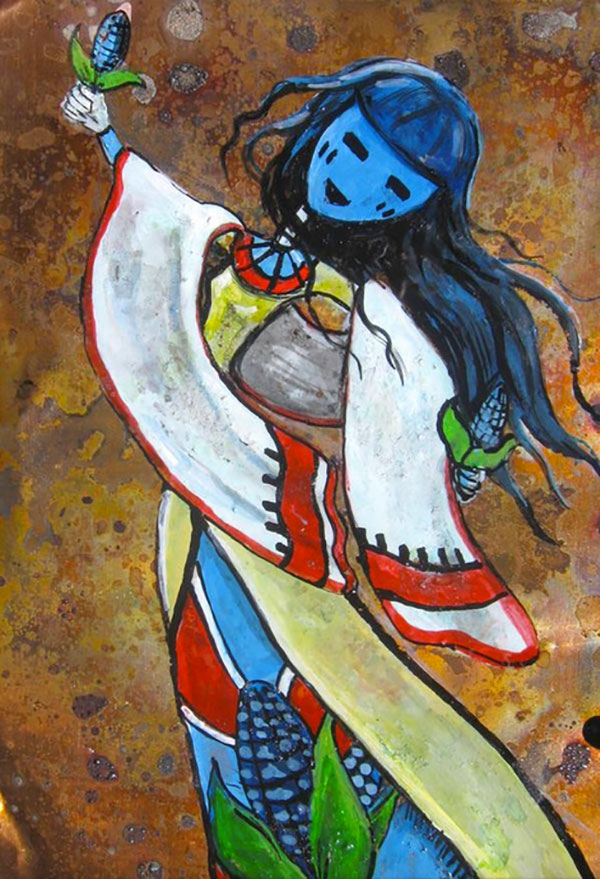 Some suggest that 2020's planetary alignments may be assisting our planet through her ascension process, accelerating earth changes and activating the earth's chakras.
Regardless, we are headed for more challenges, growth and change, necessitating a confrontation with possibly all the difficult challenges in need of remedy within our humanity. May we use our planetary medicine through Acutonics to integrate these energies and ground ourselves for what quantum leaps we may be able to achieve.
The planetary theme throughout 2020, that is the focus of this article, sets the stage with the planetary players of Jupiter, Saturn and Pluto, for a rare triple conjunction, last seen 735 years ago. May the influence of these 3 planets together allow us to confront issues with societal structures in need of innovative reform, particularly involving global economics, environmental sustainability and all systems in general. May their reunion assist us with co-creating a revolutionary humanity, resolving crisis through realignment of global genius, for manifesting of divine solutions and resolutions.
2020 commences with a Lunar Eclipse, Full Moon in Cancer on Jan 10, with Uranus, the planet of change, stationing direct on the same day, then followed 2 days later, on Jan 12 (my birthday!) by the grand conjunction of Saturn and Pluto in Capricorn. The year dramatically concludes with a Lunar Eclipse, Full Moon in Gemini on November 30, followed by a Solar Eclipse in Sagittarius on December 14, catapulting us into the years end, with a reunion of Saturn and Jupiter in Aquarius, on the Capricorn Winter Solstice December 21, 2020.
Somewhere in between the year we have the uniting of Jupiter with Pluto, 3 times from April through November, allowing us three attempts to come to terms with the meaning that can be gathered from being at the beginning and ending of their cycle together.
Jupiter forms its first union with Pluto on April 4, 2020 at 25 degrees of Capricorn with both Jupiter and Pluto moving direct. Then on June 30, 2020 they form their second conjunction at 25 degrees of Capricorn with both Jupiter and Pluto moving retrograde. When retrograde, allow realignment, readjusting and revisioning! And for their grand finale, after Jupiter and Pluto both station direct, they form their final conjunction together on November 12, 2020 at 23 degrees of Capricorn, shortly after the US Presidential election.
The Jupiter/Pluto conjunction in Capricorn gifts us with the ability to go inward beneath the surface of our material world to explore from our subconscious to bring form and consciousness from the inside out. Jupiter expands the power of Pluto, bringing with it an ability to create the possible from what we may have believed was impossible. This alignment may rejuvenate us when we are fully absorbed in the action of creating, imagining or bringing form to manifestation. Rather than a need to be recognized or validated from the external world, Jupiter and Pluto assists us in delving deep into our essential inner nature and pure potentiality of who we truly intend to become.
Be creative when applying and integrating the planetary tones, explore the intervals and inverse intervals of Saturn, Pluto and Jupiter. Bring Sedna into layering of intervals to help bring new insights with these conjunctions into a new paradigm. Sedna is trine most of the triple conjunction throughout the year, adding easy access to her ancient indigenous wisdom and ancestral information stored within the memory of water, to assist us into the Golden Age.
Saturn/Pluto (minor 2nd) – is a great mover; Low Saturn to mid Pluto (7th) bridging to the 8th, follow with an appropriate planetary octave; Sedna/Pluto (m 2nd); Sedna/Saturn (M 2nd)
Jupiter/Pluto (4th) bridging (Low Jupiter to Mid Pluto (minor 5th); Jupiter/Saturn (3rd) or Low Jupiter to mid Saturn (5th). Apply these intervals to your choice of the Eight Extraordinary Vessels and consider ending with a planetary 5th, Ohm Octave or any Planetary Octave.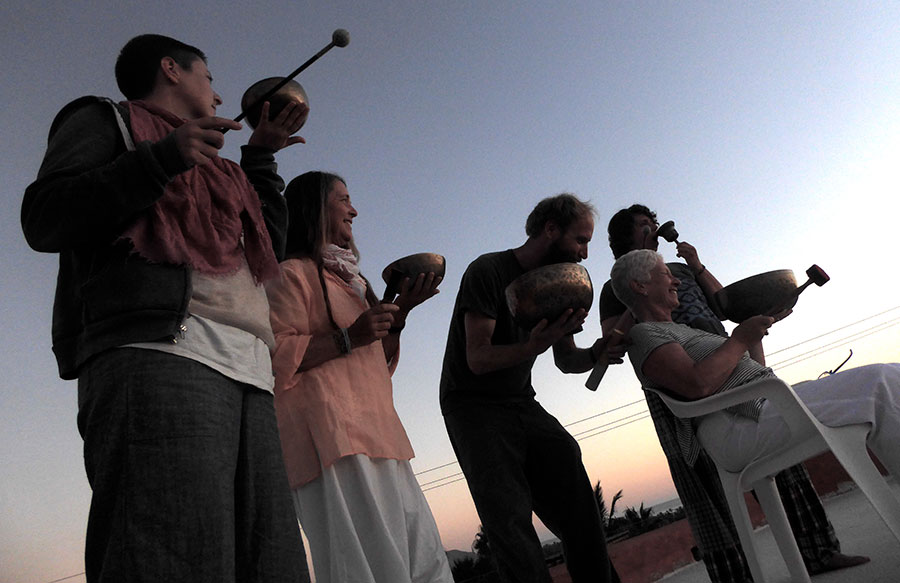 You might consider Sedna/Jupiter tritone 5th, for altered consciousness journeying, or Sedna/Zodiac 4th for expanding our galactic consciousness. Consider the Cosmic Capstone to help integrate the union of Saturn, Pluto and Jupiter.
2020 Astrological Year at a Glimpse
Jan 10: Full Moon Lunar Eclipse in Cancer opposing Sun, Mercury, Ceres, Saturn & Pluto in Capricorn – Uranus goes direct
Jan 12: Saturn/Pluto conjunct in Capricorn
Jan 13: Venus enters Pisces
Jan 24: New Moon in Aquarius
Jan 25 – Feb 4: Chinese New Year, Year of the Metal Rat
April 4: Jupiter/Pluto conjunct Cap 25 – both Jupiter and Pluto move direct
June 30: Jupiter/Pluto conjunct Cap 25 – both Jupiter and Pluto turn retrograde
Nov 12: Jupiter/Pluto conjunct Cap 25 – both Jupiter and Pluto move direct
Nov 30: Full Moon, Lunar Eclipse in Gemini
Dec 14: Solar Eclipse in Sagittarius
Dec 21: Jupiter/Saturn conjunct in Aquarius
In Closing, 2020 is the year of the Metal Rat in Chinese Astrology. The Rat is the most respected sign of the Chinese horoscope. Rats are highly intelligent and intuitive. They are good with money, business, tactics, strategies and meeting goals. They are often secretive and sly animals that are able to cope with any of life's problems. The element of the year is Metal, this represents durability, strength, firmness, and decisiveness. The color of the year - white or silver, symbolizes purity, wisdom, flawless perfection.
May we all be reminded throughout this year when we are challenged with changes to go inward, be in silence to follow the guidance of our hearts, letting go of what needs to be released and trusting in the Sympathetic Resonance of Love to carry us into a higher octave of the great mystery of the unknown.
Lynn Wedekind. MEd offers Acutonics classes at her beautiful retreat center in Todos Santos, Baja California Sur, Mexico. Upcoming classes include Acutonics® Level I & II, a 9-Day Retreat Intensive, February 8-16; Acutonics® Level IX: Sedna Superconductor, 4-Day Intensive March 22-25 with an optional Sedna Adventure, A Once in a Lifetime 8 Day/Night, Grey Whale Encounter & Ancient Indigenous Cave Painting Journey (March 27–April 3, 2020). Additional classes include Acutonics Level III & IV, 10-Day Retreat Intensive May 22-31, 2020; Acutonics® Level I & II, 9-Day Retreat Intensive June 20-28, 2020. All classes will be held at Tierra Canta Earth & Sound Healing Sanctuary, Todos Santos, BCS, Mexico. Lynn can be contacted at tuneintuitmusic@gmail.com; 360-353-4488, www.tierracantabaja.com "Where You Can Hear Mother Earth Singing".