Classes by this Instructor
Date & Time:
Friday, April 14, 2023 - Sunday, April 16, 2023 | 9:00am - 6:00pm
Location: Zoom Live Central Time Zone
Course: Acutonics® Elective: Energetics of Points and Meridians
Date & Time:
Saturday, April 29, 2023 - Sunday, May 7, 2023 | 9:00am - 6:00pm
Location: Zoom Live Central Time Zone
Course: Acutonics® Level III: Harmonic Attunement®
Date & Time:
Friday, May 19, 2023 - Sunday, May 21, 2023 | 9:00am - 6:00pm
Location: Zoom Live Central Time Zone
Course: Acutonics Elective: Hygiea: Holism and Expanded Consciousness Courses
For additional options check our class finder.
Mary Burke-Kelly, Certified Acutonics Practitioner, Licensed Acutonics Teacher, Senior Faculty and Certified Holographic Sound Practitioner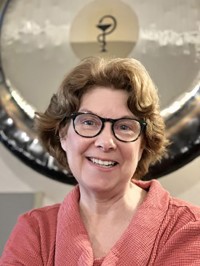 Dallas and Fort Worth, TX
817-918-3939
Mary Burke-Kelly describes her background as filled with things that start with the letter "A:" Advertising, Astrology, Aquarius, Archetypes, Actualization, Acutonics® and Acting. Mary is a Licensed Senior Faculty Teacher of Acutonics and has a healthy Acutonics practice in the suburbs of Dallas/Fort Worth, Texas. During the 2020 pandemic phase, her Aquarian Sun and Venus and progressed Aquarius rising sign adapted very well to restructuring her practice and classes to new technology and the development of effective distance sound healing through heart holograms. Mary is a Certified Holographic Sound Practitioner®.
Born and raised in Pennsylvania, Mary has a degree in Advertising from Penn State University and landed in a large Dallas, Texas advertising agency that provided the structured approach she takes in teaching complicated subjects in manageable, understandable order with interesting presentation skills. Using her practical, methodical Capricorn natal Mercury, she went on to teaching the second language of Western Astrology at the local community college and metaphysical bookstores. She became a guest lecturer for the North Texas Astrological Association during a 25-year period while practicing psycho-social astrological counseling, specializing in relocation, career and life cycling, and pre-natal eclipse soul gifts/challenges. A member of ASNT, she is also a member of the American Federation of Astrologers and Professional Astrologers Incorporated. She holds professional astrology certification through PAI and Level I National Council of Geocosmic Research.
Astrological archetypes and planetary stages play a key role in her approach for clients, selection of tools for an Acutonics session, and in her Acutonics classes. They are the language of Actualization. Mary Burke-Kelly's Acutonics practice specializes in the emotional and psycho-spiritual root causes of imbalances. She also helps self-actualization using tuning forks to construct Dr, Mikio Sankey's Esoteric Acupuncture sacred geometry patterns, with whom she studied. Mary centers Acutonics sessions on Extraordinary Vessels used as time capsules to create major shifts for clients and incorporates that outlook in her classes. She approaches the "healing crisis" for clients as a bridge to their new path that Acutonics can facilitate with ease and grace. Which is exactly how she found her empty-nest career in Acutonics.
With an Aquarian outlook, Mary developed a holographic methodology to send distance Acutonics in her practice and teach her students during the 2020 pandemic. These are techniques that combine her training in holographic sound healing with the Aquarian Age 5th dimensional Light Language, developed by Ana Noyce. It allows distance student practicums and client sessions with experiential results. Mary developed techniques to address energetic chakra and etheric cord entanglements using Level IV Acutonics tools. In going forward, Mary plans to offer both a hybrid practice and hybrid class schedule (online and in-person) as it has opened so many doors for others and removed geographical boundaries.
Mary enjoys outreach for Acutonics and has been a quest speaker for the: North Texas Chapter of IONS (Institute for Noetic Sciences), Dallas Wellness Expo, Fort Worth Holistic Fair, Natural Grocers D/FW, and co-taught with Ellen F. Franklin at the Association for Comprehensive Energy Psychology conference. Mary will be a guest panelist at the Spirit, Mind and Body Conference in Hot Springs, AK in September 2022. She hopes to provide opportunities for her zoom students for hands-on experience there.
Acting? Mary has 15 years of volunteer work as an officer on the boards of directors for youth theatre education programs both in the non-profit sector and public schools. Her eldest daughter now carries the legacy of building self-esteem among Texas public school children through live theater education, directing musicals/plays and the Texas UIL One Act Play contest. Mary's favorite hobby is jigsaw puzzles because "they are a metaphor for life."