Sedna Blue Topaz Gem Tip Set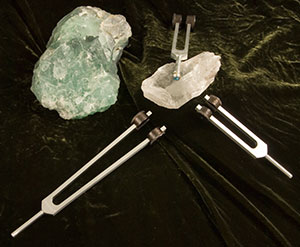 #TFS-SED-BT
$525.00
does not include tax or shipping
The Middle Sedna Fork is specially manufactured to accept an Acutonics Blue Topaz Gem Tip.
Experience the powerful therapeutic combination of sound and light with your Acutonics tuning forks and the natural energy of gemstones.
This beautiful high-quality blue topaz is set in sterling silver. Blue topaz is used to direct energy where it is needed most.
The Acutonics Sedna Tuning Forks were a response to the discovery of the newest member of our Solar System in November 2003, and the need to activate the archetypal messages, teachings, and synchronicities implicit in her arrival.
Read more about Sedna in the News section under Experts In the News in this informative article Sedna: The Mysteries, Miracles, and Infinite Capacity of Water