Ellen F. Franklin, PhD
The header photo for this newsletter is the birthing labyrinth here at the Mothership in Llano, New Mexico. If you've been here for classes you had the opportunity to take part in ceremony where we walk the labyrinth, sound tools in hand, with an intention to birth something new or gain clarity about what we most wish to create. Donna and I walked the labyrinth yesterday to center and sooth ourselves but also to virtually invite in our entire community with the intention of envisioning and creating something new that honors the Earth and all living creatures.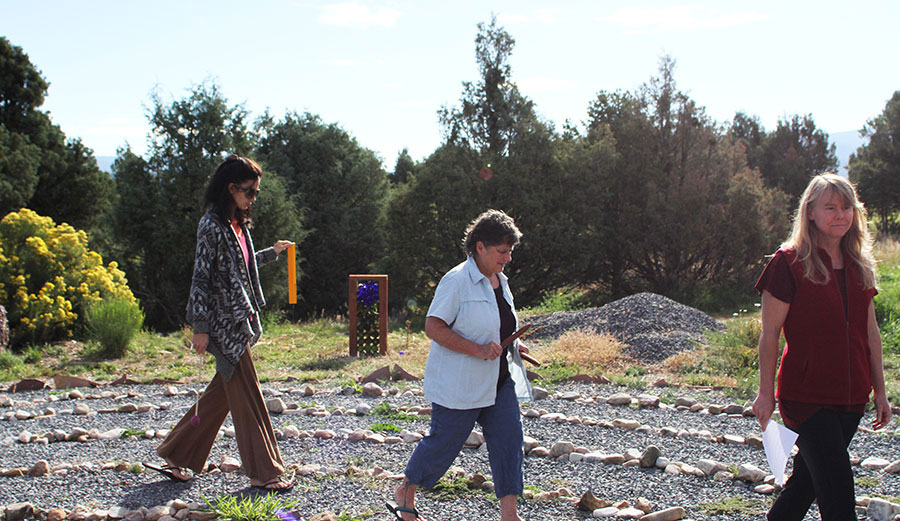 As each one of us struggles to make sense of this global pandemic, a new and at times scary labyrinth, it is critical that we take time for ourselves and recognize the signs of compassion fatigue. (More on how to address severe stress and compassion fatigue at the end of blog). If you can get out and walk, do so, if you are fortunate enough to have a garden, this is a great opportunity to put your hands in the soil and to connect with the bounty of the Earth. Stop to breathe in clean air and try to find a true still point. A still point or interval is an opportunity to envision new strategies that will support you through these unprecedented times. It is truly the space-in-between where we can let go of our anxiety and embrace well-being. As you pause, find something that quiets racing thoughts, a sound, a breath, an image and envision yourself as a beacon of the light of transcendence and transformation.
Our lives have changed radically but we will get through this together. I am so encouraged by the global outreach of compassion that I witness daily. People around the world are creating innovative ways to connect and be together to love, laugh and support one another even at a distance, it is all about staying Ohm.
Birthing Something New: Acutonics Online
We are working closely with all of our faculty to update course materials and class listings to ensure that classes previously scheduled can move to live streaming. If you are scheduled to attend a class or have been putting off getting started reach out to a teacher in your area to get an updated schedule. As new classes are scheduled, updated from live to live streamed, we will work to get this information up on our website quickly. We encourage you to visit the education pages of our website where you can search for a class in your area.
Dr. C. Birch Storey is offering Acutonics Level I with a mix of prerecorded and live training, you can find her class listings here. Katie Mink and Laurie Herron of Westcoast Acutonics have been offering free weekly self-care forums on Zoom and will be teaching online. Judy Bernard has been providing live Gong attunements and will be offering self-care seminars and clinic hours over Zoom in addition to core classes. Ling Chen, Lynn Wedekind, Theresa Lee Morris, Eeka King, Mary Burke-Kelly, DahVid Weiss and Jude and Paul Ponton were able to pivot quickly to offer previously scheduled classes online. Class schedules are being amended as I write this with new online classes being added, be sure to check the website or to contact the faculty member you have been studying with.
We Are Zooming
Alicia Villamarin organized the first Acutonics community Zoom call. Katie Mink and Laurie Herron are offering weekly forums, and I picked up this great opportunity last Sunday and hosted a Zoom call on Chiron and self-care with Acutonics. Students and faculty from Australia, Brazil, Canada, England, Israel, New Zealand and the US all joined in on this call. Watch for future announcements of calls and opportunities to connect with other people in the Acutonics community.
Although many Acutonics faculty are moving classes to Zoom and other platforms, Donna and I have decided to postpone our May classes here at the Mothership. At this time, we've rescheduled for July, but we will only hold the classes if we feel it is safe for our students to travel here to the rural mountains of New Mexico and stay at home directives have been lifted. While we will explore online offerings, our preference is to teach in a live setting as we recognize that there is something truly magical that unfolds when people are able to come here to our land in the rural mountains of Northern New Mexico. We will be reaching out to those of you who've already registered in a separate communication.
Compassion Fatigue and Acutonics®
At this time, while many people are experiencing anxiety, compassion fatigue and high levels of stress I want to remind you of the tools that many of you already have in your tool kits at home. Ohm Unison, Mars/Venus, Chiron, Zodiac 3rd alone or in combination can be used to reduce anxiety and fear. These are the tools that were used in my doctoral research with nurses who self- identified as experiencing compassion fatigue and high levels of stress. The nurses in both my pilot study and doctoral research were taught to self-treat on just 10 acupuncture points. Anxiety, disturbing thoughts, and stress significantly reduced, and sleep improved. Additionally, those nurses reporting pain in their initial intake also showed notable improvement. All of the nurses demonstrated improved ability to cope with very difficult circumstances in their lives.
The ten points used in the study were KID 1, Gushing Spring; KID 3, Supreme Stream; LIV 3, Great Surge; Li 4, Union Valley; ST 36, Leg Three Li (an important immune point); SP 6, Three Yin Intersection; and the Three Treasures, Du 20, Gate of the Ancestors; Ren 4, Origin Pass, and Ren 17, Original Child, Center of our Storehouse. If you have just Ohm forks use them on all of the points beginning and ending on KID 1. If you have Mars/Venus use it on KID 3, ST 36, SP 6, and the Three Treasures. Use the Zodiac 3rdon LI 4 and LIV 3. If you have all of the tools apply a sequence of Ohm Unison, Mars/Venus and Ohm Chiron on the Three Treasures.
Three additional points to reduce anxiety and stress are known collectively as Buddha's Triangle. Use the Ohm Unison or Mars/Venus forks on these points: LU 9, Great Abyss; HT 7 Spirit Gate and P 6 Inner Pass. Remember to ground every treatment with the Ohm forks on KID 1.
This simple treatment can also be expanded on with the addition of two of the Eight Extraordinary Vessels. Think about what you most need at the time of your treatment and the path and qualities of the vessels and choose accordingly.
We wish you and all of your loved ones continued good health. May you find peace and joy in the moment and take time for personal renewal and self-care.