The Planetary Gongs at CoSM CD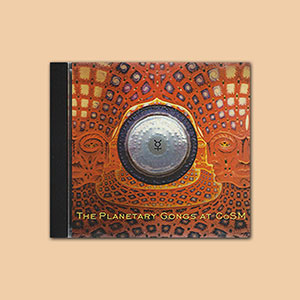 #CD-COSM
$15.00
does not include tax or shipping
Composed By: Maren Good and Michael Ungar
Recorded: July 2008
Engineer: Sean Canada
Mastering: Bill Lacey
This CD beautifully captures the extraordinary sounds of the planetary gongs, which are rich with undertones and overtones. Their tunings are based on the natural harmonics derived from the Music of the Spheres, something that has inspired poets, writers and musicians as far back as Pythagoras. The sounds of the gongs embrace us with a richness that is elusive, familiar, ancient and soothing. This unique recording of nine specially selected gongs was made surrounded by Alex Grey's visionary artwork at the Chapel of Sacred Mirrors. The interaction of sound, color and intent profoundly expands the harmonic resonance of these amazing gongs.
Meet & Greet
Earth - Moon
Mars - Venus
Pluto - Mercury
Chiron - Nibiru
Michael Ungar is a jazz musician, composer and audio engineer. Maren Good is a gifted sound healer, Certified Acutonics® Practitioner and Teacher, massage therapists, reflexologist and aromatherapist.
For more information about Maren Good visit www.thecenterfrederick.com
To learn more about the incredible work of Alex Grey visit www.CoSM.org.