Nibiru Set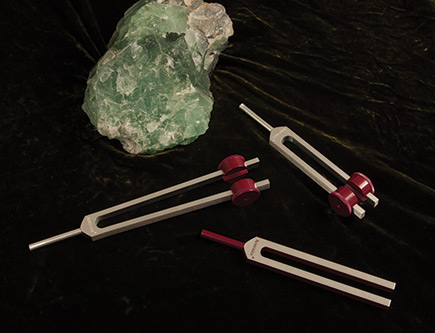 #TFS-NIB
$295.00
does not include tax or shipping
This item is part of Acutonics® certification:
Tools for Acutonics IV: Advanced Harmonic Applications
The Nibiru Tuning Fork Set includes and spans 3 musical octaves. The combination of the Ohm tuning fork and the Nibiru creates an interval that can musically be identified as beautiful, bluesy and emotional. This interval sings like a calling out, a searching. Hearing this interval helps to dislodge this pain or longing by emotionally and spiritually acknowledging it. Nibiru initiates healing on the emotional and spiritual level. Where Chiron addresses and heals the wounds and releases the physical, Nibiru seeks to address the emotion of the wound and reunite the physical and spiritual.
Nibiru is designed for advanced therapeutic applications. Always use in combination with Ohm to make the Ohm/Nibiru musical and healing interval.
The Nibiru Tuning Forks help us to initiate profound changes on a deep spiritual level, that are based on the principles of love and interconnectivity. Providing support when we are at a crossroads in our lives, and helping us to recognize our true calling so that we can understand the flow of time, cycles, repetitions, and the lessons of lifetimes.

Known to the ancient cultures as the "Planet of the Crossing" and to modern scientists as Planet X, Nibiru escaped from another solar system and was pulled into orbit by the gravitation and affinity for our Sun. The rich history of this planet and its influence on every aspect of Earth and our existence can be felt and remembered through the sound portal that the Nibiru forks create.

The application cosmology, astrology, and mythology of the Nibiru Set are explored in depth in our Practitioner Training Program: Acutonics Level IV: Advanced Harmonic Applications.

This Set Contains Three Tuning Forks: Low, Middle, and High Frequency Nibiru in a storage pouch.
For easy activation, pair with Acutonics Belted Acuvator or Acutonics Table Top.