Earth Zodiac Moon Low Set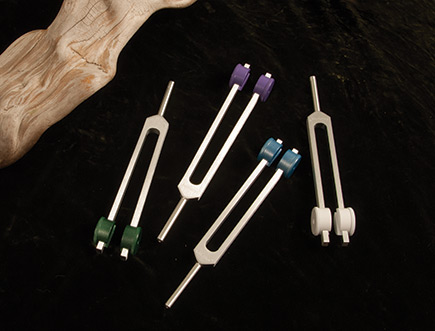 #TFS-EZM-L
$400.00
does not include tax or shipping
This item is part of Acutonics® certification:
Tools for Acutonics Level II
This set builds on the intervals in the Earth Moon Professional Set by descending into lower octaves that allow deeper access into energetic patterns and physical and emotional structures. Sound is layered on the body through the integration of low, middle and high frequency tuning forks. A session might begin with the middle frequency tuning forks but then progress to a low frequency interval. Each of these tuning forks is combined with the Low Ohm to create the interval.

The application of the Low Earth Moon Set is explored in-depth in our Practitioner Training Program: Acutonics II: Higher Harmonics and the Inner Nature of Tone.

Contains 4 Low Frequency Tuning Forks: Low Earth Day Fork, Low Zodiac Earth Fork, Low New Moon Fork, Low Full Moon Fork in a storage bag. For easy activation, pair with Acutonics Belted Acuvator or Acutonics Table Top.