5 Element Micro Gem Tip Set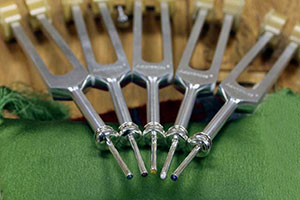 #GT-PRO-5EL
$850.00
does not include tax or shipping
5 Gem Tips designed specifically for auricular therapy, hand and foot therapy, or any micro system including Su Jok, and scalp acupuncture.
Don't forget to purchase Ohm Bored out forks to use with your Micro Gem Tips.
Emerald - Wood Element: Is associated with balance, purity, serenity, tranquility and stability. It is the sacred stone of the Goddess Venus and brings and enhances joy, cleansing, memory, intuition, and faith. It is a stone of regeneration, recovery and balance.
Ruby - Fire Element: Intensifies life force, brings fire into life and revitalizes organs and systems. Creates passion and motivation as well as defending against psychic, emotional or physical attack. Cleanses blood, supports adrenal glands, kidneys, reproductive organs and Spleen. Improves circulation and enhances immunity.
Yellow Onyx - Earth Element: Is strength giving and provides centering and support in times our energy is challenged and stressed. Imparts personal strength, vigor, steadfastness and stamina. Helps heal old grief and sorrow, healing of old injuries and physical traumas and gives stability while alleviating worry and fear.
White Howlite - Metal Element: Teaches patience and helps eliminate anger that has grief at its core. It helps still the mind and facilitates calm and reasoned communication, helps with connection to original breath and true spirit.
Lapis Lazuli - Water Element: Alleviates pain, benefit the nervous system, enhance higher faculties of the mind and helps alleviate emotional bondage. Helps with imbalances of throat, larynx, thyroid, and respiratory systems. Alleviates insomnia, lowers blood pressure and aligns etheric, emotional and spiritual bodies.