Barrie Grace Andrews, MFA, LMT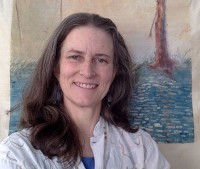 Questa, NM
575-779-9357
Barrie has incorporated sound healing into her massage therapy practice since first studying Acutonics in 2005, integrating it with Shiatsu, western medical and oncology massage, CranioSacral Therapy, Usui Reiki, aromatherapy, reflexology, prenatal and sports massage. Acutonics is now the centerpiece of her eclectic and intuitive approach to healing.
Barrie has a BA from Colgate University, Magna Cum Laude with honors in Anthropology and Sociology, and studied Astroarcheology with early pioneers in the field, and with music professor Joselyn Godwin, translator of hermetic texts on music of the spheres and sacred vowels. She has a Master of Fine Arts in Painting and Drawing from the University of Wisconsin and currently teaches printmaking and encaustic painting. She has over 1800 hours of massage and Acutonics certifications, including working with astrology, facial soundscapes, and training to teach.
She is pioneering "Community Acutonics", an innovation linking multiple participants in their healing journeys with sound. She loves teaching Acutonics with an emphasis on ethical and mindful clinical applications at Sage Acutonics and Massage (www.AtMySage.com) in her center, OCHO, in Questa, NM. She invites Acutonics students to come visit, participate in Community Acutonics, and to earn clinic hours.