Ellen F. Franklin, PhD
Fall at the Mothership is always a time of transitions and maintenance and this year is no exception. Although the weather has remained warm during the day evenings are cool and we've had a few frosts. The beautiful golden colors in the mountains have come and gone and in the garden our focus for October was on planting our fall crop of garlic, growing dome maintenance, and transitioning the dome from summer crops such as tomatoes, chili peppers, spinach and cucumbers to winter hardy vegetables, herbs and greens. The abundance of tomatoes has led to a full freezer of hardy soups, red sauces, and flash frozen tomatoes that will definitely carry us through winter. We now have lettuce, baby kale, chard, cilantro, carrots, beets, and parsley growing in the dome. Additionally, our Meyer Lemon tree has a large crop turning from green to yellow. We expect to harvest them over the next few weeks. All sorts of interesting salsa and veggie recipes call for these sweet lemons.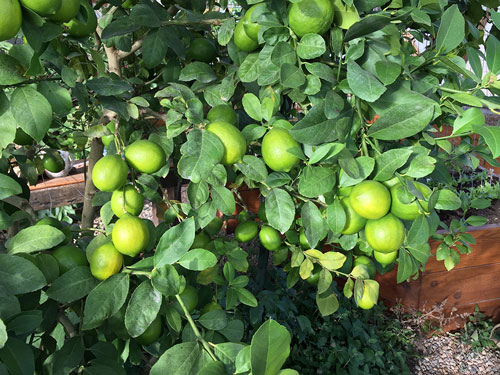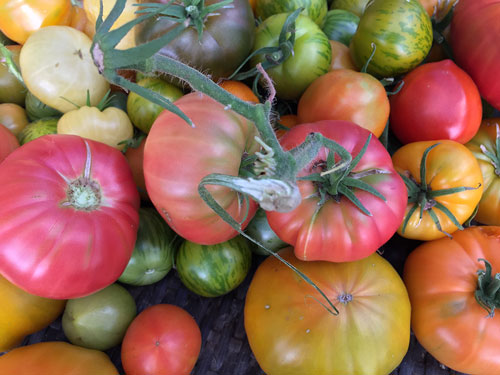 In October, Amanda Simon was here from the UK and you can read her submission about her experience at the Mothership in the November Newsletter. Amanda helped tremendously and was instrumental in getting our fall garlic bulbs planted. This summer there was no fall garlic to harvest as the gophers and squirrels ate all the bulbs we planted last fall no doubt to bolster their immune system over the long winter. So, this year, we prepared the beds in a way that we hope will deter the gophers, Amanda used sound vibration throughout the process. We will report back in Spring to let you know if our buried barrier allows the garlic to thrive while deterring the critters.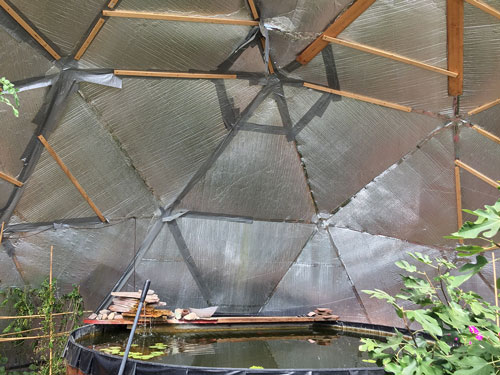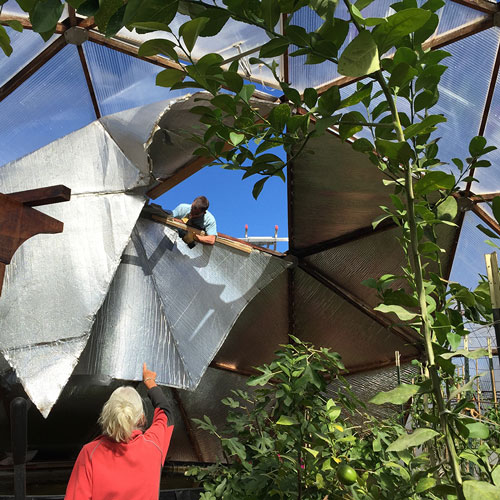 We have had our growing dome since 2007 and while we take care of basic maintenance there are some things that we simply can not do on our own. The thermal wall had been taped and bolstered up with fir strips many times, but it was falling down yet again, and there were definitely leaks requiring the dome panels to be resealed. Growing Spaces sent us two incredible people Adam and Don, they truly cared about the quality of the work that they did and were thorough, thoughtful and very professional. The dome looks fantastic as a result. (See photos of before and after).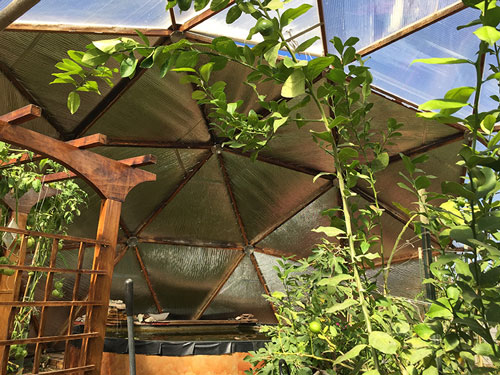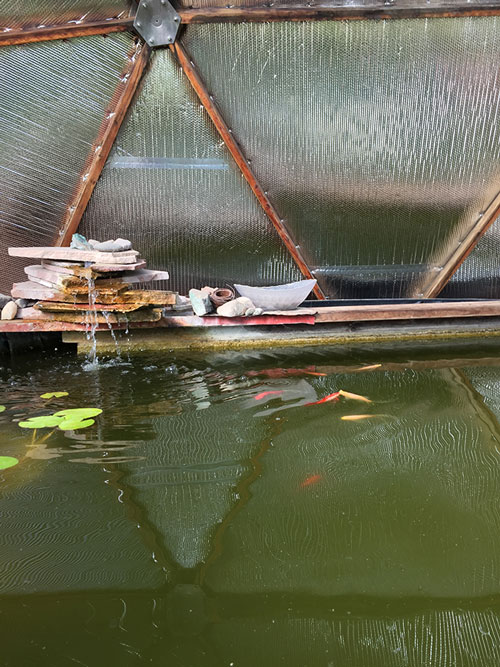 In addition to the dome, all of our stucco buildings and walls required maintenance. Cracks were patched everywhere and taking advantage of the unseasonably warm weather, we decided to paint the front of our office and walls around the office and along our driveway. We used an elastic polymer designed for stucco and managed to get our office and walls painted. The house will have to wait until Spring. The painting crew included Donna, Sande, Max and Ellen.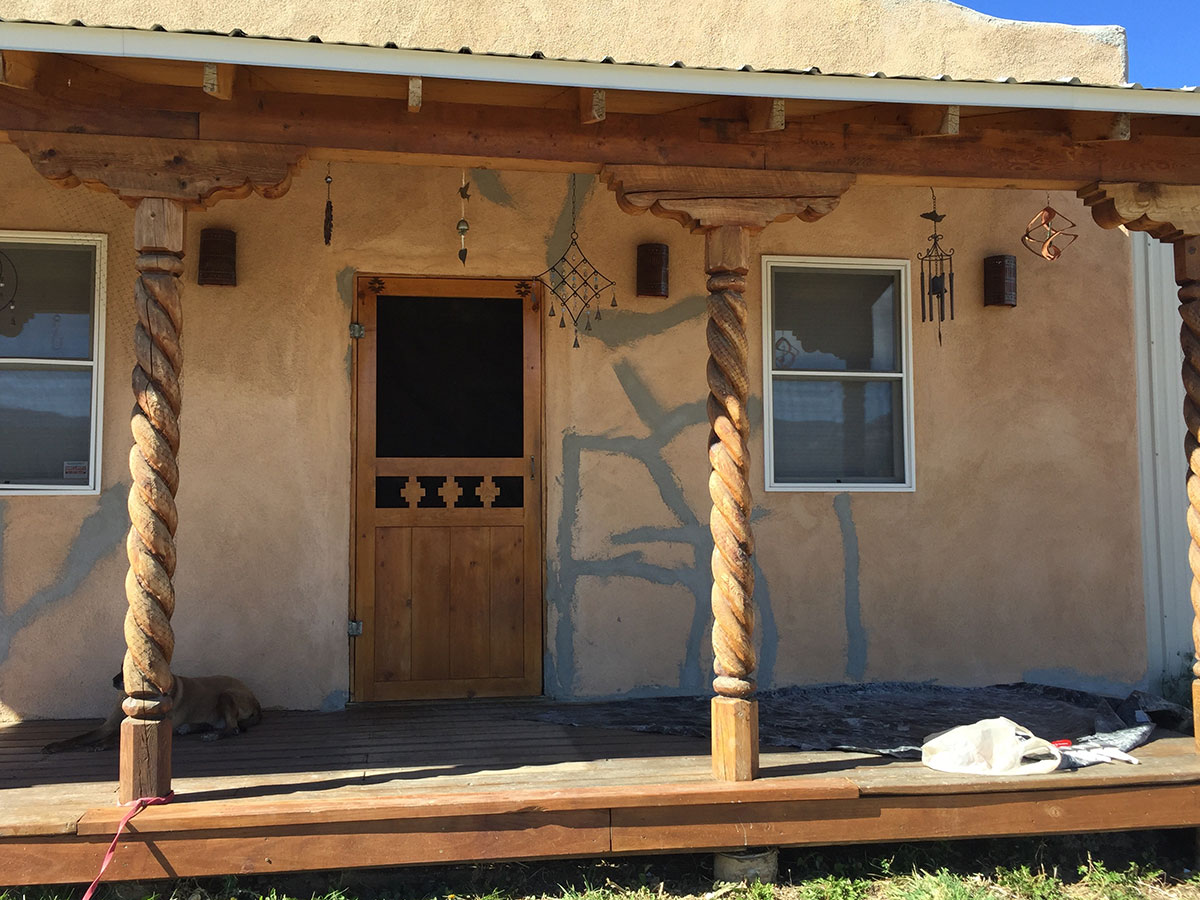 Our latest addition to the outside sound tools is a new temple bell handcrafted by Bill G. Loyd of Truchas, New Mexico. We've had one of Bills bells for many years as part of the sound landscape here at the Mothership. This fall we decided to add a large temple bell on the walkway to the Labyrinth. Bill's work is innovative and aesthetically pleases the eyes and ears. All of his bells and wind chimes have an exception sound quality and they are beautifully cra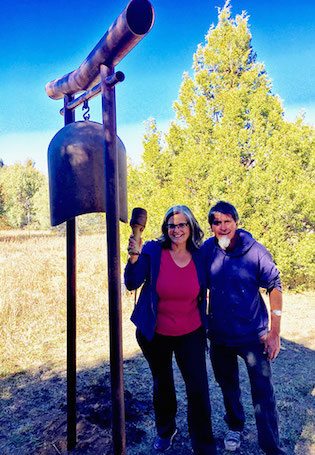 fted from recycled materials. You can view more of Bill's work at www.gongwiththewind.net
Donna and Ellen were at the Pacific Symposium in San Diego, October 27-31, where they were assisted by Katie Mink, Laurie Herron, Lynn Wedekind, Will Vukmanic, and Sunanda Stokes. It was a really fun reunion, and we will report more in the December Newsletter.