Ellen F. Franklin, PhD & Donna Carey, LAc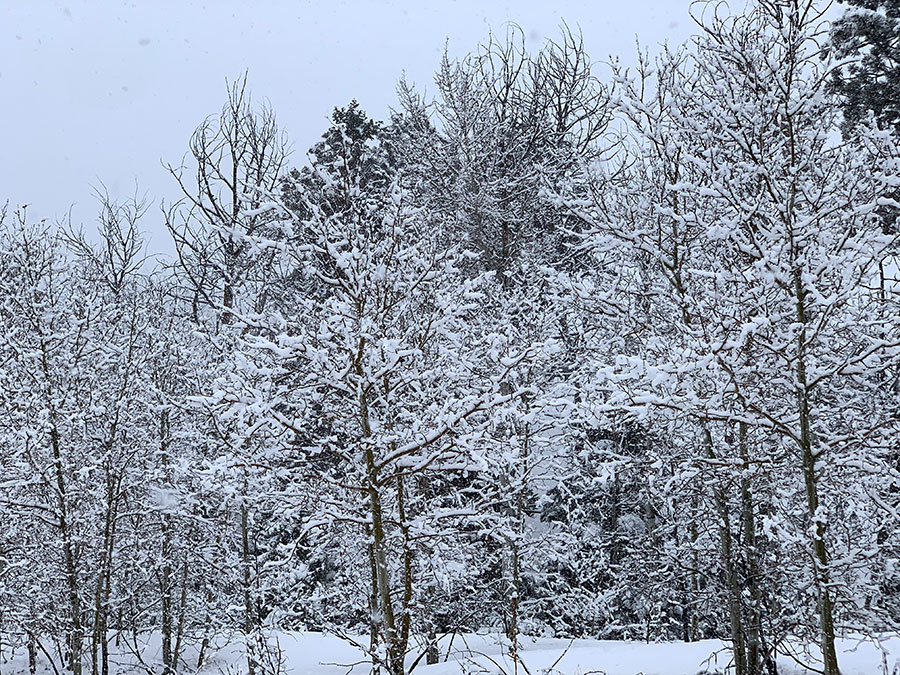 What of Spring snow
this mixed blessing
of a soft, scaling melt
the not so gentle irrigation
of uncanny transitions
mind's routine preparedness
has already led us to
next cycles of lighter
clothing
and higher intention
—Donna Carey, excerpt from Traveler's Advisory 7: Clearing
Has winter reigned too long? As we write this on March 23rd snow continues to fall in the mountains of Northern New Mexico, despite the Spring Equinox heralding the arrival of spring.
The growing dome is happy as more light has returned and there is new growth and blossoms on the peas, fig and Meyer lemon trees. Moisture soaks the Earth and amidst the snow there is a greening underway. The dome offers a respite from the cold spring wind. Donna's been getting seedlings started, Ellen cut back the flowers, and pulled some bind weed and we've spent time with the fish, all of whom appear healthy and quite happy.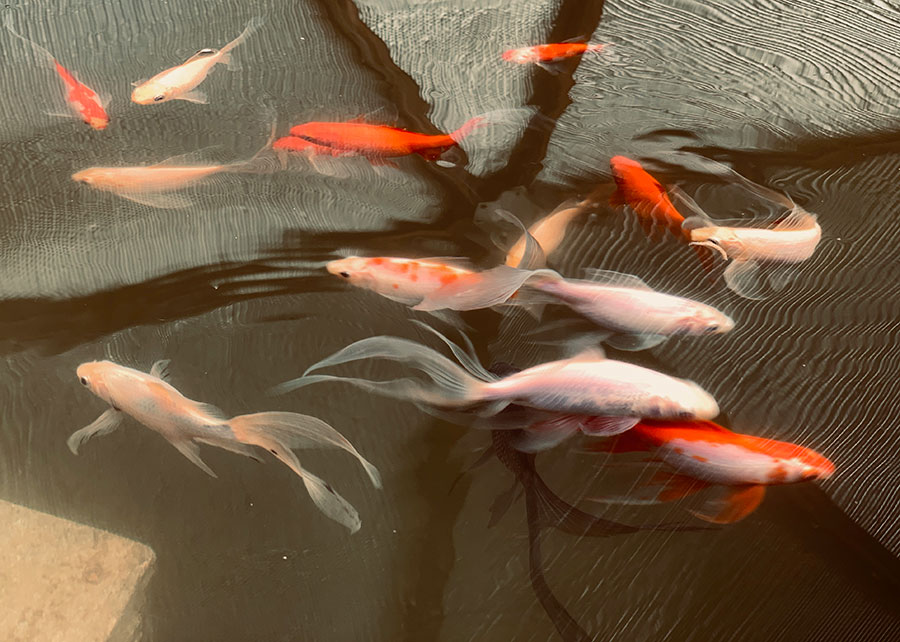 The season has us reflecting on the word anticipation or to anticipate, which comes from the Latin ante (before), capere (take) – anticipat (acted in advance) anticipate (to take something into consideration). Despite the calendar we anticipate a seasonal shift, although the sun brings more light to the Northern Hemisphere there is a dynamic tension around the planet which appears as a deep struggle to embrace what is right and good. When something is pushing to be seen and can't quite get out, what can we do individually and collectively to aid its release. What actions might we take when something or someone is struggling to grow or transform, or conversely is blocking information that should be released and known. Are there steps we might take that allow for growth; signs we might look for or ways we might prepare, that we've not previously considered. What stops positive momentum? Is this something to explore through journaling or conversations with others? How might we hone our listening skills to consider all of the keynotes that are in front of us. What would it mean for you personally to let spring bloom, to flower into true potentiality —just as the tiny seed becomes the shoot, becomes the flower and brings forth the purple sugar snap peas. We hope you will take some time to explore the bloom of stpring through the treatment tips proposed by Paul and Jude, Judy's self-care affirmations and Tone's suggestions in light of this month's astrological configurations.

There are some exciting opportunities to connect with your Acutonics community throughout 2019, to fulfill elective requirements and clinical hours. Ellen is teaching a one-day workshop Changing the Narrative: Sound Based Strategies for Clinical Practice - May 2nd, 2019 at the Hyatt Tamaya, Santa Ana Pueblo, near Albuquerque, New Mexico. This class is designed to help you identify and work with the mythic and archetypal keynotes that emerge from a client's story. Identify important clues to guide you in selecting specific sound tools and acupoints that support growth and transformation.Explore sound layering through extensive hands-on practicum with gongs, hand chimes, Tibetan bowls and tuning forks. To register for just this pre-conference workshop or the workshop and conference, please contact Leslie at 619-861-2237 or admin@energypsych.org. If you have questions about this one-day program or if you'd like to work in the Acutonics booth at the conference for additional clinic hours contact ellen@acutonics.com. And if you can, stay for the whole conference! Learn more at energypsychologyconference.com.
Dr. Alicia Villamarin will be teaching Entering the Extraordinary Vessels: Introduction to NSEV (Non Somatic Extraordinary Vessels) and the Acutonics System July 19th-21st, 2019 at La Luna Lunera her home here in Llano, New Mexico not far from the Mothership. This class with explore the use of the Eight Extraordinary Vessels for cultivation, wellness and clinical care. Developed by East Asian Medical Doctor Daniel Atchison-Nevel, NSEV was originally designed for acupuncturists, massage therapists, energy healers, and healthcare professionals. Over the years, this modality has expanded its original reach and is taught all over the world to all individuals interested in the personal and collective healing process. A background in Chinese medicine and Acutonics Integrative Medicine is not required to attend this class. However, this course is an elective in the Acutonics Certification Program. For more information or to register contact Alicia at 954-540-9583 or email aliciavillamarin@gmail.com.
Ron La Place will be offering Harmonic Geometry: The Fibonacci Process here in Llano, New Mexico, September 11th-12th, just before the New Horizons class (Sedna and Harmonic Geometry: The Fibonacci process are prerequisites for this new class). For more information, or to register for this class contact Ron directly at 780-519-1274 or email him at soloman555@gmail.com.
Currently the New Horizons class is open only to Acutonics Faculty and Certified Acutonics® Practitioners, and there are a few spots still available. Sedna is without question driving the development and creative journey that has been undertaken by Ellen, Donna, Ron, Erin and Dorothy. We've created a dynamic syllabus, and each taken on specific content areas for development. This new class is so critical for the times we are living in. Here is the course description.
New Horizons: Migration of Consciousness
New Horizons will deepen our understanding of image, myth, science and physiology through the lens of Phi and Water and Sedna Fibonacci. We will examine water as a universal substrate, a gate keeper that carries memories, actions, fluidity, and elasticity. What are the long-held systems and assumptions about our world, planetary systems, and the collective psyche that hold us back individually and as cosmic citizens? What does glacial melt really represent and how can we individually and collectively address the threats to health and well-being while living on a planet, and in a planetary system that is in peril. What can we learn from new and old myths and new scientific discoveries from the far reaches of space?
Returning to the roots of Acutonics, Taoism, The Three Treasures and the Eight Extraordinary Vessels we will expand our understanding of vibratory therapeutics as a tool to support forward movement beyond limited personal and collective consciousness into a larger cosmic consciousness. Through discussion and clinical practicum, we will explore how these new tools inter-relate with what we already know of Chiron, Sedna, Nibiru, Ohm Fibonacci and the full spectrum of the planetary system. Why are these new players so critical at this time to help with exploration and expansion of our horizons as we remember the future.
We hope to see you at the Mothership this year. May the seasonal changes brought about from the recent Equinox be gentle and beautiful, help you find joy in the moment, and invite you into a true celebration of Earth our home planet.