Ellen F. Franklin, PhD
It's been more than twenty-two years since we taught our first Acutonics classes at the Northwest Institute of Acupuncture and Oriental Medicine, classes that included many of today's Acutonics senior faculty including frequent newsletter contributors Paul and Jude Ponton and Judy Bernard. From the beginning, we've worked to foster a sense of community and to empower others to bring the Acutonics teachings out into the world. Our teachers span the globe, and our students represent many nations. There are many challenges, learning opportunities and inherent risks and losses in sustaining and growing a business for more than twenty-years. We couldn't do it without the exceptional faculty and practitioners who have grown with us, learned with us, and experienced our growing pains, and to each of you we give our thanks.
As I reflect on what we've created as a community, I am deeply humbled by the amazing contributions made by so many of you giving freely of your time with grace and compassion, in schools, jails and indigenous communities around the globe. You've helped veterans, burn victims, genocide survivors, refugees, stroke and traumatic brain injury survivors, children and families. Traveling to inner cities and far off jungles you've dealt with political upheaval, unimaginable traumas and loss to bring the principles of Acutonics and vibrational medicine to the most underserved.
Although we live in a world of turmoil and unrest, something I didn't in my life-time expect to see so close to home – I feel blessed that we are surrounded by people who are committed to making a difference in the world. Through writing, teaching, and treating others, political action and individual and collective activism; whether it's with sound tools, the written word, or your voice, each of you is making a difference. Thank you!
There is so much unfolding at this time that it feels like an ingathering and harvest, a time of creative inspiration and growth in many areas, for which we have much gratitude.

Jennifer Gehl's new book, The Return of Planet Sedna: Astrology Healing and the Awakening of Cosmic Kundalini was released in May. This exciting new work explores the meaning of Sedna's return, particularly as it relates to the ocean and all manner of resources on our planet. As we witness the burning of the Brazilian rain forest, the tremendous loss of habitat and species, we can easily lose hope. But an in-depth examination of Sedna's discovery chart, particularly a grand sextile that forms the Star of David, encourages us to see the "grand opportunity" we have to not only heal our bodies, but also to heal the planet as we become better stewards of both personal and planetary resources. Jennifer's first book, The Science of Planetary Signatures in Medicine: Restoring the Cosmic Foundations of Healing, with Marc S. Micozzi, MD, outlines the connection between human health and cosmic science. Both books are available through Acutonics as well as other booksellers.
MichelAngelo a long time member of the extended Acutonics family, (profiled in this newsletter) also has a new book, Random Ramblings of an Astrological Autodidact, which is available on Amazon. He has also collaborated with Mary Elizabeth Wakefield on the forthcoming book, Vibrational Acupuncture, which will be published in March of 2020 by Singing Dragon Press.
Dr. Izumi Masukawa, Certified Acutonics® Practitioner and Licensed Acutonics Teacher was just here with us from Japan for ten days. We learned a great deal about the more than 300 students who have studied Acutonics with her in Japan and we had time to explore new curriculum ideas, as well as her focus on teaching people how to live a balanced life through vibrational medicine, tools that protect us from the ravages of electronics, and eating a balanced vegetarian diet. She is one of the core Soul of Woman members (SOW) which comprises 16 women selected from various professions in Japan by the Goi Peace Foundation whose mission is to foster a sustainable and harmonious global society by promoting consciousness, values and wisdom for creating peace, and by building cooperation among individuals and organizations across diverse fields, including education, science, culture and the arts.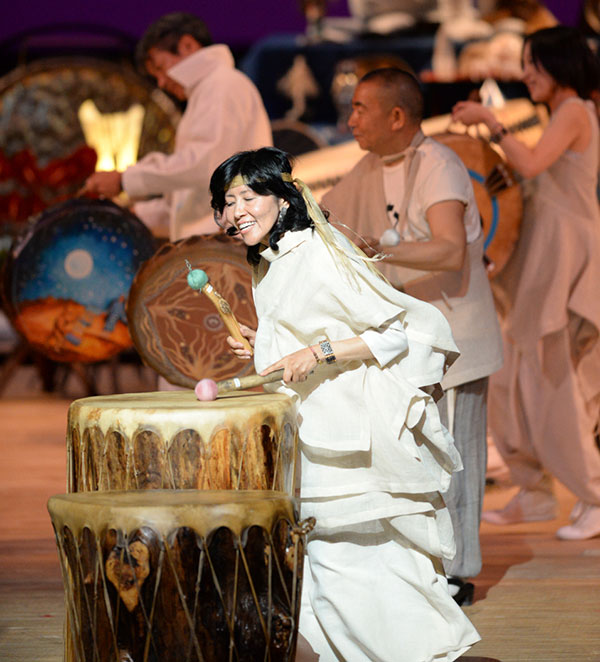 Izumi stresses that to truly transform our lives we must change consciousness and society "the transformation of our life includes choosing the right people to guide us and selecting safe healthy foods and other items of daily life from ethical companies". We are so pleased to have her as our exclusive representative in Japan.
In addition to her many business and teaching interests, Izumi is the author of numerous books and articles that mention Acutonics and she has been involved in or created many events including concerts for peace and work to save the endangered White Lion. She is a passionate environmental activist.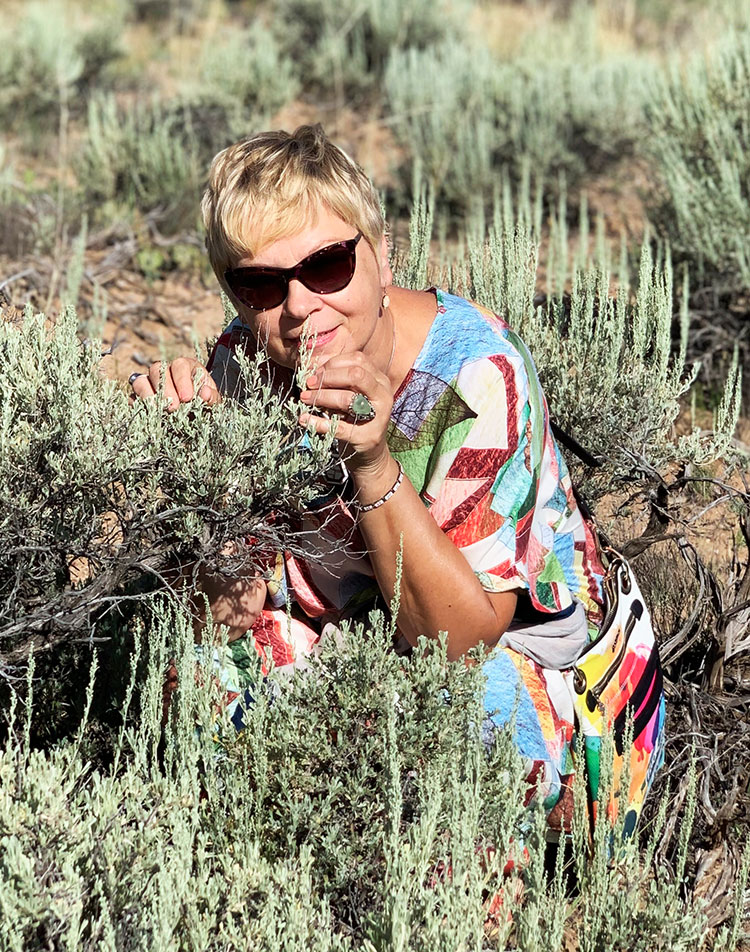 Oxana Merimskaya traveled from Moscow to visit with us in July. She continues to offer the full Acutonics courses throughout Russia, often traveling great distances by train to teach her students, many of whom are doctors. She recently published a second edition of her book, Akytohnka. As a medical doctor with a PhD in immunology, and a practitioner of Su Jok therapy for many years Oxana beautifully bridges between Eastern and Western medicine, science and spirituality. It was lovely to have her with us this summer.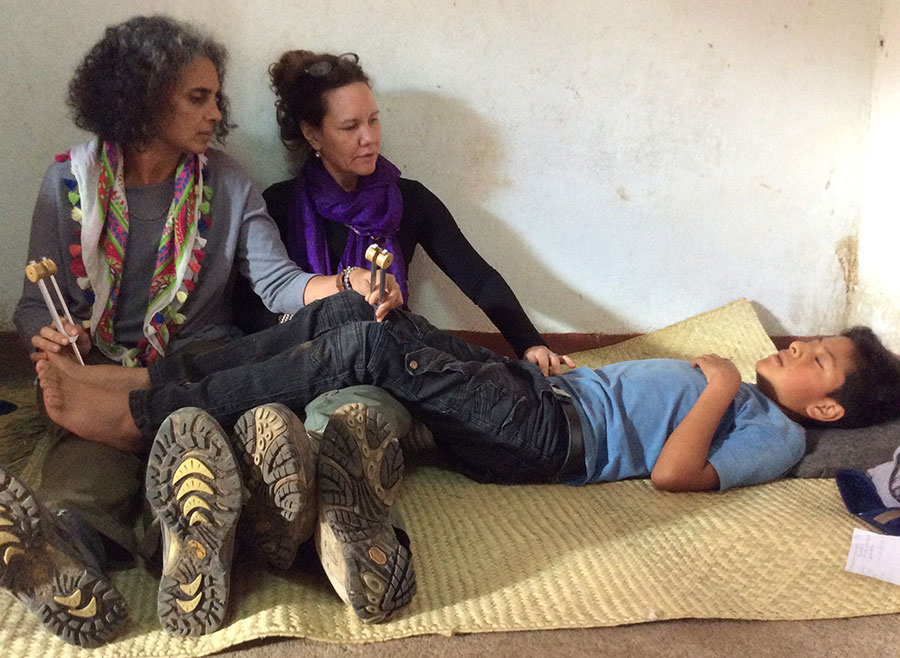 Alicia Villamarin was at her home just up the road from us throughout July, taking time for rest, renewal and planning. She and Maria Romero are co-founders of the Wu Project, a 501(c)3 nonprofit that is dedicated to bringing health care and hope to remote, underserved regions of the world. Their mission has already brought Acutonics®, Chinese medicine, and integrative medicine to people in the Upper Mustang of Nepal, Mayan communities of the K'iche' in Guatemala, Chiapas, Mexico, Matanzas, Cuba and Santa Cruz de la Sierra, Bolivia. Their work is powerful and profound.
Joanie Solaini, Certified Acutonics® Practitioner and Licensed Acutonics Teacher, based near Salisbury in England, is helping to spread this work throughout the UK and Europe. Joanie offers the full Acutonics curriculum and is actively engaged in clinical practice, treating people and horses. She also has a passion for metalworking and has been studying and making singing bowls with Dutch bowl master Ton Akkermans and his partner Carolina Schomper. Many bowls, tubular bells, gongs, and chimes later, she now has a forge and workshop at home. Joanie will be visiting us in September where we will be exploring new course ideas and taking time to visit a few sacred sights here in New Mexico. In October, I will be traveling to the UK to offer a new elective to Joanie's students, Unwinding Trauma: Acutonics®. The Eight Extraordinary Vessels and Fibonacci. See the description below of this new course,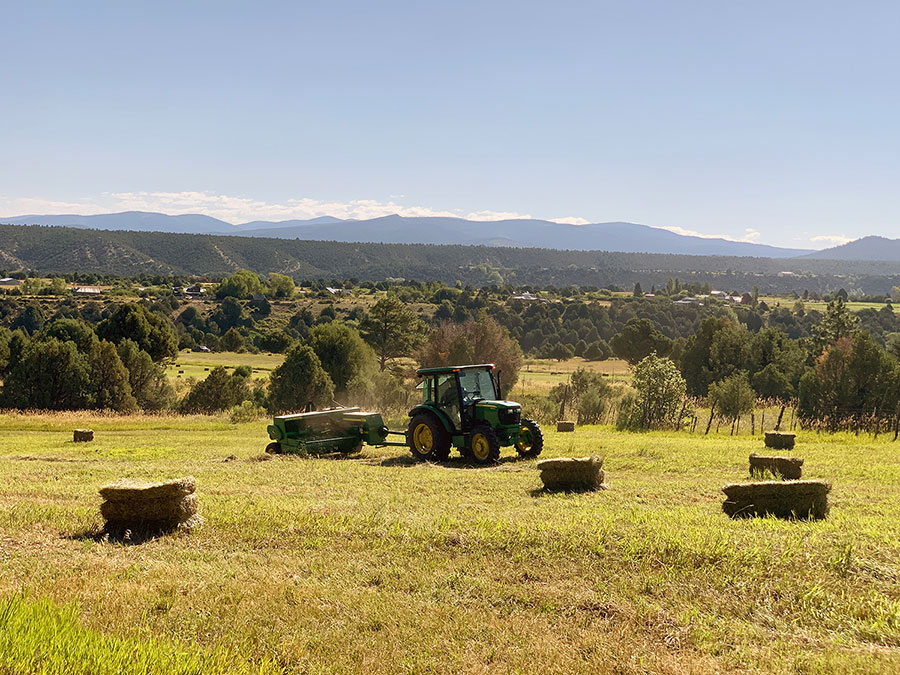 Here in Northern New Mexico days are still quite warm and evenings have begun to cool, fall is definitely in the air. After much rain, a week of dry weather allowed hay to be harvested. From the growing dome we have an abundance of ripe tomatoes, cucumbers, parsley, spinach and chili peppers. The outdoor gardens are providing onions, summer squash, beets, carrots and green beans – and there is an abundance of very fat squirrels who despite our fencing appear to be feasting on the lettuce and greens. Several weeks ago, a very fat, determined squirrel worked hard, to get the lid off the compost bucket on our deck, hard to understand why when there is so much to eat all over our land. Yesterday, we learned that she was pregnant (not fat) as she brought six baby squirrels to feast.

Happy to report that we are eating very well, living off the bounty of our land, and last night's treat was a Middle Eastern Salad, everything used for this delicious meal, (except the Feta and Olive Oil) was grown here including the lemons, cucumber, tomatoes, scallions, basil, parsley, mint, and garlic.
We wish you a beautiful season, filled with love, harmony and hope. So much gratitude for this ingathering of wisdom and grace that we are blessed with from around the world.
Ellen and Donna will be teaching Acutonics Level III: Harmonic Attunement October 4th-7th, 2019 followed by a clinic day, focused on the treatment of trauma on October 8. There are just a few spots left in this class so please contact sande@acutonics.com or call 575-587-2689 to register. Ellen will also be offering a new elective Unwinding Trauma: Acutonics, The Eight Extraordinary Vessels, and Fibonacci, October 19th-20th, 2019 in Salisbury, Wiltshire, UK. For more information contact Joanie Solaini at joanie@singingspheres.com or phone +44 (0)7867 781479