Ellen F. Franklin, PhD
We extend our best wishes to each of you for this holiday season. Whatever spiritual path you follow December has come to represent a time for family, friends and community. It is also a time when we look for opportunities to share something special with others, whether it's a physical gift, a gift of time or simply engaging fully with our hearts to share stories and create meaningful moments.

Although this time of year is challenging for so many, let us not forget that in December, we have both the energy of Jupiter (November 22nd — December 21st) providing a sense of open abundance and infinite potential—and Saturn (Dec 22nd – Jan 21st) which provides structure, wisdom, and a sense of responsibility and purpose. Let's work with the energy of these planets to craft a powerful vision for sustaining and nurturing one another through 2018.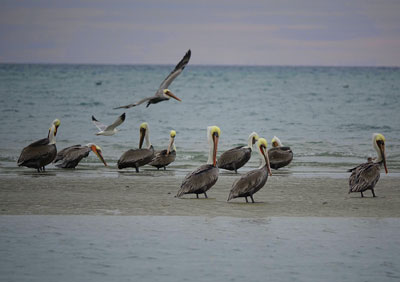 Donna and I are in Mexico working on a writing project. We are fortunate to be at a very quiet place situated at the top of the Sea of Cortez, on a peninsula with an estuary on one side, and the ocean on the other. There is abundant bird life, majestic skies morning and evening and an unpopulated shell-encrusted white sand beach that stretches for miles in either direction. It provides much-needed solace and quiet. As we look back on 2017, there is so much loss, senseless death, fear and sadness that it is far too easy to forget moments of beauty, strength of community, resonance, joy and promise. As we head into winter in the northern hemisphere it is also a time for going inward, and finding those opportunities to engage in activities that will nourish, nurture and sustain us through the coming year. My wish for each of us during this holiday season is that we are able to seek out opportunities that help us remember what is right and good and beautiful and the magical moments that restore our spirits.

This year marks the 20th anniversary of the founding of Acutonics, which was commemorated in the Spring/Wood Edition of Oriental Medicine Journal. The publication included more than thirty contributions about the impact of this multilayered non-invasive form of health care. A very big thank you to publisher and designer Sandra McDaniel for dedicating this issue of OMJ to our work. Donna and I feel very fortunate that we have been able to spend the past twenty years on meaningful work that makes a significant difference in the lives of so many. We could not have done it without our incredible community of teachers and practitioners who share the vision that sound vibration used with clear intention and depth of knowledge can influence places, cultures, animals and individuals to promote alignment, balance and healing on the physical, emotional and spiritual planes. We extend our thanks to each one of you who share this journey with us and continue to make so many individual contributions in your own communities.

At the Mothership this year we have been blessed to have guests and students from around the world, including Australia, Brazil, Canada, England, Germany and Russia. We've had the opportunity to create art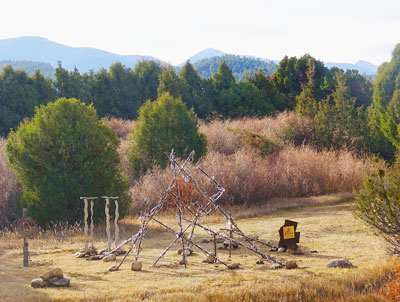 and to initiate new students into this medicine and to facilitate others as they journey toward certification. Classes have also been offered for the first time in Portugal and in Poland.

Our 2018 schedule is coming together and we are pleased to announce that Donna and I will be returning to Golden Flower Chinese Herbs in Albuquerque, New Mexico to teach an Acutonics Level I Class March 2nd-4th, 2018. Special thanks to longtime supporters of our work John Scott and Lorena Monda, who have encouraged us to return to their excellent and accessible teaching facility. We will be exhibiting at the Association for Comprehensive Energy Psychology annual conference, which this year is in Orlando, Florida and I have been invited to present a new program, Friday, May 4th 11:00 am – 1:00 pm, Trans-Generational Trauma and the Eight Extraordinary Meridians. In June, we will be offering Sedna, Harmonic Pathology, Points and Meridians and a Community Clinic Day. In July, Alicia Villamarin will be teaching the NSEV elective. We may add an additional class based on student needs. Please let us know if there is a class you would like us to offer in July.

We are also pleased to announce that licensed senior faculty member Dr. C. Birch Storey will be offering Acutonics Level I on the E Learning Platform of Eastern Currents. To learn more about this course offering here is a link.

We extend our blessings to each of you for peace, harmony and restorative time during this holiday season.
Ellen, Donna and Sande