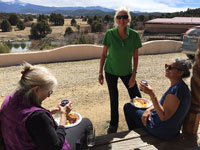 Ellen F. Franklin, PhD
On March 17th we had the pleasure of celebrating the 20th Birthday of Acutonics as well as St. Patrick's Day. Donna prepared a fabulous lunch. Shealan Anderson (who was here with us as a student intern) Sande McDaniel, Alicia Villamarin and Donna and I stopped to enjoy the warm sunny afternoon and shared a picnic lunch on the deck. Looking out over the snow-capped mountains, there were so many memories of past gatherings here on the land, laughter and sorrow, gratitude and so many visitors who graced us with there presence. Whether you have been a part of Acutonics since its founding twenty years ago, or are a relatively new student, teacher or practitioner, what shines through daily is your dedication to making a difference for the planet. You are not just focused on the delivery of integrative health care but genuinely committed to supporting body, mind and spirit with grace as you foster hope, peace, light and harmony within your own communities. Thank you.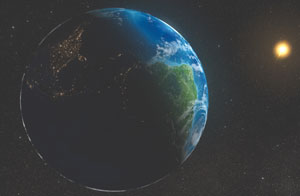 April 22nd is Earth Day marking the anniversary of the birth of the modern environmental movement in 1970. The need for action is as significant today as it was in 1970, as the current US administration works to undermine the environmental protection agency and embraces the climate change deniers. Well-funded oil lobbyists, a disinterested public, and a divided environmental community contribute to the negative narrative. We are witnessing the single biggest attack on the environment with the recent actions in DC to role back environmental regulations. Additionally, energy is being used around the globe as a geopolitical weapon. As Earth Stewards it is important to open a narrative that invites activism, and to take the time to honor Mother Earth. You can learn more about Earth Day on the Earth Day Network. Speak out, take action and use the Earth focused Acutonics tools, Ohm, Zodiac Earth and Earth Day whether used as tuning forks, hand chimes or gongs to help shift energy and focus in a positive and direct way on planetary and human health. Also, don't forget to work with Sedna who teaches us about tough love and has a relationship to the Earth and all of the waters of Earth.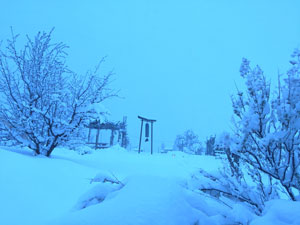 Our beautiful spring-like weather was short lived. Several days ago we woke to twelve inches of wet snow, as winter hangs on here in the high mountains of Northern New Mexico. The wonder of our place is that despite the snow we are able to pick fresh greens, beets and herbs in the growing dome. The fig tree has come into leaf, the Meyer lemon tree is filled with new blossoms, and the tomato and cucumber seedlings have matured and are being transplanted into the prepared beds. With Donna's continued exploration into wine production as long as we have a shovel we can always find an interesting bottle in the root/wine cellar. Today we are experiencing a mix of rain and snow, despite our desire for the season to change, we always celebrate moisture in the desert.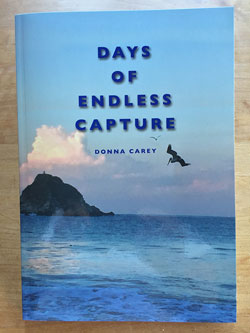 Finding time for writing and photography is always a challenge so it brings Donna and I great joy to finally see our latest collaboration in print. Days of Endless Capture a collection of poems from Donna, with my photographs, beautifully designed by Sande McDaniel was delivered last week. These creative projects are always a labor of love and this one is no exception. It fills me with nostalgia as many of the images selected trace travels from the Antarctic to Mexico and Germany and throughout the South Western United States. Over the years I've had the pleasure of reading some of Donna's rich textural poems at our classes and it is such a treat to see them in this beautiful printed form. This new work is available through the Acutonics website or call the office to place your order.

In this newsletter we share a profile of Shealan Anderson, who spent twelve days here with us providing invaluable support. She assisted in the growing dome, helped protect our fruit trees from a serious frost, and took on the task of assembling almost 500 acuvators. She also assisted with the wine production, and earned clinic hour credits by providing treatments to people from our local community. We have so much gratitude for her enormous contribution during her visit.

A big thank you to Alicia Villamarin who was here to work with Donna on a new elective entitled Cellfie, which we will offer in July. This class builds on what was taught in Alicia's class the New Biology of Energy and Sound, and deepens what is taught in Harmonic Pathology. If you still need electives or wish to fulfill your Acutonics continuing education requirement we will be offering the following classes in July. More details to come, but it was quite exciting to hear the discussions Alicia and Donna had about the new class.

Alicia Villamarin: New Biology of Energy and Sound – July 13th-14th, 2017
Alicia Villamarin & Donna Carey: Cellfie – July 15th-17th, 2017
Student Clinic Day – July 18th, 2017

If you've been hoping to study Acutonics at the Mothership this year we will be offering Acutonics I & II from June 1st to 7th and Acutonics III & IV September 7th to 14th. We will also be offering several electives in July. We do not plan to offer any introductory classes in 2018; so if you've been waiting for the perfect opportunity to study with us please don't hesitate.

If you are interested in assisting at our booth at the 19th Annual Energy Psychology Conference May 18th-22nd, 2017 in San Antonio, Texas, please be in touch with Mary Burke-Kelly who is handling the scheduling for the booth. It's a great way to gain clinic hours and to meet an amazing community of like-minded practitioners. My one-day workshop the Eight Extraordinary Vessels a Gateway to Health and Consciousness is May 18, and will receive 6 continuing education credits. To register go to http://www.energypsychologyconference.com.