Ellen F. Franklin, PhD
Each month my goal for this blog is to provide an update on events at the Mothership and in our community. As I write, I find that these blogs always take on a life of their own, and this month is no exception, as I reflect on grief, trauma and perseverance. Even at the most difficult times in our lives, through this powerful work, vibratory energy and sound, we persist, despite the circumstances. January was particularly challenging with the loss of our beloved canine companion Shen Yun, and the transition of power in Washington. There has been tremendous grief and sadness, yet amidst this we also see the extraordinary work of our practitioners and teachers around the globe. This month I write about Certified Acutonics® Practitioner Rita Martin, a stroke survivor who is now helping other stroke and traumatic brain injury survivors to rebuild their lives. We are also honored that as we approach the celebration of the 20th Anniversary of the founding of our company in Seattle, March 17, 1997, that Oriental Medicine Journal is dedicating their Spring/Wood issue to this momentous event, and many people from our community have chosen to submit contributions. As I read them, my spirits lift in recognition of how this work has so deeply impacted others. Despite adversity we continue as a community to grow stronger in our commitments to give back, be of service to others and be heard.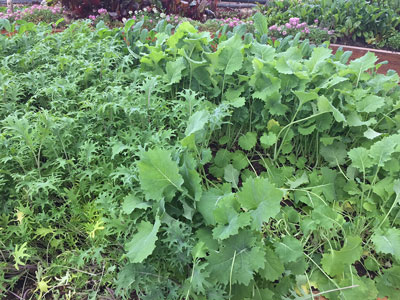 Last week a blast of winter settled into our high mountain community. Snow, high winds and extremely low temperatures kept us close to home. We've had the wood stove going continuously in the house, as there hasn't been much sun to heat our passive solar home. We are so grateful that despite the weather we have beautiful greens and herbs growing in the dome. There is an abundance of different types of kale, chard, spinach, baby beets, fresh parsley and cilantro, and we are enjoying the last of our Meyer Lemons. Donna and I have been snowshoeing and doing way too much shoveling. This week the sun has returned, and we are experiencing a bit of welcome warmth, heralding the arrival of the Fire Rooster.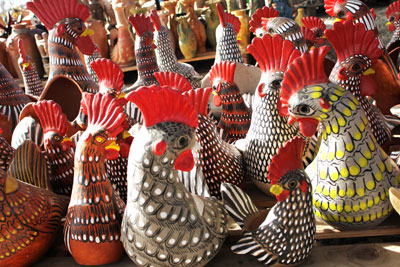 The Chinese New Year began on January 28th, this is a Fire Rooster year, the tenth sign in the Chinese Zodiac, demanding that we address challenges head on as Rooster's arrival is a wake up call to the world. There is no middle road in Rooster years. Roosters are outspoken, keen observers, frank and loyal and they demand loyalty from others. They also love the spotlight and can be vain and overly boastful. In a Fire Rooster year we are surrounded by fire and solar energy providing access to a strong generative and creative element that pushes industriousness and honesty. However, it is also a time that demands a high level of self-awareness so that we do not loose sight of the power of fire to bring great destruction, ignite aggression, egotism, fanaticism, coarseness and flamboyant disregard for truth. These and many other observations on the Year of The Fire Rooster will be featured in the article that Donna and I wrote for East Asian Medicine Journal's New Year issue.
This past month has been deeply challenging as we watch the transition of power in Washington, and pray for the energy to take action and be heard. Working with the generative tools we have such as the Earth Day 5th, Solar 7th, Mars/Venus and Mars/Earth Day can help us remain strong, and shine a light on events as they occur. Remember to use the tools that help to promote balance and connection to Earth as well as those that help to strengthen voice and resolve.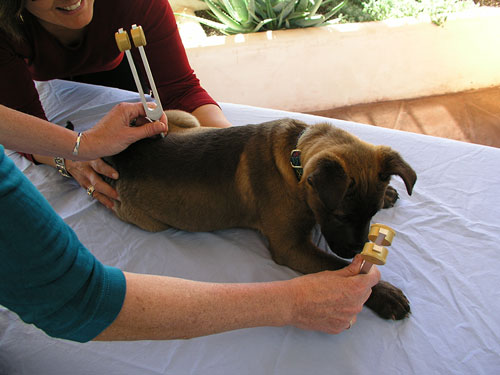 In January we also lost our beloved canine companion of fourteen years, Shen Yun. Shen was an integral part of our family, a colleague, friend, companion and partner beyond measure.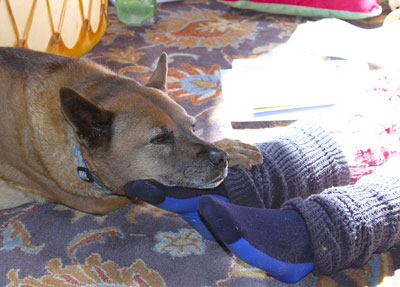 She has deeply touched our hearts and those of all who had the pleasure of meeting her. She loved the many guests who came to the Mothership, and was always sad when they would leave. As a puppy, she was a model for our work with animals, she has also appeared on the cover of East Asian Medicine Journal and in the book Acutonics for Dogs & Cats. She took her responsibility for our community, the land we live and work on, all of our students and classes very seriously and would often join us at classes and events. Born with a congenital malformation in her back legs she also taught us about perseverance through life, despite the challenges we might face. As a guardian of the land Shen is buried next to the growing dome. Her passing has been marked with ceremony and ritual including lighting her way with luminaria and twinkling solar lights. Her strong spirit continues to watch out for all of us. I know she will find her Acutonics canine and feline community, who have already passed over and are also deeply dedicated to this work.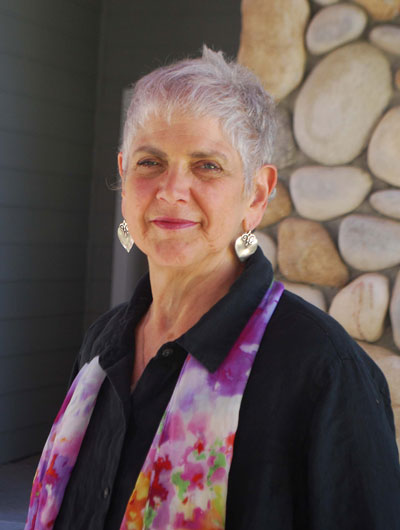 Perseverance despite life's obstacles is something that Rita Martin, LAc, and Certified Acutonics® Practitioner, also understands. Donna and I have known Rita since 1995, when we met in Seattle. Twenty years ago, when Acutonics was just beginning Rita had a massive stroke. The doctors wrote her off saying that her brain injury was so severe that she would never speak or walk without major assistive devices. Yet, Rita defied all odds and completed Acutonics training, she went on to develop new methods to treat herself and others suffering from stroke and other neurological injuries. Each year approximately 800,000 more people will suffer a stroke, and more than 2.5 million suffer a traumatic brain injury. Rita with the assistance of Allison Shapiro has created the Stroke and Brain Injury Recovery Project to provide opportunities for healing to stroke and brain injury survivors through established centers and clinics. Rita has been seeing great results, as a volunteer at Laguna Honda Hospital and Rehabilitation Center in San Francisco and hopes to expand her services to the Schurig Center for Brain Injury. In order to continue doing this important work Rita must raise funds to support her and the programs she's creating. She recently aligned with MarinLink a community foundation, which provides a vehicle for her to receive charitable contributions and tax-deductible donations for her project. If you are interested in supporting Rita's work with stroke recovery and brain injury survivors please contact Rita at rita.martin2525@gmail.com.
June 1-7, Donna and I will begin a new group of students with Acutonics Level I & II Intensive. If you've been considering this class (and I've spoken with many people about it) please don't hesitate as we are limiting registration to 14 students.
Sending you blessings from the Mothership.