By Ellen F. Franklin, PhD
In January, if you asked me about the availability of online classes for Acutonics, I would have directed you to Catherine Birch Storey, who has been running Acutonics Level I, for several years, a mix of asynchronous and synchronous learning, which has received very positive feedback from students. Had you been seeking clinic hours, Judy Bernard has created an online approach to offer supervised clinic hours and case studies over Zoom, with good success. A handful of teachers including DahVid Weiss and Carmen Cicotti were working with students to enhance online learning opportunities. As a company, we had explored numerous options, and a range of learning platforms for bringing Acutonics online. Many faculty members played an important role in our discovery process sharing what they learned, exploring how we might improve our online efforts, and what it would take to bring more of our rich curriculum online. But, the reality for myself and Donna was that while we knew that we needed to develop a comprehensive approach for online Acutonics learning, we were moving slowly, taking our time to evaluate many different approaches and options.

When we began to witness the impact of Covid-19 around the globe we knew that slow was no longer an option. Ling Chen, who was scheduled to teach in Asia asked if she could switch her classes to live streamed on Zoom, which we quickly approved. Other faculty soon realized the need to cancel their live classes as travel was restricted or completely shut down. As a global community of teachers, we came together on Zoom, to explore the options to continue teaching online. Teaching a sound-based applied methodology, we recognized the limitations of video streaming, what tools would be needed, what would be lost through this type of online education? How would we address the critical importance of practicums throughout our training? While many of us long for the return to live in person classes, our faculty have adapted to the new normal as we all gain invaluable experience on how to continue to deliver a high quality in-depth learning experience.
Please check the website to find the classes you need and watch for announcement or emails about upcoming forums to expand your knowledge and understanding of the Acutonics® methodology. Donna and I have offered three 90 minute forums, a teaching on Chiron and self-care, Seeds, Soil and Self, and a new look at Mars and Venus in light of the current pandemic. A new group of forums are being scheduled and these offerings will be posted to the Acutonics student community on Facebook. If you are an Acutonics students or have been through our training these forums are open to you. Please email me if you would like to be added to the notification for these classes.
One of the high points of this crazy time has been the opportunity to gather with people from around the globe, to meet students we might not otherwise have met, to feel the strength of the community and hear about the impact that Acutonics has had in people's lives. An unexpected aspect of Zoom meetings and classes has been the level of deep and meaningful connections, and shared intimacy that unfolds in these gatherings. Some of our faculty, trained together more than fifteen years ago, and they too have had an opportunity to reconnect through our online meetings. The use of Acutonics for personal self-care has opened up opportunities for tele-health consultations where a practitioner is able to guide a client through sound-based solutions for self-care at home. Each day as we remain in lock down we work to stay at Ohm – shifting the dynamic and energy from one where we might feel restricted, anxious or fearful, to instead embrace the wonder and magic of true alignment with Mother Earth – whether engaging in the use of Ohm tuning forks, meditation or chanting, remembering our sacred connection to the deep grounding qualities and peace that Ohm can bring to us.
There is still much to learn as learning tools and platforms morph to adapt to changing needs, we will continue to seek ways to enhance your online learning experiences, and to expand opportunities to connect in this virtual new world.
Some Recent Online Activities:
Judy Bernard has been offering beautiful gong attunements over Facebook Live that are powerful and profound. She is continuing to offer clinic hours and Clinical Documentaries and is assessing what additional classes will be offered in the coming months. See Judy's article in this newsletter issue about creating sacred space in this new online world. planetarygonggoddess@gmail.com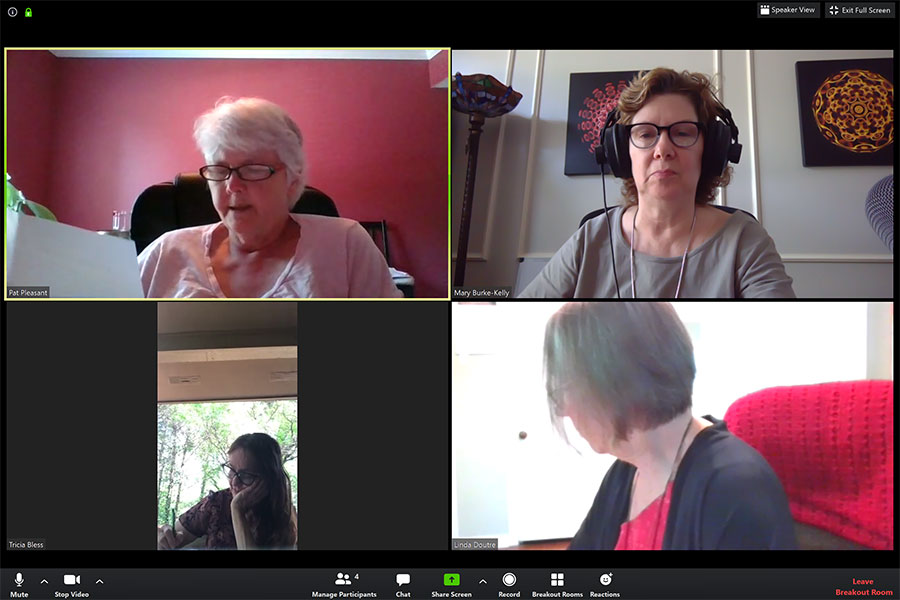 Mary Burke-Kelly is Zooming, she recently taught Acutonics Level VI: Clinical Documentaries and has scheduled additional classes over Zoom. She is offering distance healing sessions and has also created a YouTube Channel. See Mary's article pandemic confessions about her recent foray into online teaching. mary@dfwacutonics.com, www.dfwacutonics.com.
Catherine Birch Storey has Acutonics Level I classes scheduled online throughout the year. For those of you who can't be live on Zoom for a full class, this offering is a mix of synchronous and asynchronous learning. Able to study at your own pace with unlimited access for 6 weeks. DrBirch@HarmonicsLiving.com.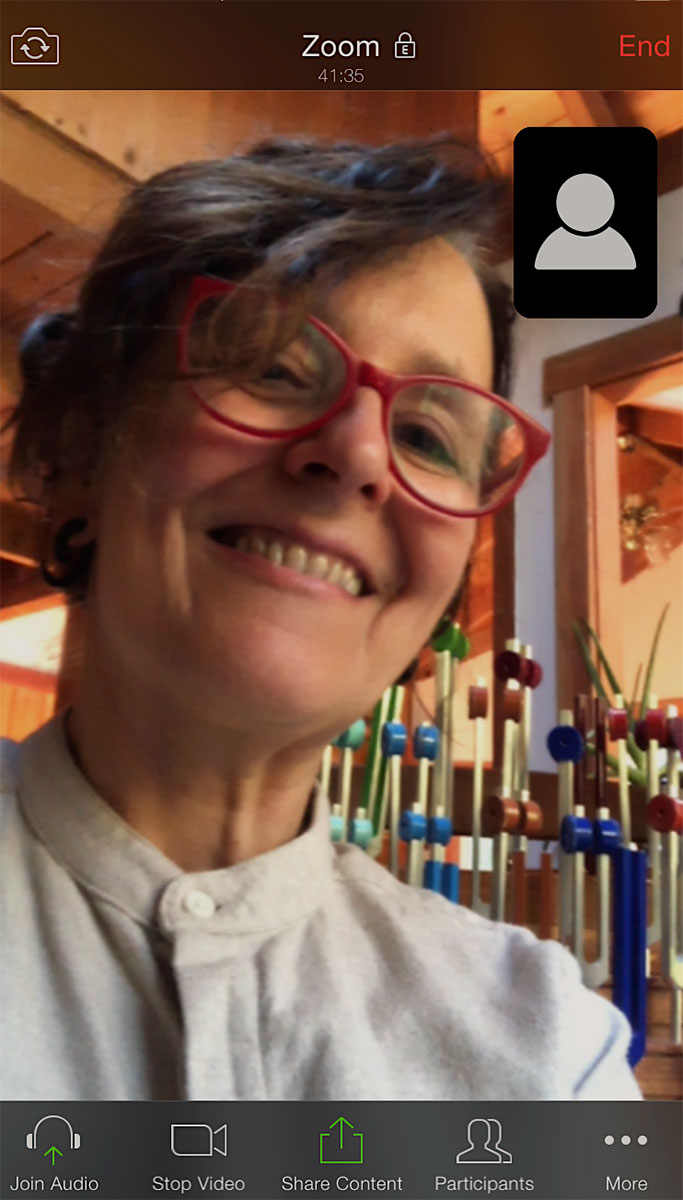 Carmen Cicotti is continuing to work with students over Zoom. (See Carmen's article, about her early adoption on line teaching). carmen@northwestacutonics.com, http://www.northwestacutonics.com
Katie Mink and Laurie Herron have offered exceptional forums, some free and some for a small fee. The also recently completed Acutonics Level I and will be offering Level II and III on Zoom. See Katie's article about teaching teaching on Zoom. westcoastacutonics@gmail.com, http://www.westcoastacutonics.com
Paul and Jude Ponton had a live scheduled Points and Meridians and the new Fundamentals of Chinese Medicine class scheduled in April, they adapted to the new normal to offer these classes over Zoom. They are offering remote healing sessions and will continue to teach on Zoom. resonate@whispering-dragon.com, http://www.whispering-dragon.com
Lynn Wedekind scheduled to teach Sedna, was able to pivot quickly and teach the class over Zoom. She will be offering her previously scheduled classes in this way until travel restrictions to Mexico are lifed. tuneintuit@gmail.com, http://www.TierraCantaBaja.com
DahVid Weiss, based in Asheville, NC also adapted quickly to offer previously scheduled classes via Zoom, and he is continuing to work with students on the road to certification through these classes. dahvid@me.com, http://www.dahvid.com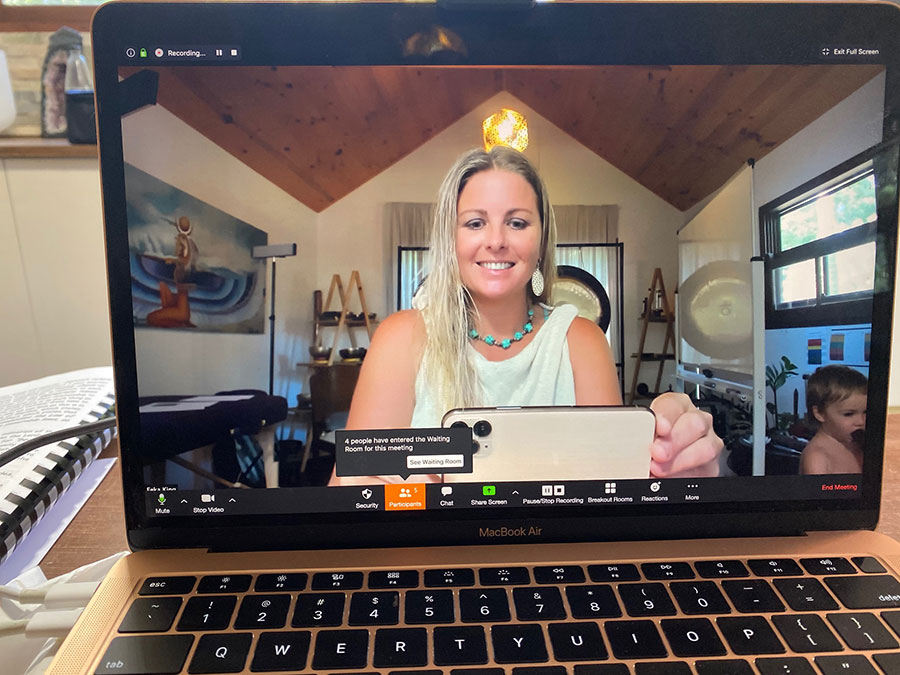 In Australia, Eeka King recently completed Acutonics Level III. She writes, "It was certainly an adaption to move with the times and offer my scheduled Level III class online. Wow it was incredible! Over 4 days we went on a journey through the outer cosmos and the inner psyche as we deeply attuned to the unique vibrational signature of the heavenly bodies. It was a very interactive class with a section also looking at our own astrological charts and the many unique expressions of each planetary archetype. So, it was truly a powerful transformational experience for many as deeper self-awareness, insights and personal development was also achieved.
I had a large group of 18, and amongst the class there were acupuncturists, bodyworkers, musicians, astrologers, kinesiologist, sound and energy healers, psychotherapist and a medical doctor. Everyone is looking forward to Level IV online, which I will be offering May 29-31. eeka@australiaacutonics.com, http:/.www.australiaacutonics.com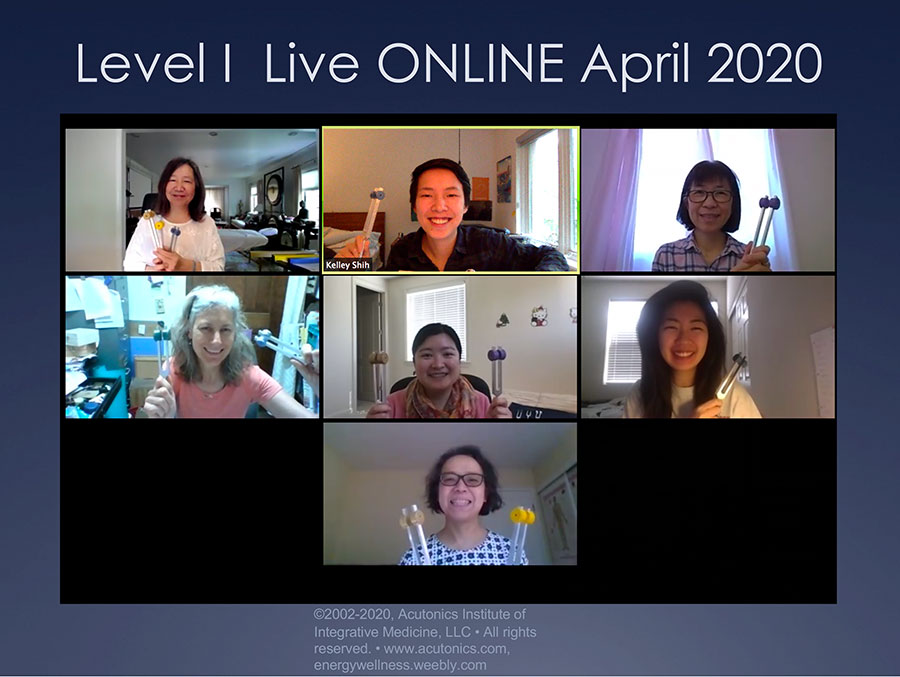 Ling Chen has taken full advantage of the opportunities to offer Acutonics courses online. She has expanded her teaching schedule to bring the Acutonics Chinese program to Chinese speaking students around the globe. This is a tremendous opportunity for those interested in learning Acutonics in depth. Ling was scheduled to teach in Asia, but with international travel restrictions in place she quickly shifted her teaching plans to offer a previously scheduled Live Level IV class online, through the Zoom platform. This bi-lingual class was held at the end of March and all 8 participants reported a very positive experience. Ling was well prepared with the necessary technology and she recognized the inherent challenges when you move from live in-person teaching to online learning. She took full advantage of the breakout rooms in Zoom and also arranged fun and relevant self-care treatment protocols for the students. She introduced them to distance healing techniques as well, and built in time for check-in, sharing, and exercises to address eye strain and the challenge of EMF exposure. Using the Acutonics tools to help mitigate the physical challenges of live online learning.
In April Ling taught a bi-lingual Acutonics Level I and her students had this to say about the experience:
"Sound is powerful. I value the hands-on experience I gained in the class, and am hungry for more!"
"I loved the online format it didn't hinder the class at all."
"Ling is an excellent instructor and I appreciate her adapting her instruction for varying levels of professional backgrounds. At the end of Level I, while there is still much to learn, I am able to walk away with a clear idea of how I can apply this healing modality for myself and others. I'm grateful I took this step forward and for Ling being such a guiding teacher. Everyone and anyone can benefit from this class!"
"1) Strong setup at the beginning of the class on the history of sound healing which is inspiring and motivating. 2) Clear, organized, thorough, thoughtful teaching, explanation, summary charts, and demonstrations of the forks, points, and applications. 3) Interesting to see the differences and mapping between EEM (Eden Energy medicine) and TCM vocabulary and energy systems. 4) Distant sound healing bonus. 5) Practice opportunities on self and others via distant healing. Supervision provided in breakout rooms. 6) Pre-class reading material for some intro to Acutonics...."
Ling plans a series of Advanced Acutonics Classes in Chinese throughout 2020. Live in-person events will be planned in Asia to connect everyone, and to offer additional clinical practicum training, likely in early 2021. If you wish to join the 2020 online Chinese program, please Contact Dr. Ling Chen for details energy4wellness@gmail.com, https://energywellness.weebly.com/
Theresa Lee Morris reports that in addition to their online programs they will be offering several "In-House Practicums" at their beautiful teaching center in Kootenay. "We will hold these at our centre over a weekend. Students will receive Gong Attunements, advanced teachings, a chance to do Case Studies and Clinic Hours, and collaborate with other students of all levels. Students will receive 15 Clinic Hours toward their Certification.
We are really excited about this, as it makes our time together very valuable. Students will have had a chance to work with the forks and will be able to deepen their understanding in a beautiful retreat like setting."
Practicum dates for 2020 are: June 20-21, July 25-26, August 22-23, October 17-18. ohmlilly@gmail.com, www.kootenaysoundhealing.com
Donna Carey and Ellen Franklin are offering a series of 90 minute Zoom calls to deepen students understanding of Acutonics. These are fun and informative with lots of opportunities for questions and sharing. Be sure to check out the website or the Acutonics Facebook community to find new opportunities for classes.
Wishing everyone continued good health as we navigate through these unprecedented times.