Planetary Lullaby CD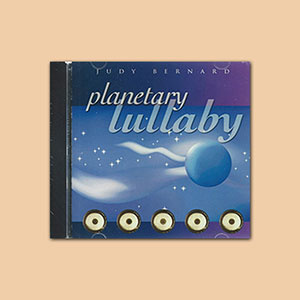 #CD-Lullaby
$17.00
does not include tax or shipping
Composed By: Judy Bernard, EAMP, MAc, LAc
Recorded at Pacific Studios, Tacoma Washington
Planetary Lullaby uses the frequencies of the universe or Music of the Spheres to create a relaxing, peaceful concert of harmonies. The overtones and undertones made by the instruments create a sacred space where daily mind chatter will simply drift away.
This is uniquely designed to lull you to a peaceful state of meditation or help you reach a deep, restful, good night's sleep, waking refreshed and energized. The harmonies are created by six Paiste Planetary Gong, Tibetan singing bowls, ting shas and the Acutonics® Planetary Hand Chimes all played by Judy Bernard, who creates sacred sound for you to bring home, allowing you to relax, and rejuvenate.
Paiste Planetary Gongs and Acutonics Hand Chimes are tuned to represent a natural harmonic series based on the orbital properties of the Sun, Earth, Moon and the other planets as calculated by Hans Cousto. They resonate harmonically with the cycles of the cosmos, communicating to us what has been known since antiquity as the "music of the spheres." Our bodies find these harmonies balancing and respond to these frequencies.
Lullaby One: 17:21
Lullaby Two: 56:41
Judy Bernard, EAMP, MAc, LAc, is an acupuncturist, sound healer and yoga instructor. Judy is Senior Faculty at the Acutonics Institute of Integrative Medicine, LLC. She completed her Masters of Acupuncture degree from the Northwest Institute of Acupuncture and East Asian Medicine and finished clinical studies with Donna Carey, co-founder of the Acuotnics system.