Roderick Oknich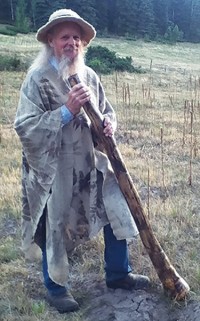 El Valle, New Mexico
575-613-3245
Roderick Oknich began studies for Acutonics Practitioner Certification in November 2013, completing in December 2016. His thesis project was a wind harp which is installed at the Mothership, near the yurt. The harp is designed so that one can sit or stand inside, with the harp strings singing all around in the breeze. Roderick continues to take electives that are offered at the Mothership.
Born and raised in Minnesota near St. Paul, Roderick's working life after college began with accounting but soon turned to dairy farming, followed by raising sheep in Wisconsin. He spent more than 35 years working with animals and the land, including farming, nursery and landscape work.
Roderick's move to New Mexico took place after the end of his second marriage and the need for personal healing. The study in Acutonics began shortly after the death of both his parents in 2012 and his observation of the negative role that western medicine played in their end days. Sound became his choice after reading "The Acoustic Mysteries of Holy Places" by Susan Hale, a local author. This awakened him to the power of sound vibration as used by the ancient ones and to what we are beginning to remember about the great power of sound to change.
Roderick is currently practicing at the Carnelian Center in Dixon, New Mexico and traveling as requested. Donations are accepted and no money is requested. He and his partner live in a tiny house in the wilds above El Valle, New Mexico and would love to have you for visit and a session. He can be reached at roderickok@hotmail.com or 575-613-3245.