Patty Warren, CHP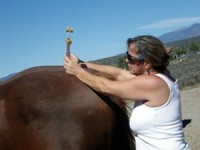 Equine School of Light and Sound, Taos, New Mexico
575-779-1120
Patty is a gifted healer who stepped into working with horses 15 years ago. She is both an Acutonics Teacher & Practitioner as well as a Certified Hellerwork Structural Integration Practitioner who has brought this work to the horses.
For the past 15 years she has had the privilege of working with horses professionally. She has been humbled by what they have taught her, and come to recognize how critical it is that we help them. Through a combination of Hellerwork Structural Integration and Acutonics she has been able to support horses in their healing process, aid them in finding an energetic space that helps them to find greater balance, endurance, and strength for the huge responsibilities they hold for us and mother Earth.
Her combined love of teaching and horses prompted her to found the Equine School of Light and Sound in 2013.