Susan M. Wadden, LAc, MS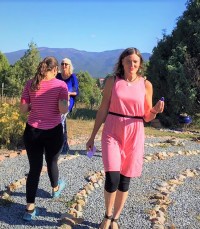 Seattle, WA and Palm Springs, CA
Susan M. Wadden M.S. L.Ac graduated from the University of Massachusetts, Amherst with one of the first Preventative Medicine Bachelor's degrees in the country. She designed and defended her major with a focus on Tibetan Healing practices, lunar influences on our biochemistry and medical anthropology. She also earned her Pre-Med degree. Upon graduation, she joined the Peace Corps and served as a nutritionist in Paraguay, South America. While serving, she apprenticed with a midwife, learning the arts of herbal medicine, vibrational healing and rural midwifery.
When she returned to the United States, she worked as a federal-level nutritionist overseeing the Women, Infants and Children (W.I.C.) program where she and her colleagues implemented the successful "coupons for farmers' markets" program which gave low income pregnant and post partpartum women access to fresh local produce. During her time at W.I.C., she also began to academically pursue her interest in maternal and child health, studying at Harvard University's extension program in the department of women's health, focusing on access to healthy foods as a human rights issue.
She is also a graduate of the New England School of Acupressure and was trained extensively in European Natural Therapeutics at a Spa in Boston, Massachusetts. In 1993 she moved to Seattle, Washington, to study at Bastyr University and graduated with a degree in Acupuncture and Chinese Herbal Medicine.
Sue is certified to teach all of the classes offered in the Acutonics curriculum. She began teaching classes in 2005. Her thesis with Kairos Institute of Integrative Medicine focused on the application of Sound Harmonics during Labor and Delivery. She has had a busy community health practice since 1997, treating all ages and all conditions with acupuncture, herbal medicine, sound harmonics, and natural therapeutics. Currently, Sue is on sabbatical from her acupuncture practice and has only recently returned to teaching.
Sue has published two articles focusing on Harmonic Medicine in the Journal of Oriental Medicine. She is also a certified Yoga teacher. Currently she maintains her Acupuncture license in the state of Washington as well as in her home state of Massachusetts where she continues to dedicate her professional life to the comprehension of the physics of sound and its influence on our biology. She has also begun offering Spa Natural therapy training to health professionals who are interested in furthering their studies in advanced subtle body alignment therapeutics.