Marco Antonio De Franchi Siqueira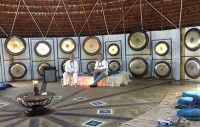 Brazil
55-21 97977-0809 or 55-21 98688-4006
Marco Antonio de Franchi Siqueira is a practicing physical therapist and acupuncturist. He is a native of Brazil, where he received his foreign graduate degree, but spent 23 years living and practicing in Miami, Florida.
Marco returned to Brazil in 2012 where he now works and teaches out of his healing center in Mangaratiba. Although he has been working as a physical therapist, he has a parallel interest in metaphysical studies. His interest and passion have been geared towards integrating body/mind/spirit in medicine. He is trained in bodywork, myofacial release/cranial sacral therapy, McKenzie Method, East Asian Medicine, and French Auricular Therapy. He is engaged in kabalistic studies with emphases in recovering our divine spark for repairing the world.
Marco Antonio teaches out of his healing center in Magaratiba Brazil, a city located 60 miles from Rio de Janeiro. Healing, for Marco Antonio and his partner Marcelo Porto, was a vision that led to the creation of Tamae, their healing center. Tamae was designed for Integrative Therapy, where they utilize nature and Sound Healing in their teaching and treatment of students and clients.
Tamae, the healing center, is a project that is continuously growing and consists of a model community of multidisciplinary arts and healing modalities. As earth stewards, they incorporate multiple healing modalities with an emphasis on sound to heal and create new paradigms for ethical and sustainable living. The focus of the healing center is to provide education of sound and intention, to preserve internal and external ecology, and influence all humanity and the planet for a sustainable future.
Marco Antonio is an Acutonics Certified Teacher.