Classes by this Instructor
Date & Time:
Friday, October 20, 2023 - Sunday, October 22, 2023 | 9:00am - 6:00pm
Location: Berkeley, CA
Course: Acutonics® Level I: Sound Gates to Meridian Harmonics
For additional options check our class finder.
Laurie Herron, BA, Senior Faculty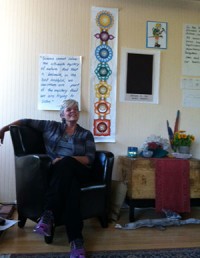 Bancroft Center for Chinese Medicine, Berkeley, CA
925-849-6006
Laurie brings a unique blend of intuition, Chinese Medicine and sound to both her healing practice and her students in the Acutonics community. She began her career as an intuitive energy practitioner in 1988. She added sound and Chinese Medicine in 2003, when she became a teacher for Acutonics. Laurie uses her ability as an energetic pathfinder to access the body/mind connection. Through the use of guidance and healing tools she assists her clients in freeing themselves from their own limitations and awakening to joy.