Irit Lerner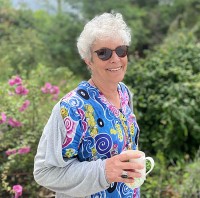 Kfar Saba, Israel
Irit Lerner has been working for 35 years with the body/mind in which she taught Feldenkrais for 30 years, creative dancing, and treatments that are based on body language- physical and energetic.
She has an extensive knowledge in "reading" the emotional/physical/energetic body and using Acutonics as THE best healing and reading tool that enables her to reach deeper and higher into the patient's being.
Over the years she has been teaching classes of her own development, focusing on posture and back problems, but also teaching self-healing tools under the belief that, from an early age, it is mostly the human that can help himself. Using these tools she has healed herself from many years of Bipolar, and is dedicated to developing a way to help others with similar mental issues.
Irit studied dance in college and has done choreography in the past. She developed a unique workshop in creative dancing for women without any experience, calling it "Big Women". This workshop gives a chance to all women, regardless of age or weight, to have fun and enjoy movement and their bodies!
She paints, writes, plays classical guitar, and loves opera more than anything. Sound and music have always been a huge part of her inner education and growth, and with Acutonics she directs her treatments by reading her patient's "musical notes and intervals".
In her search for a deeper healing tool, she came across Acutonics® and, within moments of her introduction to Acutonics, she registered for Level 1&2 courses in Sunrise Ranch Colorado without knowing anything about it. She felt a very strong drive to know more about the magical sounds she heard from her computer.
She wasn't wrong!
"Meeting Donna Carey and Ellen Franklin changed my life", she says.
Taking part of all levels of Acutonics Sound Healing over the years, she became the first and only teacher and practitioner in Israel.
Her sense of mission has not diminished over the past 10 years of her first studying Acutonics, and her dream is to open an International Acutonics Center in Israel, bringing people from all over the world to study Acutonics near the Sea of Galilee where the energies are as old as time and inspiration is in abundance.
Irit lives in nature, where the finest music exists and that music synchronizes beautifully with the Music of the Spheres.