Classes by this Instructor
Sorry, no classes are available.
For additional options check our class finder.
Dr. Ling Chen, Senior Faculty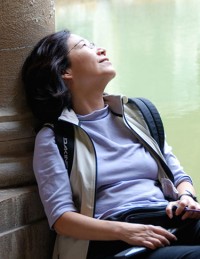 San Francisco Bay and Asia
408-827-8122
Dr. Chen is a certified teacher and practitioner of Acutonics Sound Healing and certified Eden Energy Medicine Teacher and Practitioner. Dr. Chen is the contributing author of the book "Peak Vitality: Raising the Threshold of Abundance in Our Material, Spiritual, and Emotional Lives", and translator of the book "BioGeometry, Back to a Future for Mankind" into Chinese.

Trained as an Analytical Chemist (PhD from Ohio state University and researcher at Johns Hopkins University School of Medicine), Dr. Chen worked on instrumentation for biotechnology research for fifteen years before discovering her passion for energy work.

Her interest started with the need to help her family beyond conventional means. The experience opened her eyes and her heart. Major energy training includes: Eden Energy Medicine with Donna Eden (author of the book, Energy Medicine, and Energy Medicine for Women) and Sandy Wand; Pranic Healing with Master Stephen Co (author of the book Your Hands Can Heal You); Chinese Qi-Gong; Acutonics with Donna Carey (author of the book There's No Place Like Ohm, Sound Healing, East Asian Medicine and the Cosmic Mysteries) Ellen Franklin, Laurie Herron and Katie Mink, L.Ac., BioGeometry with Dr. Robert Gilbert and Dr. Ibrahim Karim (author of the book BioGeometry, Back to a Future for Mankind).
Dr. Chen is offering classes and private sessions in English and Chinese in the San Francisco Bay area and Asia.