Classes by this Instructor
Date & Time:
Friday, December 8, 2023 - Sunday, December 10, 2023 | 10:00am - 7:00pm
Location: Miami, FL
Course: Acutonics® Level I: Sound Gates to Meridian Harmonics
For additional options check our class finder.
Christopher M. Estes, MD, MPH, FACOG, IFMCP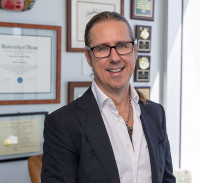 Miami Beach, FL 33139
Office: 305-397-8229, Office Text Message Line: 305-902-4974
Christopher M. Estes, MD, MPH, FACOG, IFMCP is a dedicated and compassionate physician whose career has evolved from extensive experience with medically complicated patients. He became frustrated seeing people get passed from one specialist to the next without ever addressing the root cause of their medical problems. He now works to discover those causes for a broad array of medical conditions, no matter how complex. His practice at Miami Beach Comprehensive Wellness Center (MBCWC) involves an integrated array of therapies for women and men, including functional medicine evaluations, intravenous and ozone therapies, platelet rich plasma therapies, peptide therapies, energetic medicine and AcutonicsÒ sound healing. His approach and skillset to provide patient care goes well beyond the world of the usual physician's office.
Chris is an active member of the following societies:
International Society of Environmentally Acquired Illness
Institute for Functional Medicine (Certified Provider)
International Lyme and Associated Disease Society
American Academy of Ozonotherapy
American College for the Advancement of Medicine
American Academy of Anti-Aging Medicine (A4M)
American College of Obstetricians and Gynecologists (Board Certified, Fellow)
Chris provides approachable and comprehensive education to his patients and seeks to empower them to be the decision makers in their health care. He is a highly experienced teacher and has won awards at the local and national level for his skills as an instructor and mentor. He transcends the role of the conventional medical doctor by incorporating energetic and mind-body-spirit healing approaches. He is a lifelong learner, constantly honing his existing skills while adding new techniques and practices with each passing year.