Classes by this Instructor
Date & Time:
Saturday, October 28, 2023 - Monday, October 30, 2023 | 9:00am - 5:00pm
Location: Zoom
Course: Acutonics® Level I: Sound Gates to Meridian Harmonics
For additional options check our class finder.
Adrienne Irizarry, HWH - Holistic Women's Health Practitioner, Certified Acutonics Practitioner, Certified Peristeam Hydrotherapist, Chinese Nutritional Therapist and Herbalist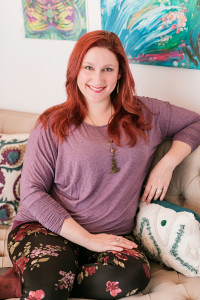 Dover, NH
207-200-4262
Adrienne Irizarry is an East Asian medicine practitioner using non-invasive approaches to restoring harmony and health in women's bodies. Adrienne is a Licensed Faculty Teacher of Acutonics and has a vibrant women's health practice in Dover, New Hampshire.
Born and raised in Bangor, Maine, Adrienne attended the University of Maine earning a Bachelor of Arts in Music and a Master of Arts in Communication.
She spent the first years of her professional career with a passion for alternative medicine but was employed as a communications professional using her skills for marketing, public relations, donor relations and copywriting.
She always knew she was being called to alternative medicine and what started as a passion project grew into a calling and a multifaceted toolkit to support women's health.
Adrienne went on to study at the East West School of Planetary Herbology, The School of Evolutionary Herbalism and the Peristeam Hydrotherapy Institute while pursuing her Acutonics training.
Today, Adrienne uses her expertise as a certified peristeam hydrotherapist, certified Acutonics practitioner, herbalist and Chinese nutritional therapist to educate and empower women to heal their bodies naturally.
Adrienne is the hostess of a podcast called Reproductive Rebel where she seeks to spread women's wisdom for the next generation. She is the founder of the Tao of Women Institute where she offers both individual and professional education opportunities. She was recently featured in Apple News and Grit Daily as a Top 10 Health Industry Disruptor for 2023.