Katherine Fisher LAc, MSOM
7 Treasures of Health & Acupuncture LLC
Acutonics® Student Intern • Honolulu, Hawaii
Roots: I grew up in Ashland, Oregon among old growth forests, ocean foaming at Oregon Coast's Devil's Churn, and the snow caped Wizard Island at Crater Lake. I have always had a strong connection to nature and the elements — I remember Indian Paintbrush, inner tubing on Applegate River on huge truck tires that could fit up to 6 kids, an abundant summer organic garden, and the Oregon rain, which I loved. It was a pretty feral childhood with a mix of Shakespearean actors and loggers at the local tavern. "This above all: to thine own self be true, and it must follow, as the night the day, thou canst not then be false to any man."'
When I was young we didn't have television, computers or cell phones. But I did have stacks of books including Ray Bradbury, Madeleine L'Engle, the Legends of King Arthur and Greek mythology. I also loved Jack London stories and thought it would be cool to have sled dogs in Alaska or be in the eye of a hurricane. Little did I know...
Art, medicine, education and travel runs in the family. One grandfather rode horses, my grandmother loved playing classical piano, and encouraged me to learn to play. My mom had a dance studio and my dad loved the mechanical world of trains and trucks wrote poetry and often quoted from his favorite book Zen and the Art of Motorcycle Maintenance. My younger sister flew through a lot of glass ceilings and today is a professional pilot and flies commercial passenger jets around the world. Our family is always up for adventures.
Growing up with a young single mom also cultivates a work ethic. As kids we had paper routes, as teenagers we planted trees for the Forest Service, baled hay, worked at the local ski resort in winter and packed peaches in the summer. Before I was 18, I had experienced the magic of the midnight summer sun working in Alaska salmon canneries. I started college my senior year of high school and loved going through research library archives looking at hand drawn maps of the world and observing how cartography styles changed with time, and the ways technology and new perspectives came from exploring land, sea and sky.
In 1980, after high school I moved to Colorado to work on a dude ranch for the summer, with the intentions of going to college there in the Fall. Being at the top of the Rocky Mountains in sunshine blue skies and powder snow was heaven after years of rain, and I put college on hold. I lived in a historic log cabin that had been a stage coach stop and helped manage a ski shop at the slopes of Mary Jane/Winter Park, and Breckinridge. Later when I traveled to Tibet, I recognized that same color of high altitude clean blue sky infusing Buddhism's clear mind teachings.
Go Ducks: Eventually I went back to Oregon for college. At the University of Oregon.
Go France! Go Japan: The university had a foreign exchange program where you could study abroad. I applied and was accepted for programs in Southern France and at Hokkaido University in Sapporo, Japan. Living inside the medieval walled city of Avignon France, home of the second papacy was a life changing experience of immersion into other cultures. I delighted in the music and art of Europe spilling out of the museums into the streets and infusing life. Southern France is still strongly infused with the Mary lineage. Tapping into the mysteries and travels of the Mary's, the Grail, the Black Madonna, Demeter and Persephone myths opened me to the feminine divine on a tangible level. I felt at home in the cathedrals built on the foundations of temples to Athena, near natural springs and wells. I loved the architecture and acoustic resonance from Gregorian Chants to Arabic influenced music rhythms. I was moved on a cellular level by the jazz musicians playing in the Paris Subways and wine cellars and an inner voice asked: "are you going to be a watcher or a player?" I left France inspired to play saxophone and jazz music, which I did for years in Portland Oregon and Kauai.
Studying in Hokkaido and traveling in Japan was also filled with rich experiences. I developed an appreciation for the rituals of beauty, from Yuzen silk painting on scrolls or kimono, to Ikibana, traditional flower arranging. I enjoyed the colors in the seasonal gardens, forest bathing, Kabuki, Noh theater and martial arts practiced through brush strokes. I discovered bamboo musical instruments and scales attuned to nature, not the piano. I left Japan with life-long friends and a passion for temples, whisking green tea and silk painting.
Three in One: I started out in pre-med in college, but I really wanted to be an artist. I ended up integrating medicine with international studies, and art. My BS included a teaching certificate that integrated education, science, and technology with a focus on curriculum design. I also had an opportunity to work as a museum exhibit designer while in college and enjoyed the archives of artifacts and putting together exhibits. My largest exhibit was designing a commemorative exhibit for China Town in Portland with a grant from Burlington Northern Railroad, showcasing the sojourner Chinese experience. The exhibit included musical instruments, lion dancing costumes, porcelain pottery and Chinese medicinal herbs curated from local collections. I enjoyed recording music for the exhibit featuring instruments like Erhu and GuZheng with very distinct tonal modes.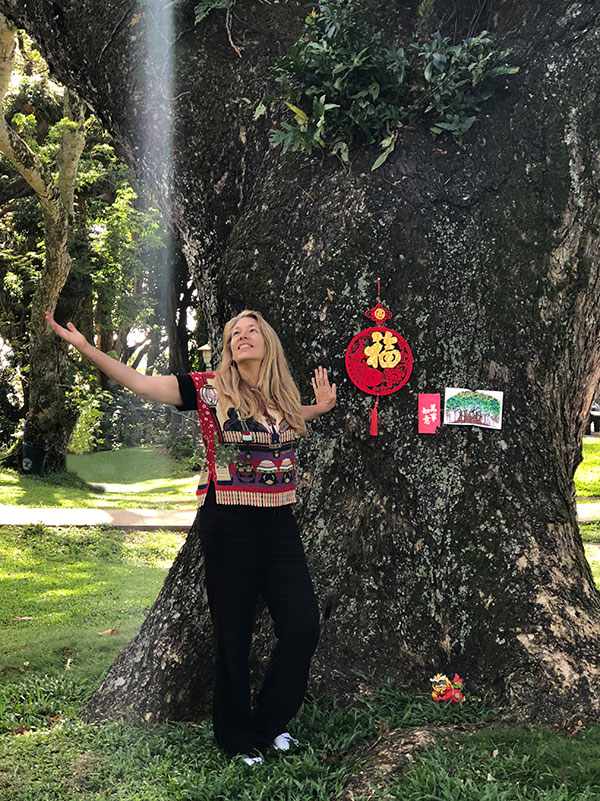 Aloha: I moved to Kauai in 1987 and had an art studio in Hanalei focusing on silk painting and textile design. On Kauai my dream of being in the eye of a hurricane came true when Iniki hit on Sept 11, 1992. I was 30 years old. How's that for a whopping Saturn return? This class IV hurricane blew away the vegetation, most houses and hotels, all of the tourists as well as damaging the island's infrastructure. Kauai was completely off grid for 3 months. With the TV's off, people gathered at meal times, shared stories and music and kept each other's spirits up. This is when I truly came to understand the aloha spirit. Finally, I put my technology education degree to work when I was tasked to rebuild the Island School's computer center. It was a unique opportunity to upgrade rural education into the future. I designed and managed the technology lab, developed K-12 teacher training and student training curriculums and summer computer camps from 1992-2002. The hurricane also brought out a sense of urgency in local elders to be open to sharing traditional wisdom. I spent a lot of time cleaning up the island, pulling tons of debris off the reefs, and working and studying with local healers, particularly with L'au Lapa 'au, the traditional use of plant healing combined with traditional Hawaiian body work called Lomi Lomi or temple Massage.
During this time, I received an excellence in teaching award from Apple and a scholarship for technology and digital media design trainings for K-12, helping bring these skills to Kauai. In 1999, my fourth-grade classes won a website award for web design, inspiring me to start a web-based directory to help people find the local healers, classes and events and healthy food.
Entrepreneurial Aloha Spirit: With a small team, and a funding grant from the state of Hawaii, we developed a website called http://www.hawaiihealthguide.com/ the beta site was launched on January 1, 2000 and was limited to finding yoga classes and teachers. I had been studying Ayurvedic Medicine and teaching yoga with Aloha Yoga and felt how beneficial the effects of yoga practice are for stressful times. Hawaii has less than a million people but hosts over 7 million a year. We knew if people could locate and patronize the hidden treasures of local practitioners, classes and small businesses before they came to Hawaii, it would also help our community recover from the hurricane.
The Hawaii Health Guide quickly grew to cover all islands and expanded to include all the other health and wellness places in Hawaii. I quit my job at the school to give the project my full attention as it grew so rapidly. That was many years ago. Today, although smart phones and technology have changed the way people interact, Hawaii Health Guide is still going strong as the oldest online guide to Hawaii's health and wellness community. At the time, I had no idea that I would eventually be listed in the directory as a licensed acupuncturist under the business name 7 Treasures of Health & Acupuncture. The number 7 is pronounced QI in Chinese, so the name is a play on cultivating the treasures of QI, or life force.
The Second 9/11: After Sept 11, 2001 when the Twin Towers fell everything changed in the travel world. It became more difficult to fly from island to island. Before 9/11 catching a local flight was like getting on a bus. The local Aunties would pack baskets of fresh food to share, and you would pile on the plane. After TSA procedures were implemented you had to wait two hours to get through security for a 20-minute flight. No more gift baskets and island hopping. It became expensive. I had to make a choice to stay on Kauai or adapt. In 2003, I made the decision to move to Oahu, with a more effective central focus. At this time the Hawaii Health Guide team also re-assessed our focus. As a successful web-based community, we were feeling how important it is for people to connect with each other in person. We wanted to create something more hands-on so that people could immerse themselves in the culture and have an opportunity to meet and learn from cultural healers in the traditional learning styles of "talking story" or Olelo the Hawaiian word for language where a story is shared. This style of learning takes time, builds trust, and creates memories.
The Hawaii Healing Garden Festival — Respecting the Elders: In 2005 we started a series of community festivals based on the basic human common denominator: sharing plants and stories. We did 21 festivals across the state in seven years, in botanical gardens, historical sites, and on college campuses. Presenters and teachers came from across the world. Initially the festival started on Kauai as a pilot project with funding from the Hawaii Tourism Authority. Our vision was to celebrate and honor the oral traditions of Hawaii. This is a powerful way of exchanging information through song, dance, hanging out together, and the fine art of "talking story" with the kupuna, the elders. It is a patient joy to be taught this way, outside the classroom walls. It's a type of oral transmission common in many indigenous cultures. Hanging out with Aunty or grandpa and talking story. Uncle might say, "Strip this bark off this tree like this and make a pile over here". Meanwhile, over the next couple hours uncles might be playing music while, Aunty's telling you about how she grew up, her grandparents, what plants were used for what illnesses, when to collect. Unlike the Chinese who preserved their herbs, Hawaiian style is to gather fresh specifically for the patient, and the forests serve as the herb "store". So, protecting the native forests and gathering areas for traditional medicine means having healthy environments and not over collecting. Take what you need, tend to the forests was part of the medicine of La'au lapa'au. This is taught, as a story, maybe telling you about her childhood activities. It's talk story-teaching. It's entrainment into a mindset. Through the Hawaii Healing Garden Festivals, we were able to directly support many of these teachers by featuring them and helping them connect a new generation. Most of them have passed on now. It was an honor to get to work closely with these living treasures and create a bridge to allow the information to cross over. Grants provided by Hawaii Tourism Authority Cultural Events & Festivals.
Looking back, the Hawaii Healing Garden Festival years (2005-2011) this was truly my immersion into frequency and resonance training. Early frequency medicine with the kupuna, the elders. The festival spirit lives on in many forms. There are still agricultural and permaculture workshops, GMO awareness and legislation, kalo growing and taro pounding food sustainability, seed sharing, food forest projects and tourist tantalizing mango and avocado festivals. There are also local micro farm products like olena (turmeric powder) and ginger oils.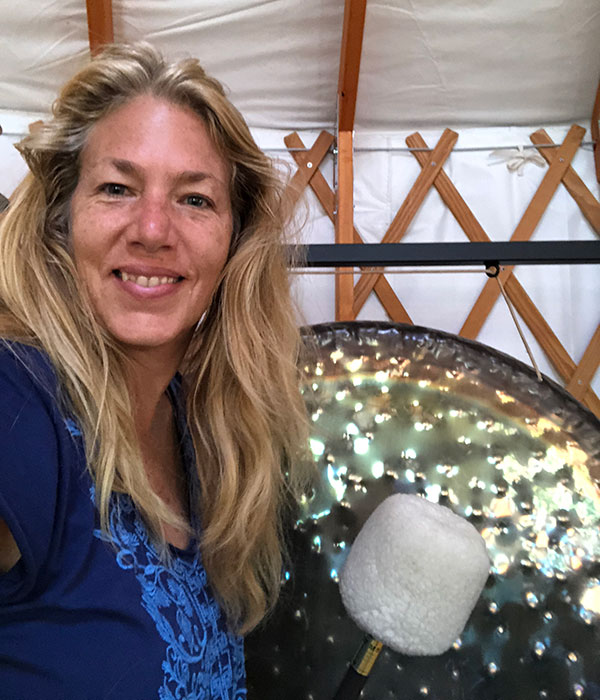 Music Medicine Too: The festivals brought people together from all the non-licensed professions along with Hawaiian, Japanese, Chinese, Okinawan, Thai, and Filipino musicians, dancers, chefs, healers. Of course, I started to study with some of these healers and traditional styles of healing. Styles involved dancing and music for healing such as African dance or Hula. On Kauai I also played Alto Saxophone in a big band, a remnant of the era of band stands in the plantation towns. I loved playing in the horn section, being in tune with each other, and feeling the vibrations of the trombones at my back. I got away from sheet music and structured band rehearsals after I moved to Oahu. Friends began to be diagnosed with cancer, it seemed a natural step as a community to collectively turn to creating music and sound to support their healing journey. Motivated by love and care, and wanting the best results from our sound circles, I began to earnestly research the power of healing sound.
The results in the community sound circles were remarkable, I have always been a fan of collecting empirical evidence and I began to acquire and share sound healing instruments that were not tuned to western musical scales. The criteria being they were simple to play and created resonances of relaxation or harmonious brain entrainment. Crystal bowls, Tibetan bowls, bells, rattles, Native American flutes and tuning forks were among the favorites. Eventually I helped found a sound healing school. Hawaii Healing Sound School, on Oahu (www.HawaiiHealingSoundSchool.org) which offers community sound gatherings and classes retreats and workshops. We welcome guest teachers!
Back to School: While camping in a remote back valley of Molokai I was asked to come to the aid of a helicopter pilot suffering from a severe acute kidney stone attack. Massage and aspirin were not effective. There was no way to get him out except by helicopter and it was a long night for him. Seeing that level of suffering, I made an internal decision to check out acupuncture for its potential value for effective back country field medicine when I returned to Oahu. I figured, thousands of years of barefoot doctors had to know something or the medicine would not have survived through time. After a tour of an acupuncture school and seeing how effective a simple treatment can be I enrolled in The Institute of Clinical Acupuncture and Oriental Medicine in Honolulu. I also studied medical Qi Kung in China. I started out as a part-time student, working full time, and graduated in 2009.
Looking back, I can see how impressions become possibilities, become opportunities. Living in Hawaii for the past 30 years kept me immersed in non-Western modalities and ways of thinking. I was very open to Oriental Medicine theory and studied Ayurveda and Tibetan medicine before earning my Master of Science Degree in Oriental Medicine. Today I practice acupuncture in Hawaii in a Shinto temple dedicated to Amaratsu, the Sun goddess of fertility. Her story is similar to Demeter, and according to tradition it is through Amaratusu's blessings and grace that the rice grows. Tourists come for the good luck charms that ease delivery, bring husbands, and protect against fires. I have been told I have a past life connection to Shintoism. I practice Qi Kung at the huge Monkeypod tree in the park adjacent to the shrine. The trees, shrine and the medicinal herb garden are all part of the healing energy of my practice, and I am grateful to practice traditional medicine in a place that energetically nourishes both my patients and myself.
My partner Steve is also an acupuncturist, as well as an 8th Dan Martial Arts Professor in the style of Okazaki jujitsu. Professor Okazaki, the founder of his lineage, was both a healer and a martial artist who combined Japanese and Hawaiian martial and healing arts. His dojo is connected with the Shinto Temple and so it is not unusual to offer both the martial and healing arts as part of the tradition. It's funny, being a white girl in a Shinto temple practicing Asian medicine, next to the Queen Emma Royal Summer Palace. Go figure. It is clear that the footwork and grace of hula, the qi flow and the knowledge of joint manipulation of jujitsu and the meridian and lymphatic massage of Lomi Lomi and sound healing have over the years combined with my Acupuncture healing arts practice into an elegantly effective manner.
Back to the Mainland: I first met Ellen and Donna at a sound healing conferences held in Santa Fe in 2006 and later at a conference in Phoenix, where I acquired my first full set of forks. At the time, I was tracking research on certain frequencies that can potentially break open fast-growing cells. One of the keys to working with sound is the dissonance and friction of micro tones as well as the harmonies created. The use of tuning forks on acupuncture points as a needle-free option was appealing information to take back to the early healing sound circles for people in Hawaii doing community sound healing as a supportive part of their recovery from serious illness. Donna and Ellen personally helped me select a Chiron set.
Acupuncture Without Borders: I launched my official acupuncture career with Acupuncture Without Borders (AWB) in 2010 this was even before I opened my private practice. Acupuncture is very effective in treating PTSD with ear points. After taking a training with AWB, founder, Diana Fried, invited me to travel with her to train a team in Nepal to help with the effects of the civil war. We trained doctors in Mongolia, over 60 health workers, acupuncturists in Nepal and also helped host community health camps.
Enter Acutonics® without Borders: I met Alicia Villamarin when she arrived to join the AWB teaching team in Kathmandu, Nepal equipped with several new sets of tuning forks as a donation from Acutonics. Alicia exudes love and a warm heart and was an expert in both using and teaching with the tuning forks. We trained the Nepalese with needles, ear seeds and tuning forks and they loved it. The Hindu culture is deeply infused with tones and sounds, chants, singing bowls and gongs are a part of daily life. So, they were very open and made great use of the healing vibrations. This was the first time I had seen the full sets of forks being used in a training. It was impressive especially when we took the tuning forks to work with children affected by the civil war, now living in group homes and orphanages in Kathmandu. A few years later, when the earthquake hit Nepal, the Nepalese people who had taken our training, along with the supply train from AWB helped tens of thousands of people affected by the earthquake. I am so proud of this work, and the people who show up in times of crisis and natural disasters to make a difference.
Mad Props: I have a lot of respect for the healing modality and training system that Donna and Ellen have created. I've known of their work for over 18 years. Recently I've helped in their booth at the PCOM [Pacific Symposium] conferences, and I definitely want to include Acutonics trainings at the Hawaii Healing Sound School, where we monthly feature visiting speakers, offer workshops, sound circles and retreats in many aspects of sound healing from rhythm to Tibetan bowls, singing and energy work. We recently recorded what became a 45-minute, 6 track healing sound journey, with many of the instruments and languages that are heart or tonal based like chants and prayers in Hebrew, Hawaiian, Sanskrit. I was the executive producer of the resulting CD, Medicine Resonance: A Sound Healing Journey to the Inner Sun, released in 2017 and co-created and recorded with over 20 Hawaiian musicians, sound healers, and students from the Hawaii Healing Sound School. It was recently nominated for a Hoku award honoring music created in Hawaii. You can find the album online at Amazon: https://www.amazon.com/Medicine-Resonance-Healing-Begnning-Awakening/dp/B077PCP5ZT.
Of Shifts, Spectrums, Frequencies, and Intervals: Acutonics is frequency medicine an emerging future medicine. We are definitely going there as an international healing trajectory, from infusion with indigenous cultures, to cutting edge work with lasers and lithotripsy, converging from different cultures and medical perspectives on healing outcomes. There's definitely been a shift from the patient perspective as people become more educated and active on treatment choice decisions.
In both my acupuncture private practice and sound healing teaching I tend towards the measured scientific aspect of the tuning forks. Certain intervals are very useful for certain things, just as certain herbs have specific flavor or functional effect such as warming, tonifying, dispersing etc. Musical intervals can build a sonic formula similar to an herbal materica medica formula. While one fork can be useful in location or activation of a certain acupressure point, or dispersing stagnation (pain) there is an incredible elegant art in the layering of formula creation that is specific to each patient and condition that is available with the Acutonics tools. My patients absolutely love the combination of acupuncture and tuning forks. I use them both on and off the needles. Vibrations can be directed to different meridians, different levels, different organs, and combined in ways that electric stim cannot. The forks are bio compatible and self-regulating and micro doses go a long way. Treatments are enjoyable and time effective. The forks do not disperse older people's precious reserves of stored energy. You do not need to hear the tones to benefit, I have positive outcomes when I work with deaf patients, people with heart pacemakers, and all types of conditions and symptoms.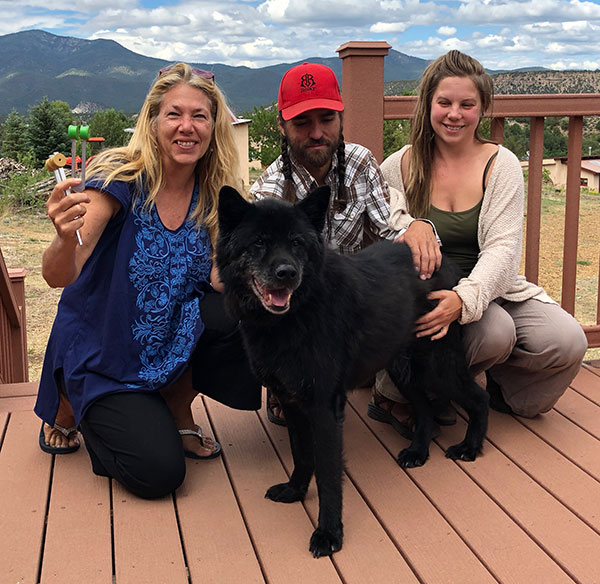 And the best thing about tuning forks—you can pass them around to people. They're very sturdy — and extremely useful for introducing newcomers to sound healing circles on tile floors, unlike crystal bowls which can shatter easily they don't break and they are very crowd and kid friendly. At first, people may not understand them. They just feel the vibrations; the learning is initially visceral. Then, little by little, as you show them what the forks can do, they become attuned to the frequencies, then to the intervals. They feel the vibrations like delicious nectar for the nervous system, tension melts, muscles relax, blood circulation increases. The documented case studies speak volumes through all levels of healing.
It's been decades on this journey of personal and professional growth. I may have taken the slow road but reflecting now as I am close to finishing my Acutonics practitioner training, I guess I had to learn to work with NIBIRU to officially begin to share this body of work. I will start with self-care protocols that can help anyone in the healing/helping professions.
More Props: I give kudos to Donna and Ellen for being such diligent inventors and educators. They are dedicated to a high-caliber curriculum and as someone who has spent years developing teaching curriculum, I deeply appreciate the labor of love and depth in the Acutonics system. The curriculum is not static as they continue to explore and create. The trainings convey both a love of poetry and the arts, as well as the very meticulous Acutonics data and scientific roots. They stick to their ethics, and together the heart - brain coherence pattern begins to glow.
Honolulu and Beyond: I live in Honolulu but take breaks from private practice to teach or share sound healing all over the world. I've taught in Germany, India, Spain, Hawaii and mainland USA. This March 2018, I was a featured teacher on the sacred sound stage at the International Yoga Festival held in Rishikesh Festival in India. I was invited to share and a teach on the medical applications of sound healing. I've also taught aerial hammock yoga at Wanderlust festivals, and often integrate forks, bowls, gongs or natural percussion chimes into my yoga classes or sound healing workshops.
Other Journeys: I really enjoy immersion in all the elements. All traditional practitioners use some form of purification, to help keep us clear and connected to source. Prayer, smoke, fire, water, breathing in the air in cool canyons or on the top of mountains, or by moving in the waters, to connect deeply with the sacred sites and electromagnetic ley lines of planet Earth. It is critical to take the time to appreciate the generosity and beauty of the plant kingdom, and to be humble among the tree people, to get to know the wild rivers on a personal level. I'm a total mermaid. I love ocean kayaking along the Kalalau coast, or snorkeling with fish and coral. I still body surf. I'm 57 this year, so I don't yet qualify as a wise elder, but perhaps that is the ultimate goal!
Takeaway: Free will. Choose how to spend your time and where to focus your life. Be generous with your time to children, give back, eat simply, listen deeply, create daily beauty, grow plants, lay your hands on, offer refreshment and encourage them, live aloha. Live like a nomad and offer food to strangers, help women connect, use your power to raise the spirits of each other. Circles and circular motions are powerful ways to work with energy. Find your passion and don't shy away from the sweaty sweet spot. Treat water as a miracle, stand still until what moves comes to you, Relax. Watch the sky and listen to the weather. Teach to learn. These are the messages the elders shared with me. It's very much been a spirit-led journey, and I thank the tuning forks for helping me stay on course and tuned up along the way. "The earth has music for those who listen." The Acutonics tuning forks help us listen to the music of the spheres far beyond the earth centered view. Blessings and Aloha - Katie
Katie Fisher can be reached at 7 Treasures of Health & Acupuncture LLC, 7treasuresacupuncture@gmail.com, (808) 721-8342. She plans to offer self-care classes with Acutonics this fall, and will be using tuning forks in the Big Island lava relief community clinics working with displaced people. Her next big adventure is in November 2018, when she will co-facilitate with Sandy Von Waaden a two-week Global Heart Healers Adventure and Rejuvenation Tour to Sri Lanka to offer sacred sites and sound and energy healing classes on a private 50-acre nature preserve. For more information: https://www.facebook.com/groups/222648538328193/