As I write this message from the Mothership it is just a few days before Thanksgiving and Donna and I extend our thanks to each of you for all of your hard work, dedication, and contributions to our lives and to the Acutonics Community. We are extraordinarily grateful for the love and support flowing in from our global community of teachers, practitioners, students, and the clients you serve. We are proud of your work and what we are building together on a global scale. I started to write a recap of 2016 for this newsletter but realize there is so much to report that we will send a second newsletter later this month as a look back on the year. If there is something you'd like me to share please email your thoughts and include a few photos.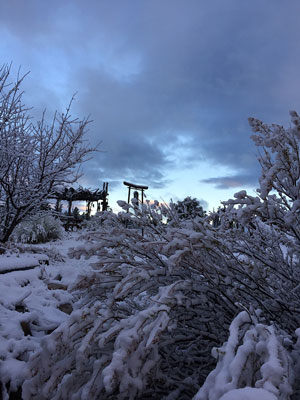 This morning we woke to snow in the mountains and a white blanket on the ground and trees, yet I still hear bird calls and there are ducks on the pond. It was a surprising change in our weather as Sunday reached 60 F. Donna managed to get all of the beds in our growing dome converting to winter hardy plants just in time for this dramatic shift in the weather. We've been eating lettuce, kale, and bok choy from the dome and the last of the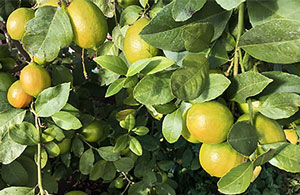 carrots from the outside gardens. We are also still harvesting Meyer lemons; squeezing and freezing juice, as we can't possibly use all of them.
I am excited to share the news that Elle MacLaren a Certified Acutonics® Practitioner and Fine Artist has a new show of planetary paintings opening on December 16 at GVC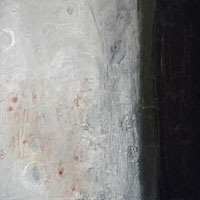 Contemporary in Santa Fe. Her artist talk will be at 4:30 and the reception is from 5-7 PM. Elle's show As Above So Below, explores the surfaces, influences and presence of the planets in our lives. In an Acutonics Newsletter earlier this year we shared some of Elle's work. Here is one of her paintings of Pluto.

As I look back on 2016 and reflect on the extraordinary highs and lows of this year I was reminded of Donna's poem The Promise of Wholes that will be featured in our new poetry collection available early next year. In this poem, which I've included (in the sidebar below), Donna reminds us of the beauty and grace of all that is simple, fixed and good that when we wake we will find our world intact, filled with infinite eternal possibilities. It is a poem that for me evokes hope. This is a challenging time in the United States and around the globe and we are being asked to step up and speak our truth, to use all the tools that we have to promote peace, harmony, and wellbeing. Anxiety, fear, stress, pain, and poor sleep are on the rise and as teachers and practitioners it is important that we are fully present for our clients. It is imperative that we take the time to tend to our internal environment through personal self-care strategies so that we have the energy to address the enormous external challenges with grace.

Acutonics is heart-based medicine that takes us beyond our family of origin to recognize and understand the deep interconnections between all of creation. We are being asked like never before to help people connect with their hearts to understand their soul's purpose, to engage in deep transformational work so that there are no limitations to a life well lived. From the founding of our company twenty years ago our vision has been all embracing – look at the big picture and the little picture, macrocosm and microcosm. The Taoist belief that there is a central organizing principle to the Universe that one can come to know and embody of living in harmony with nature the cosmos the Universe and one another. As above so below, as within so without, this inseparable unity in all things is at the core of our teachings. When we strive to understand the essential nature of all things, we recognize there are far more similarities than differences that connect us regardless of race, religion, country of origin, economic status or sexual orientation. Our vision for planetary and cultural healing embraces all people, animals, plants, minerals, and waters of the Earth.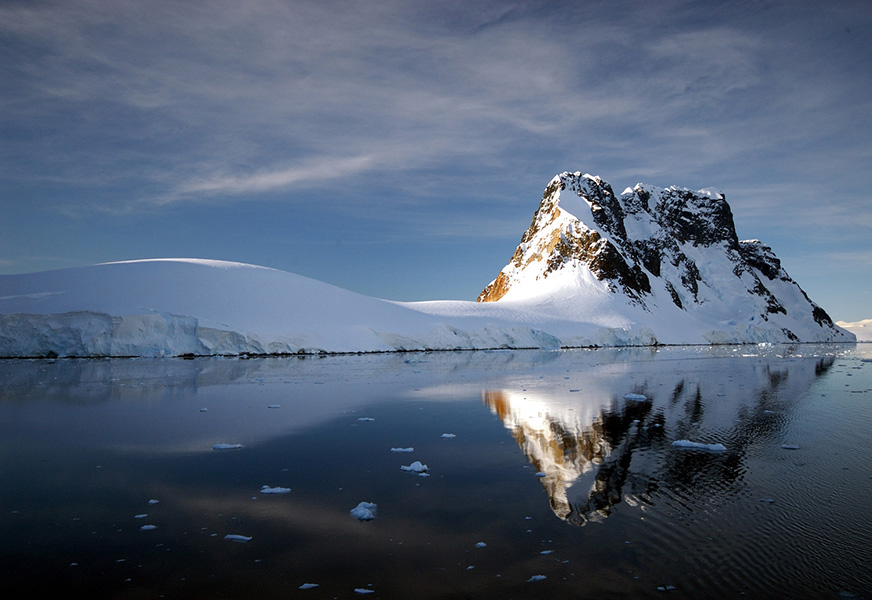 Demonstrating through right action that we respect and honor one another. We are very blessed that this vision is shared by our growing global community of practitioners and teachers who are committed to an ethos of giving back, collaborating with one another, and ensuring that Acutonics is available to people around the globe; even those living in the most rural and underserved communities.

Without question there is much to celebrate that we will share with readers in our year-end message. However, I am filled with gratitude for each of you in this time of increasing darkness when we are being asked to step up to shine a very bright light with open hearts and minds so that our world will remain intact and thrive. Take action, speak up, write, and engage in social causes. Do not be silent, for the power of sound and our voices are the greatest tools we possess.