Ellen F. Franklin, PhD
The importance of consciousness is so great that one cannot help suspecting the element of meaning to be concealed somewhere within all the monstrous, apparently senseless biological turmoil…" C.G. Jung
The labyrinth is an ancient symbol of wholeness, a beautiful combination of circle and spiral comprising a path walked with intention and purpose, often to help raise conscious awareness. Walked as a form of meditation or prayer the labyrinth design typically invites a journey inward to our core and then a return out to the world, with heightened awareness or understanding. C.G. Jung likened the labyrinth to mandalas, recurring images sometimes occurring in dreams that represent patterns found in nature and throughout the universe. He found these images to be extremely valuable in the therapeutic process to aid in reconciling one's inner landscape or psyche with the outside world.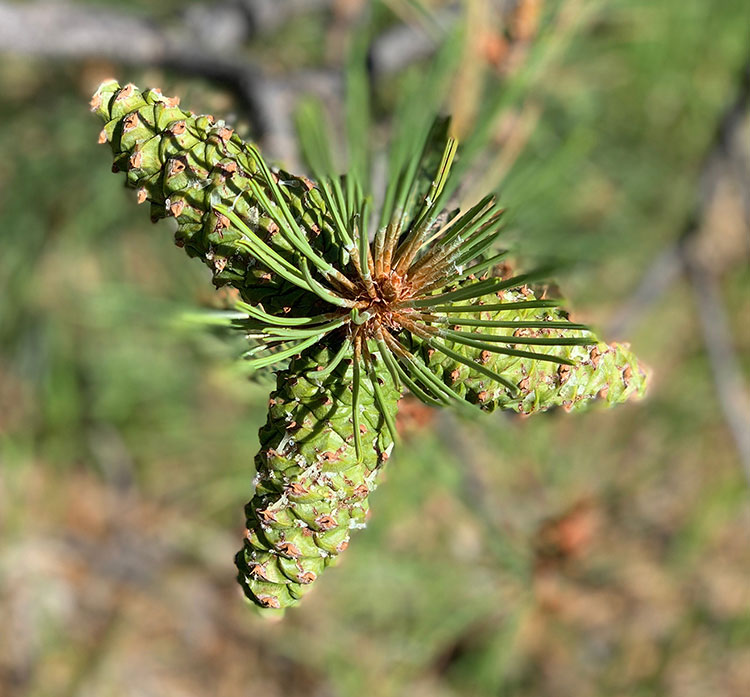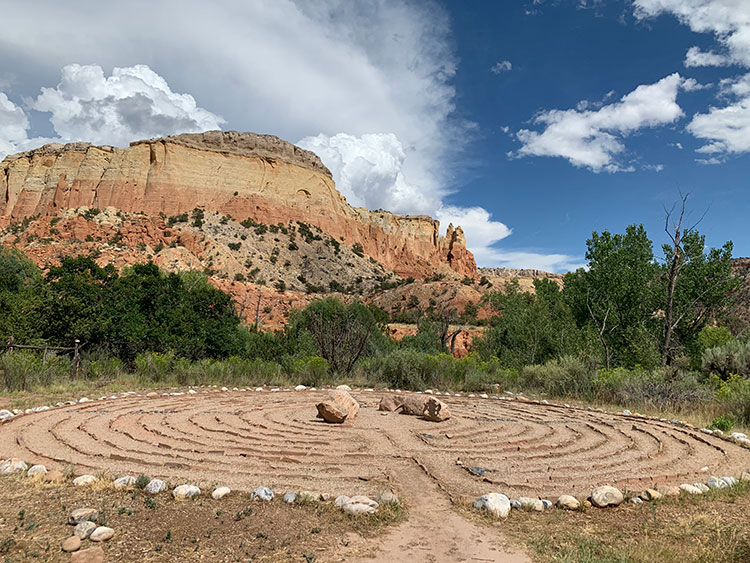 As a spiral the labyrinth is found throughout the natural world in the web of a spider, a sea shell, the petals of a flower, eddying of rivers, swirls of the pine cone, and ancient cave paintings. It can also be seen in the spiraling of galaxies as well as the Fibonacci sequence in action.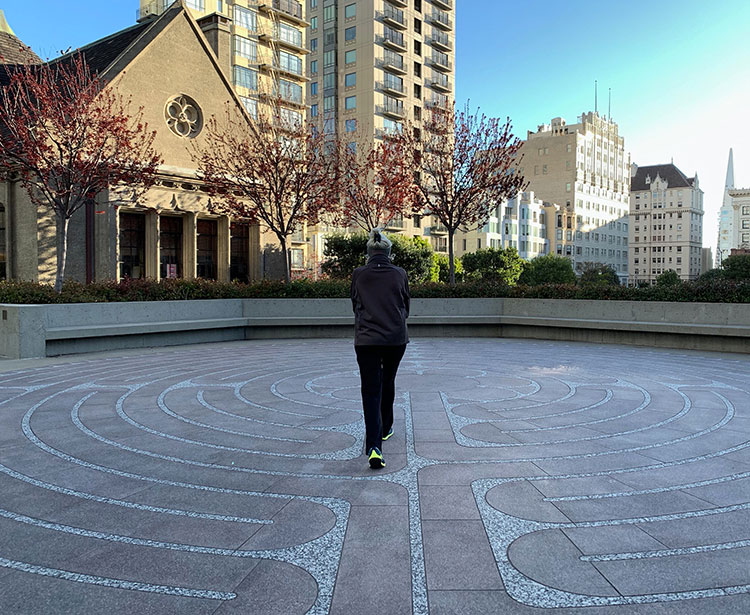 Over the past few months we've walked several different labyrinths including one at Grace Cathedral in San Francisco, the Creation Labyrinth here at the Mothership and most recently the Labyrinth at Ghost Ranch, which we visited recently. Each walk represents a moment in time and is often a very personal experience where we might seek clarity, dance with underlying despair, search for some semblance of order in a chaotic world or ask for guidance with a difficult challenge. If we truly tune into the messages received, they can serve as powerful guides forward.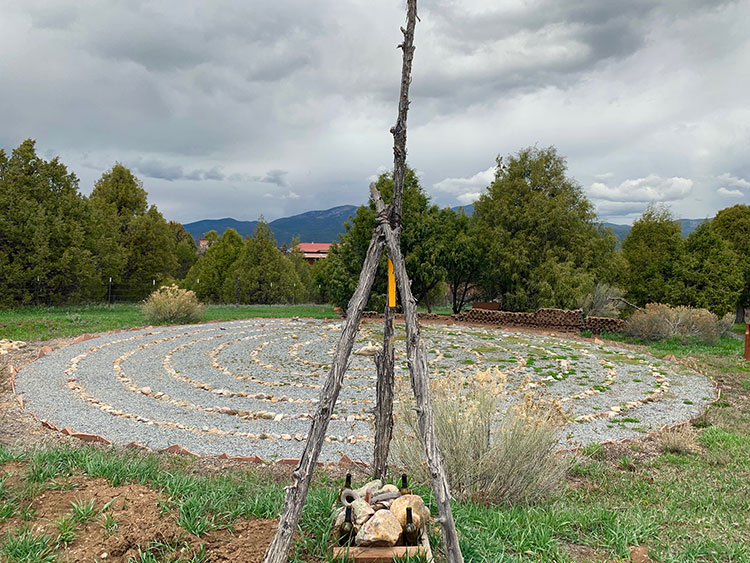 The word labyrinth comes from the Greek word labyrinthos, which describes a maze like structure with a single path, often used interchangeably with the word maze, which may have multiple paths. The word is also linked to the Minoan word Labrys or double axe, which is a symbol of the Mother goddess in Crete. Labyrinthian structures have been found throughout the world dating as far back as the Neolithic period. In some cultures, it is associated with death and rebirth, initiation and shamanic practices. While often linked to the famous maze created by Daedalus for King Minos of Knossos to contain the Minotaur, labyrinths have been found throughout the world including Australia, Egypt, England, India, Italy, Russia and Turkey.
Interestingly, the Oxford English Dictionary defines labyrinth as a maze, a complex web or entanglement of secret chambers, where it is difficult to find one's way. The complex structure in the inner ear which contains the organs of hearing and balance is also identified as a labyrinth. It consists of the bony labyrinth that is filled with fluid, the sensitive chamber of the ear known as the membranous labyrinth.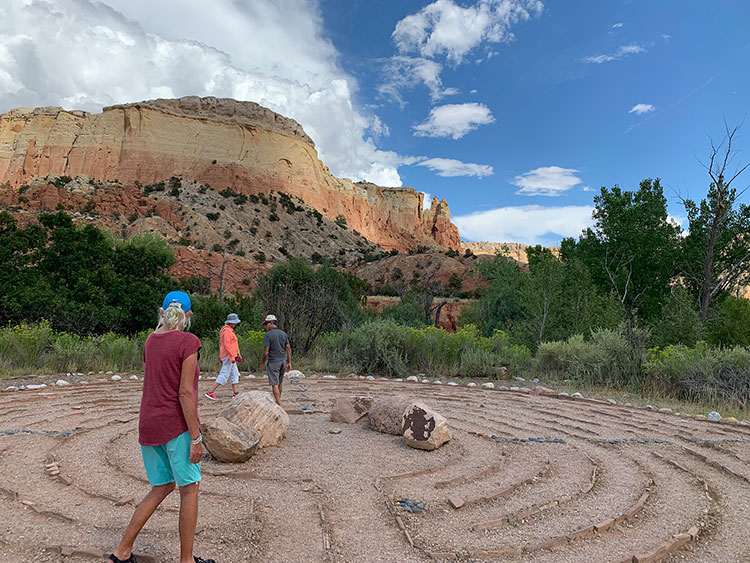 As we face daily struggles to find our way through these challenging times, it is critical that we seek some semblance of balance or equilibrium, when the world and behavior of so-called leaders, is punitive and often results in turmoil. It is deeply challenging to witness the rise in global political unrest, to experience record breaking heat, or other extreme weather. To read a growing body of climate disaster reports, that demonstrate rapid acceleration of ice melt, far greater than previously forecast, and to witness it first-hand. How do we make sense of this and strive for light within the darkness? What strategies might we use to avoid getting lost in secret twisted passages? How might we find our way out of darkness and despair, so that we are able to clearly hear messages delivered?
In Structures and Dynamics of the Psyche, Jung writes:
"When we must deal with problems, we instinctively resist trying the way that leads through obscurity and darkness. We wish to hear only of unequivocal results, and completely forget that these results can only be brought about when we have ventured into and emerged again from the darkness. But to penetrate the darkness we must summon all the powers of enlightenment that consciousness can offer."
"…it is the function of consciousness not only to recognize and assimilate the external world through the gateway of our senses, but to translate into visible reality the world within us."
On my recent Labyrinth walk powerful images of Sedna kept coming to me – how she and the indigenous wisdom of the Inuit elders have gifted us with an understanding of abundance and withholding, betrayal and trust, environmental responsibility, and the role that withheld information or secrets can play in illness. Sedna guides us in the process of coming to consciousness, while also illuminating and providing some possible meaning for our cosmic existence, how to be in right relationship on this journey through life. In what ways can we take advantage of the natural world, finding the inherent beauty in a leaf or a flower, a walk beside a river, a hike up a mountain. What steps can we each take to realign with Mother Earth. When we stray too far or disavow the importance of our relationship to the natural world, then we also put our health and the health of our communities at risk. When we fail to identify and work with our own emotional and physical stressors, we are less able to consciously share our gifts and to be a true conduit to support others in coming to a place of health and holism.
Theologian Matthew Fox writes about generosity, identifying it with our personal abundance, that is drawn from the very depths of one's heart and soul, without a sought-after or guaranteed return. When we are able to recognize the unique gifts that each living organism brings forth and to openly share our divine spark without demands, this is true abundance, generosity endowed with true divinity.
As we walk the labyrinthian path of life what gifts can we share from the depths of our heart and soul – how might we shift the vibration and incorporate our sound tools so that we can truly be a conduit – igniting our own divine spark to be fully able to share generously with others.
Life at the Mothership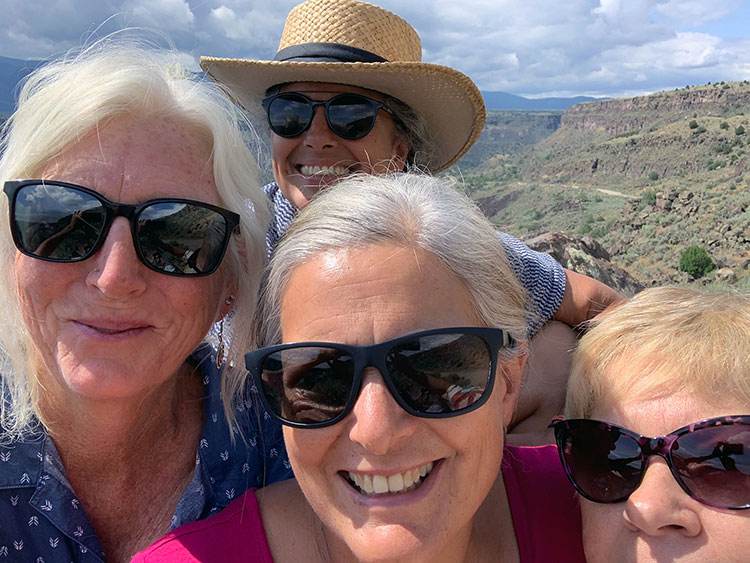 Over the past few weeks we've had many guests, which is a great opportunity to catch up on the amazing work that they are doing with Acutonics around the globe, while also taking time to explore the beauty and abundance of the natural world, a true blessing of living here in New Mexico. We've taken many long hikes as well as walking on our land and exploring new trails in Carson National Forest on the mesa behind our property.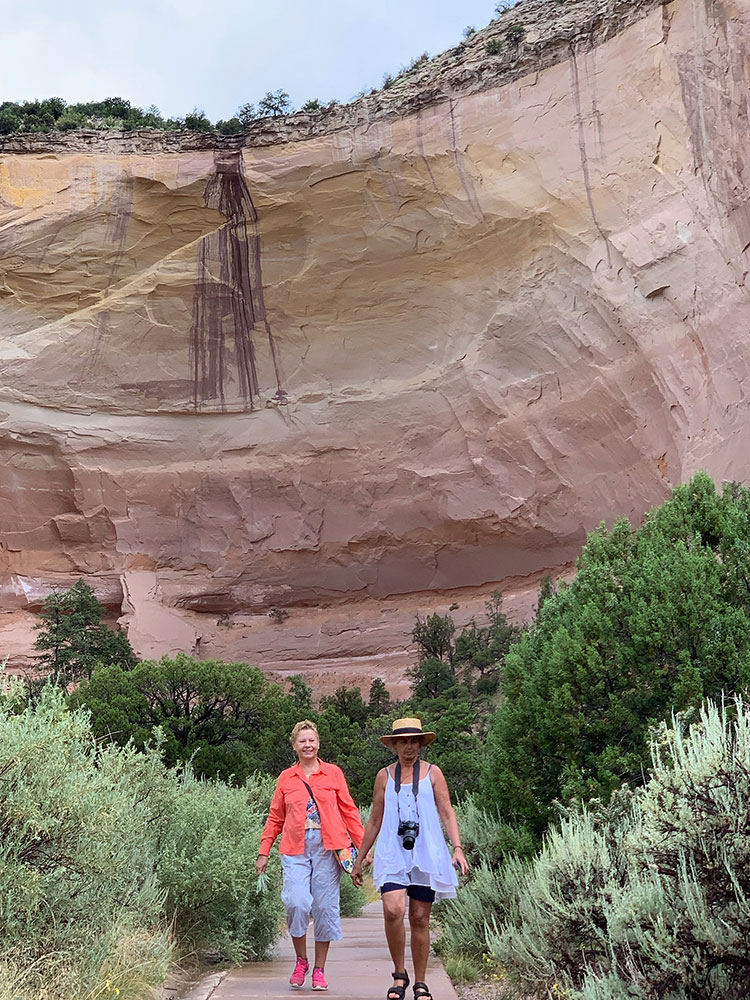 Most recently, we've had the pleasure of exploring with senior faculty member and co-founder of The Wu Project, Alicia Villamarin, who has been here for a month, staying at her home just up the road from the Mothership. Oxsana Merimskaya has also been with us this past week, visiting from Moscow, where she teaches our full curriculum. She has also authored a book about Acutonics in Russian, which is in its second edition. Together with Alicia and Oxsana we have been to Ojo Caliente, Abiquiu Lake, Ghost Ranch and Echo Canyon. The monsoons have begun bringing welcome rain and the high desert is extremely green with an abundance of wild flowers. This month Dr. Izumi Masukawa will be visiting us from Japan as we continue to collaborate on several exciting new projects.
The outside gardens are wild and beautiful, raspberries are being enjoyed by the birds before we can manage to harvest them. We harvested the fall garlic crop and are starting to get some onions. Summer squash, corn and beets are doing well although nothing is ready to harvest. The growing dome is producing an abundance of cucumbers, spinach, cilantro and basil. Soon we will have tomatoes and chili peppers. Later in the season we will have an abundance of Meyer lemons.
As always we hope to hear from you and that you will share your stories with us.
All photos by Ellen F. Franklin